A Day Hike from Prionia to Mytikas Peak - The Summit of Mount Olympus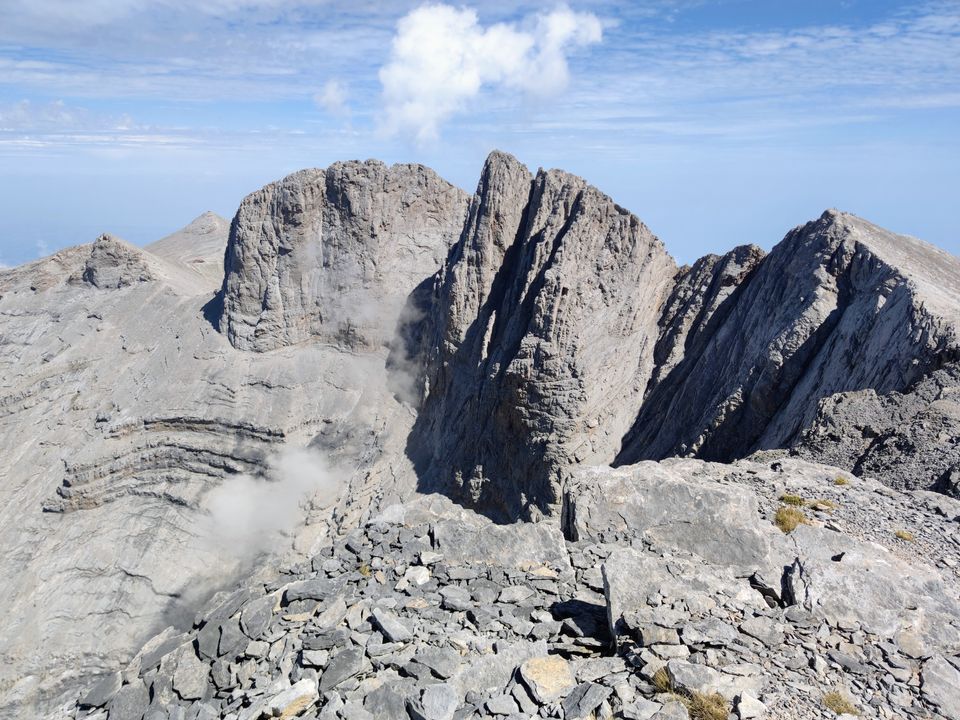 On September 15, 2023, we embarked on a day hike from Prionia to the peak of Mytikas, the highest point of Mount Olympus in Greece. We ascended Mytikas through the Louki Couloir, then continued on to Skala Peak and Skolio Peak. We returned to Prionia, concluding our hike 12 hours after we set out.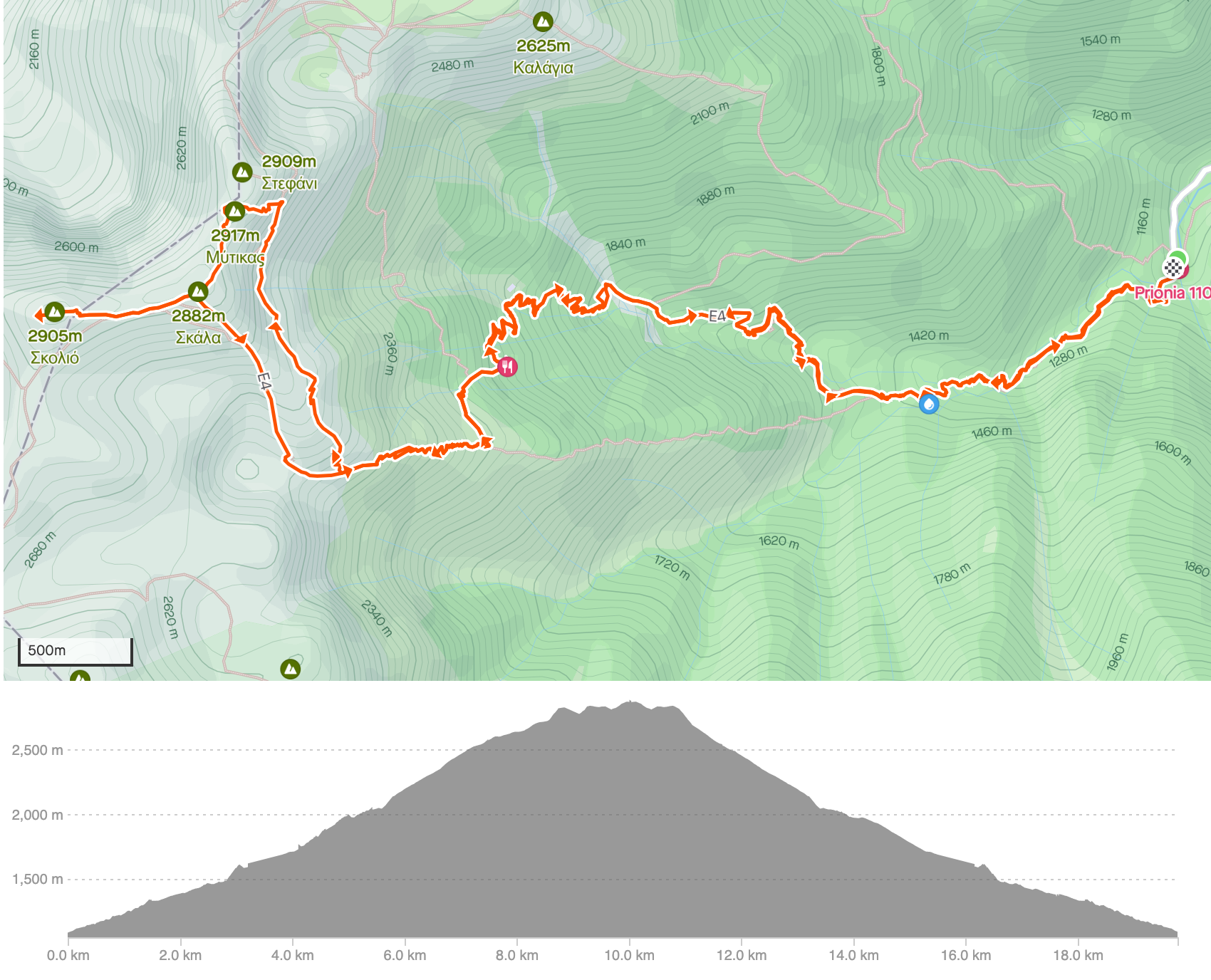 Mount Olympus
Mount Olympus, the tallest mountain in Greece, stands majestically with its highest peak, Mytikas, reaching an elevation of 2917 meters. Situated merely 7 km away from the Aegean Sea, it offers a rich and thrilling experience for adventurers. Here's a recount of a day-long journey that unveils the majestic peaks of this mountain range.
The Peaks of Mount Olympus
Mount Olympus is home to several towering peaks, each offering a unique challenge and beauty:
Mytikas (2917 m): The highest peak, known for its technical climbing sections and the risk of rock falls.
Stefani (2909 m): A peak that necessitates climbing equipment for a safe ascent.
Skala (2882 m): Offers a relatively straightforward route, making it accessible for most hikers.
Skolio (2905 m): A 30-minute journey from Skala, it offers a notable addition to the trip.
Setting Off from Prionia
Prionia, situated at an altitude of 1100 meters, serves as a popular starting point for many adventurers, marking the highest point accessible by car and offering a convenient entry to the trails leading to Mytikas.
The journey from Prionia is characterized by a 10 km trail with a 2000 m elevation difference, providing a challenging yet rewarding hike.
Facilities at Prionia include:
A paved road leading up to the area
Complimentary parking
A restaurant and public restrooms
A natural spring to refill your water supplies
For those preferring a longer hike, a picturesque trail from the town of Litochoro leads to Prionia, meandering through the stunning Enipeas Canyon, a journey that takes approximately 4 hours.
Prionia to Refuge A "Spilios Agapitos"
The first leg of the journey, spanning 6.6 km with a 1000 m elevation gain, takes approximately 3 hours. Marked discreetly with E4 signs, this medium-difficulty trail offers a gentle introduction to the Mount Olympus hike.
Setting off around 7:30 AM, we found Prionia to be a popular starting point, yet were fortunate to find ample parking space.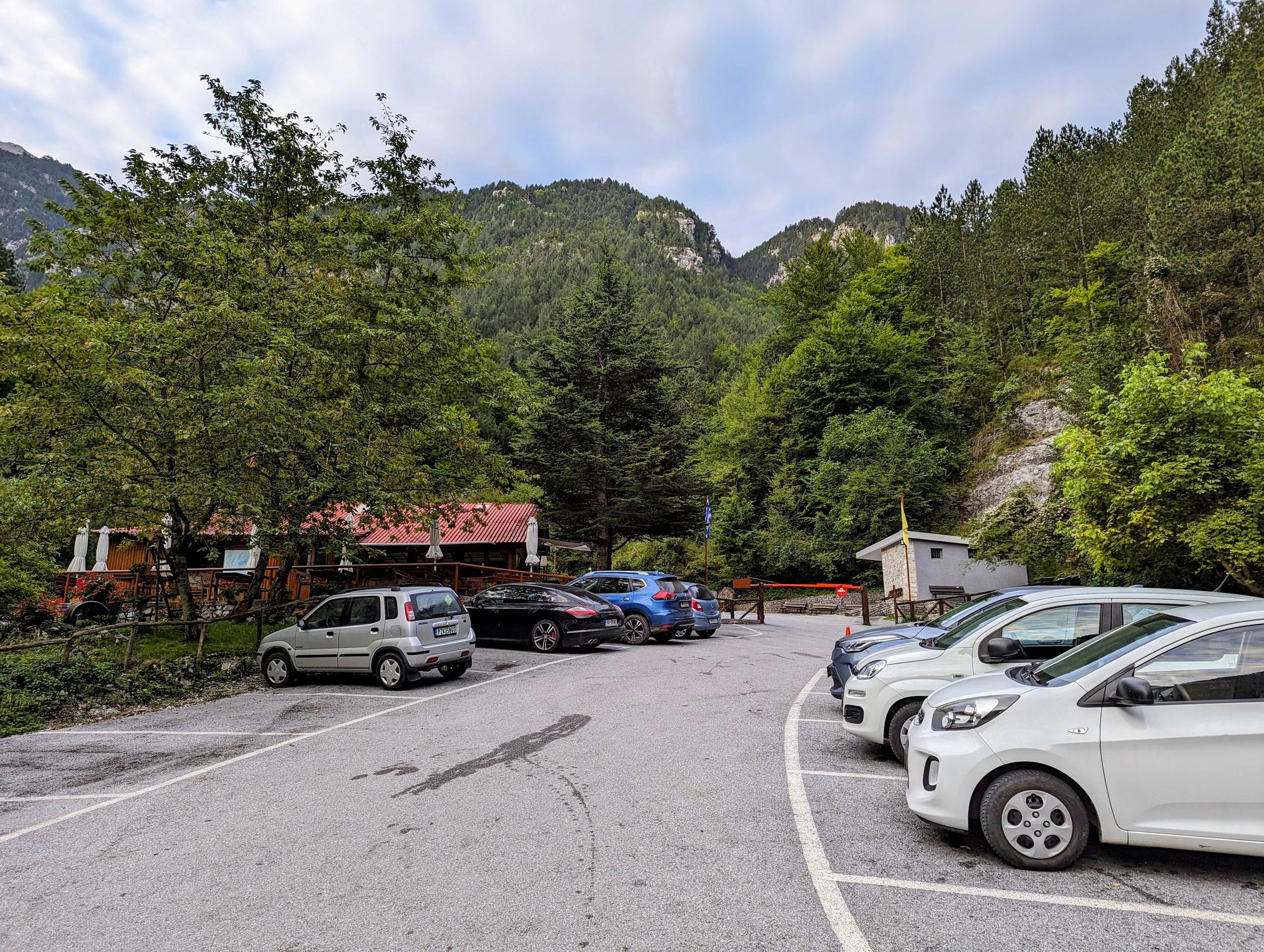 Despite the lack of mobile phone signal, we were guided by the last weather forecast checked, which predicted a potential storm around 1:00 PM. This forecast fueled our determination to reach the peaks before the storm's onset.
Our group of four embarked on the journey at 7:40 AM, eventually splitting into two teams to accommodate different walking paces and experiences.
Diana's and Nico's primary goal was to reach Refuge A and, time permitting, continue to Skala Peak.
I teamed up with Dan, and we moved at a brisk pace, planning to ascend Mytikas via the Louki Couloir, then traverse the ridge to Skala Peak, and then make a small detour to Skolio Peak, the third highest peak of Mount Olympus.
The trail from Prionia to Refuge A was not particularly challenging; it was fairly wide up to an altitude of 1700 meters, becoming steeper and somewhat rugged in places. The markings were subtle, almost non-existent, but the clear path and installed signs at intersections made it difficult to lose our way.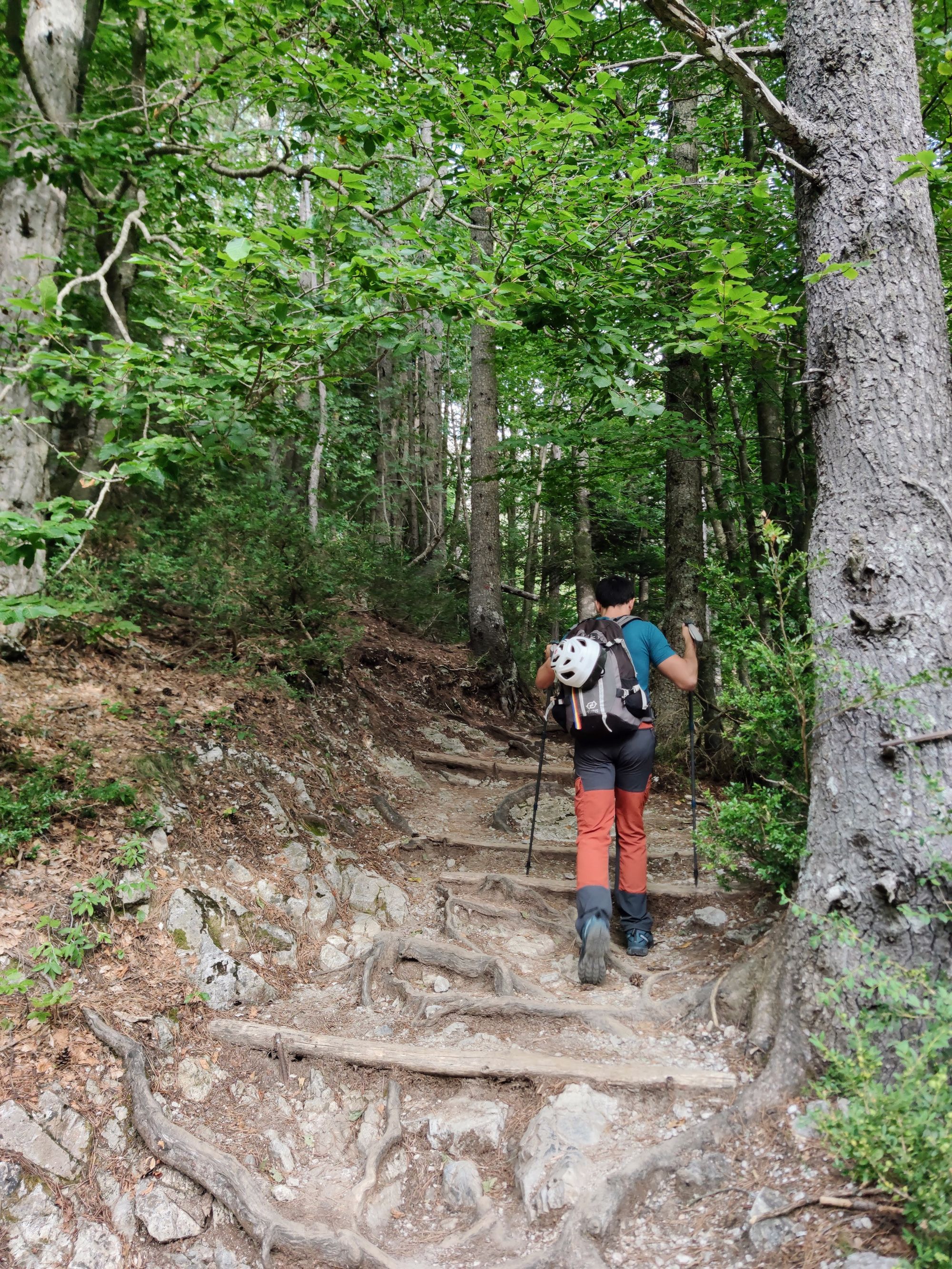 Unfortunately, we noticed that some trail signs had been vandalized. Despite this, the breathtaking views of the highest peaks of Mount Olympus kept our spirits high.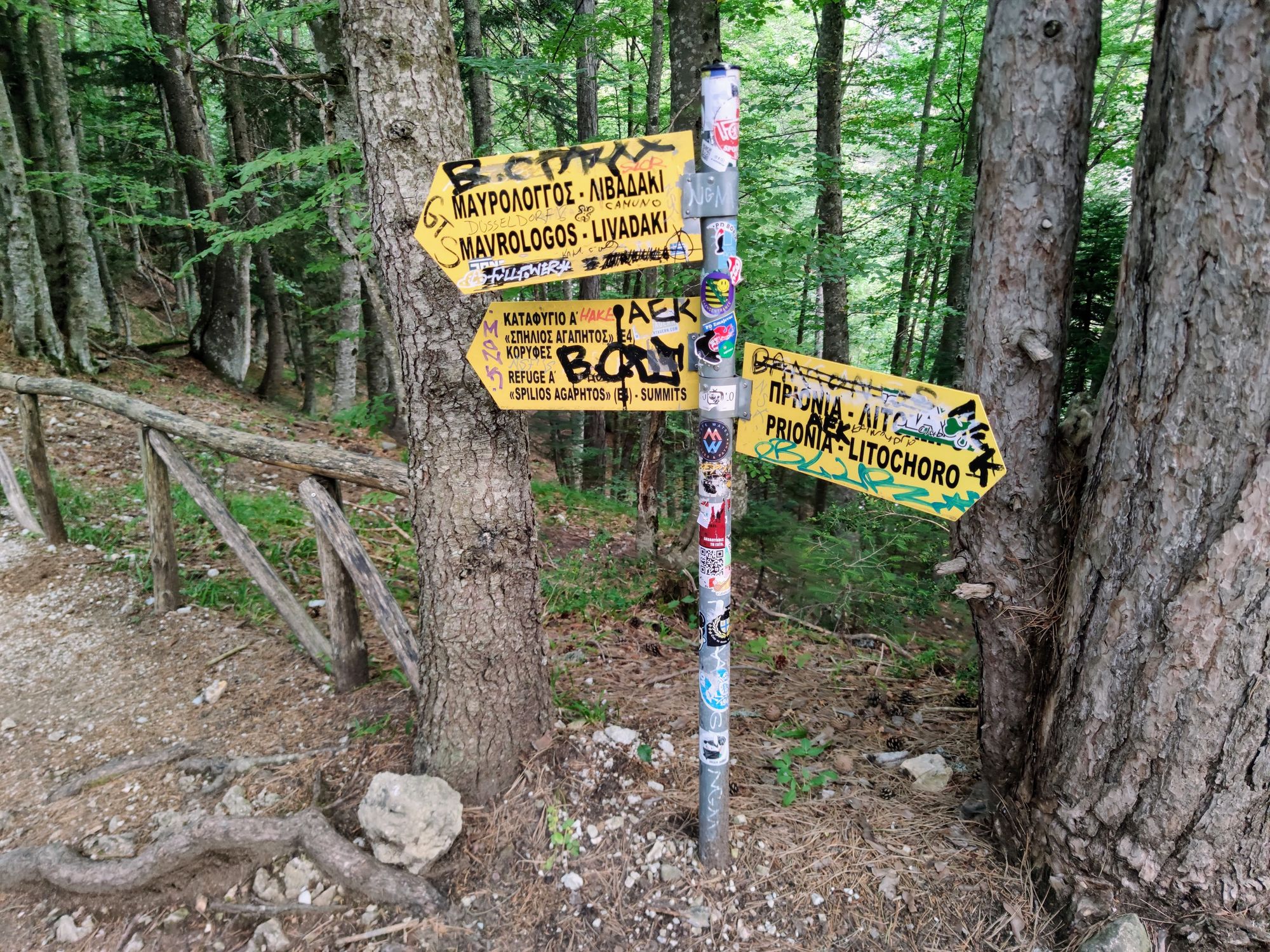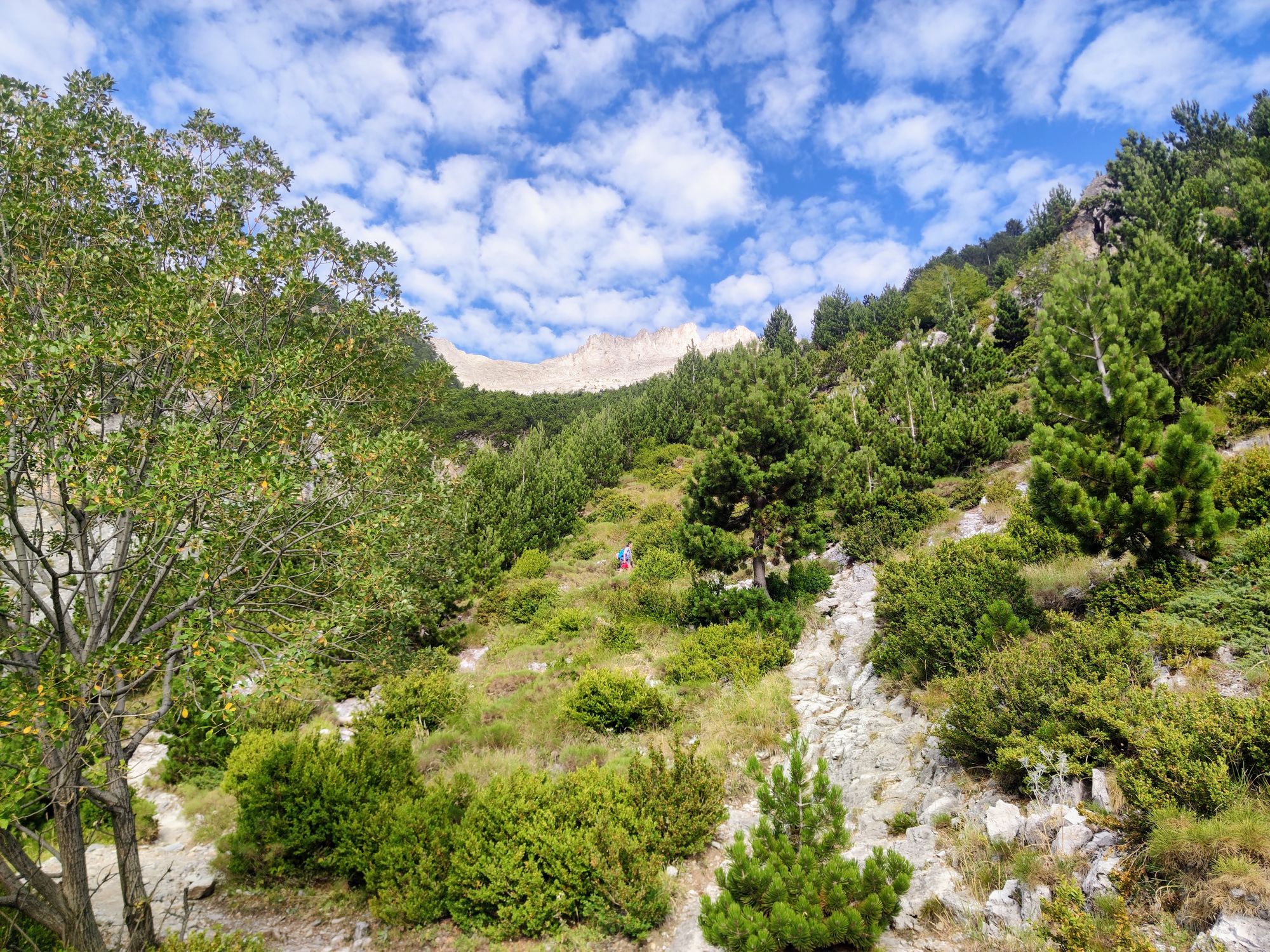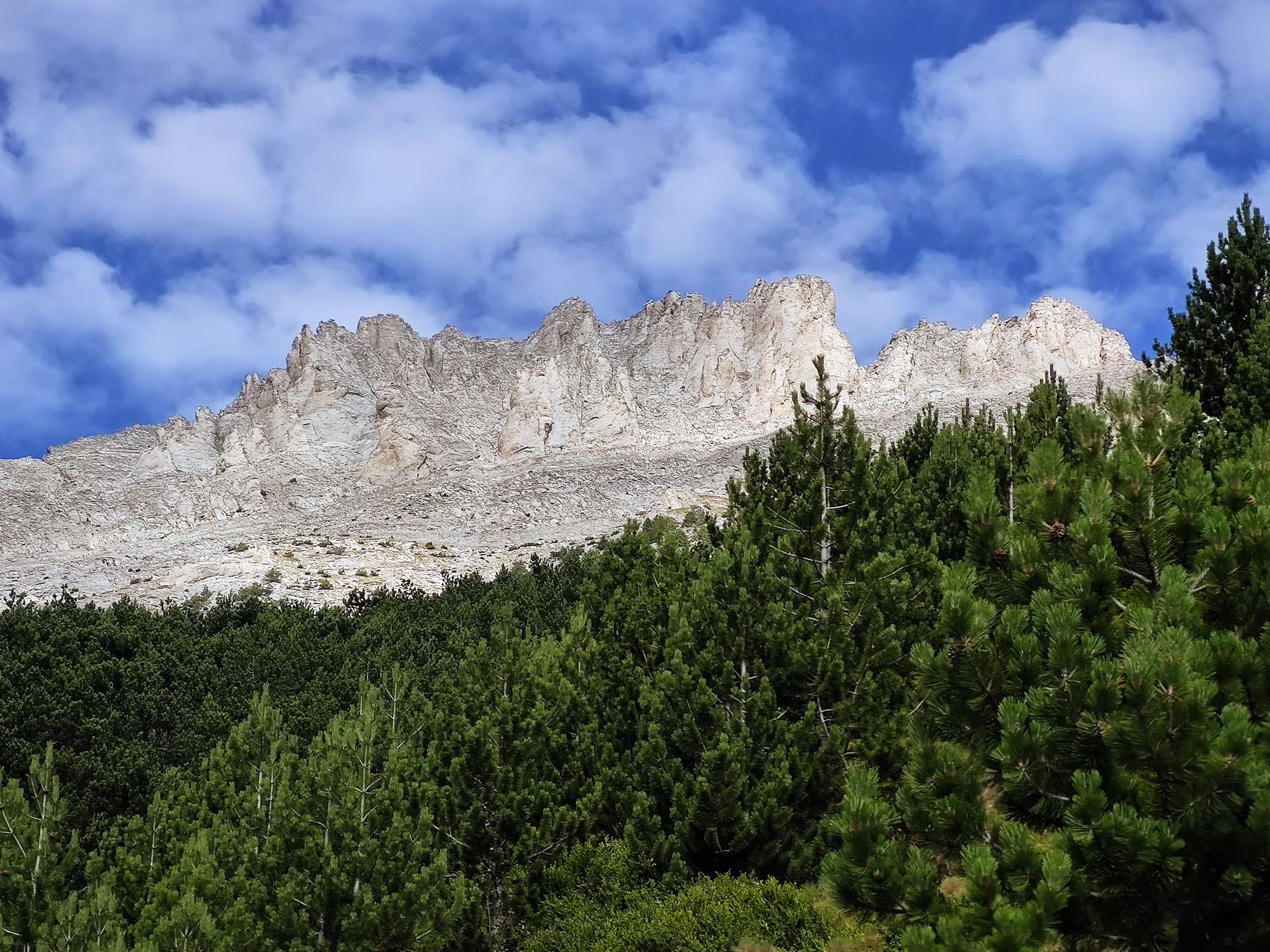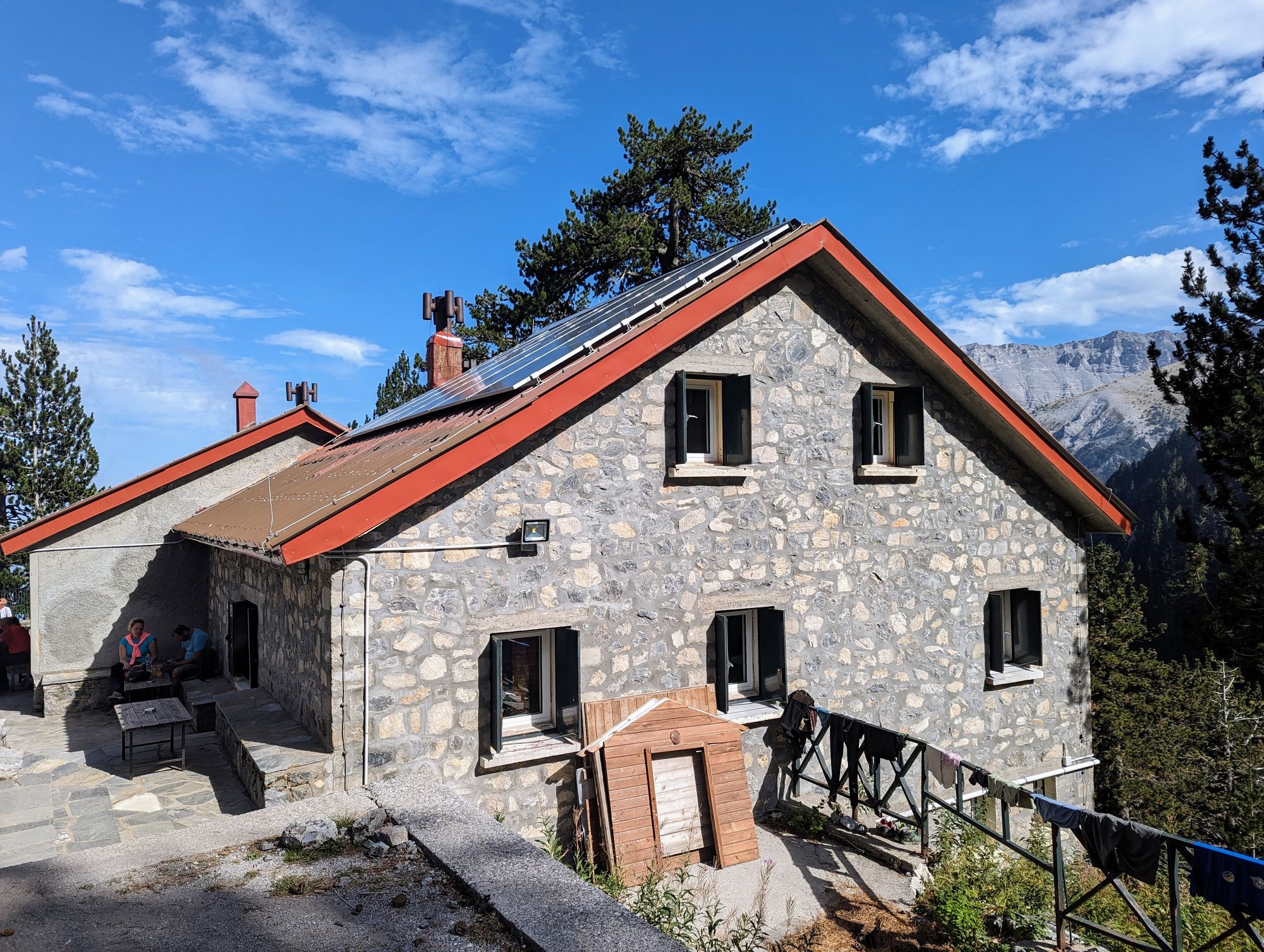 Reaching Refuge A, situated at 2100 meters, took us 2 hours and 15 minutes, a promising start to our adventure.
The Ascent to Mytikas
Departing from Refuge A "Spilios Agapitos"
After a brief 15-minute break at Refuge A "Spilios Agapitos", we resumed our journey. The weather remained favorable, with clear skies and excellent visibility.
Shortly after leaving the refuge, we intersected with the trail leading to Refuge C "Kakalos" and the Plateau of Muses, but we continued on the E4 towards the summits.
Zonaria
Around 11:00 AM, we reached an altitude of 2500 meters, where a path branched off to the right towards Zonaria from the main E4 trail. This intersection was marked simply by a sign indicating the directions to Zonaria and the normal route (E4).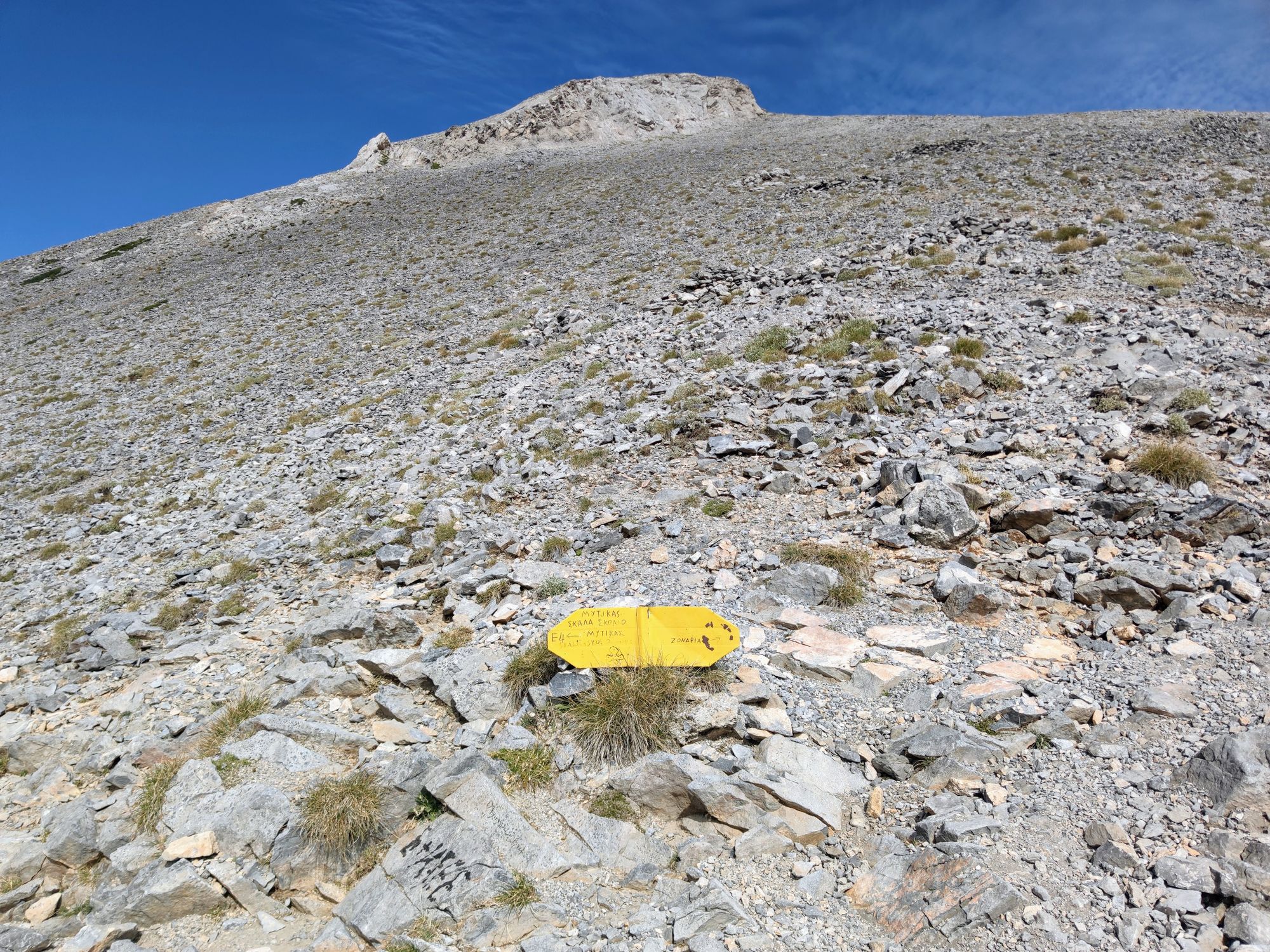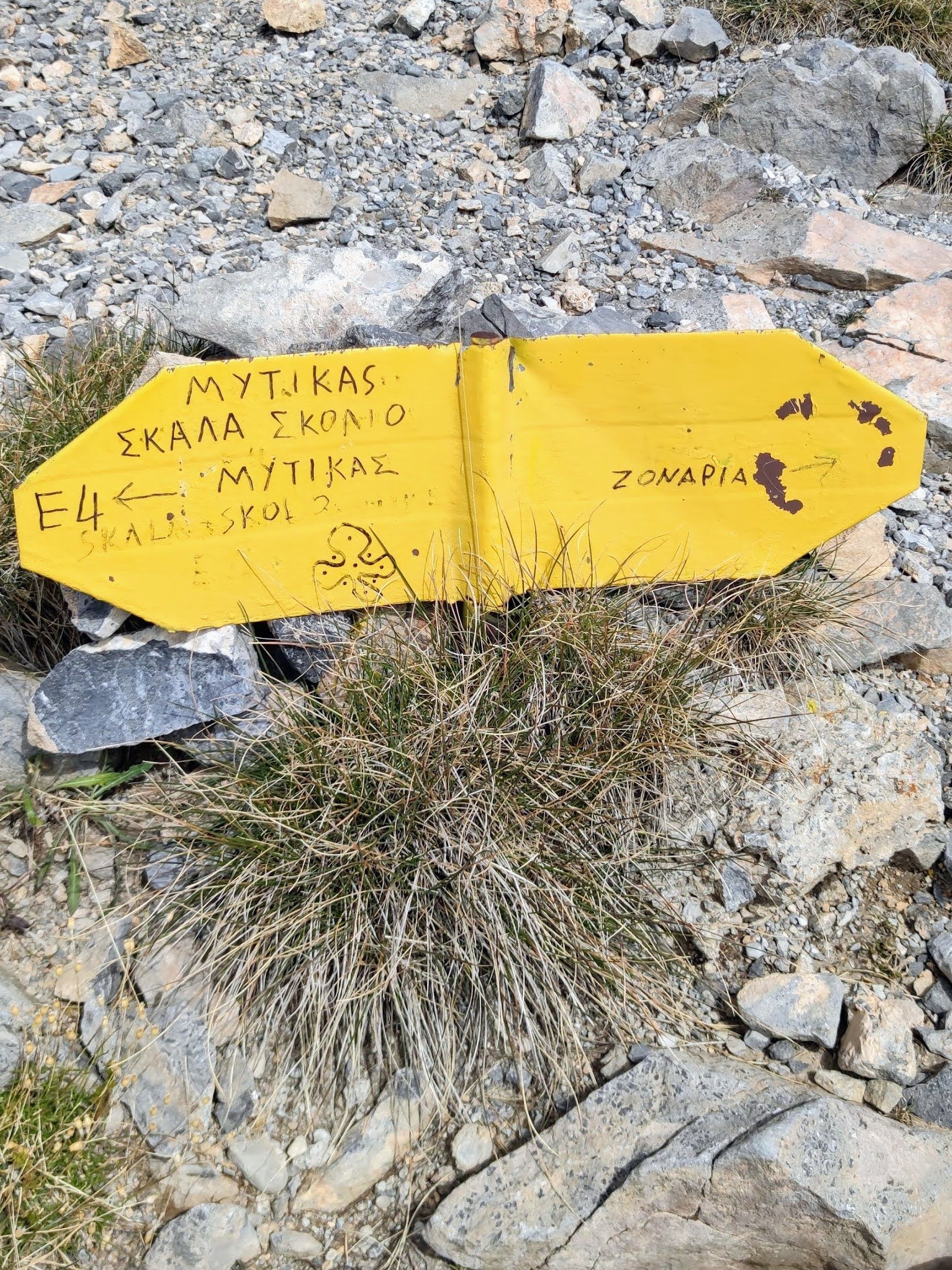 Choosing the path to Zonaria, we encountered a gentle slope leading up to 2700 meters, where the steep trails to Mytikas began. The path was barely marked but visible, introducing us to the challenging Louki Couloir.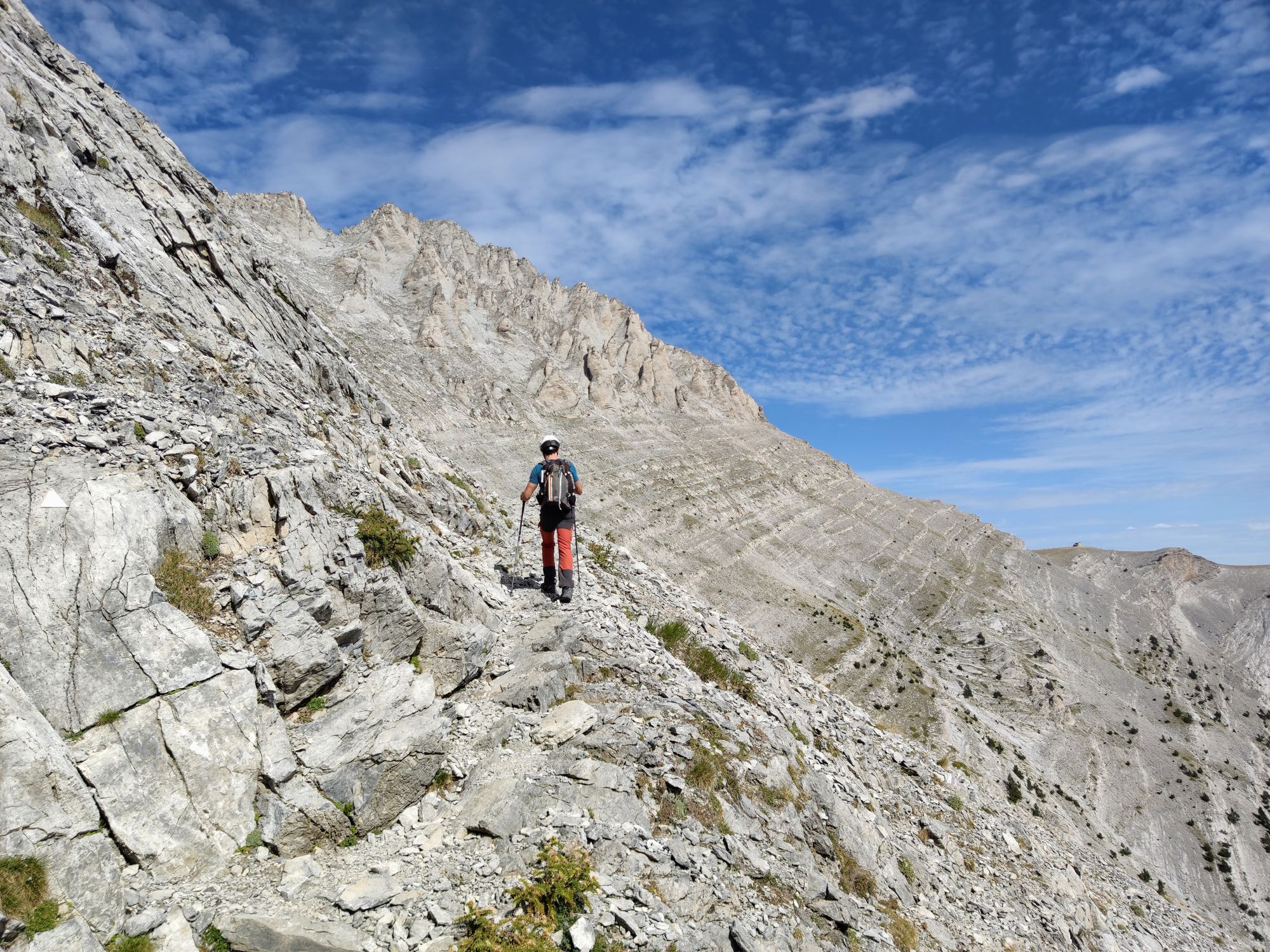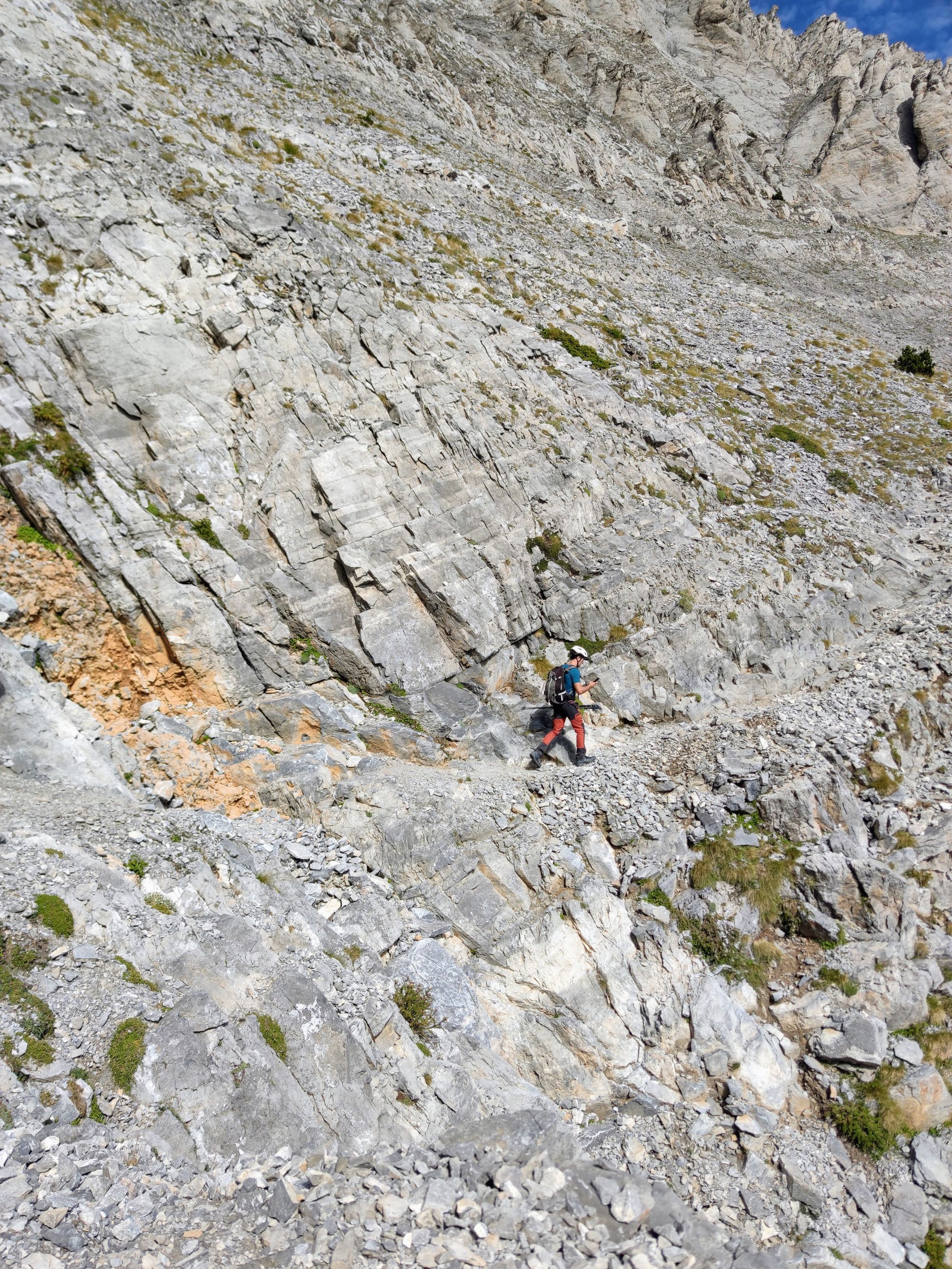 The Louki Couloir
duration: 30 minutes up to one hour, depending on experience
The Louki Couloir, a steep passage rising about 150-200 meters, required both hands and feet to navigate. Despite the high difficulty and exposure to potential falls, the climb was manageable with large holds, resembling the terrain found in Piatra Craiului Mountains in Romania, albeit without assisting cables.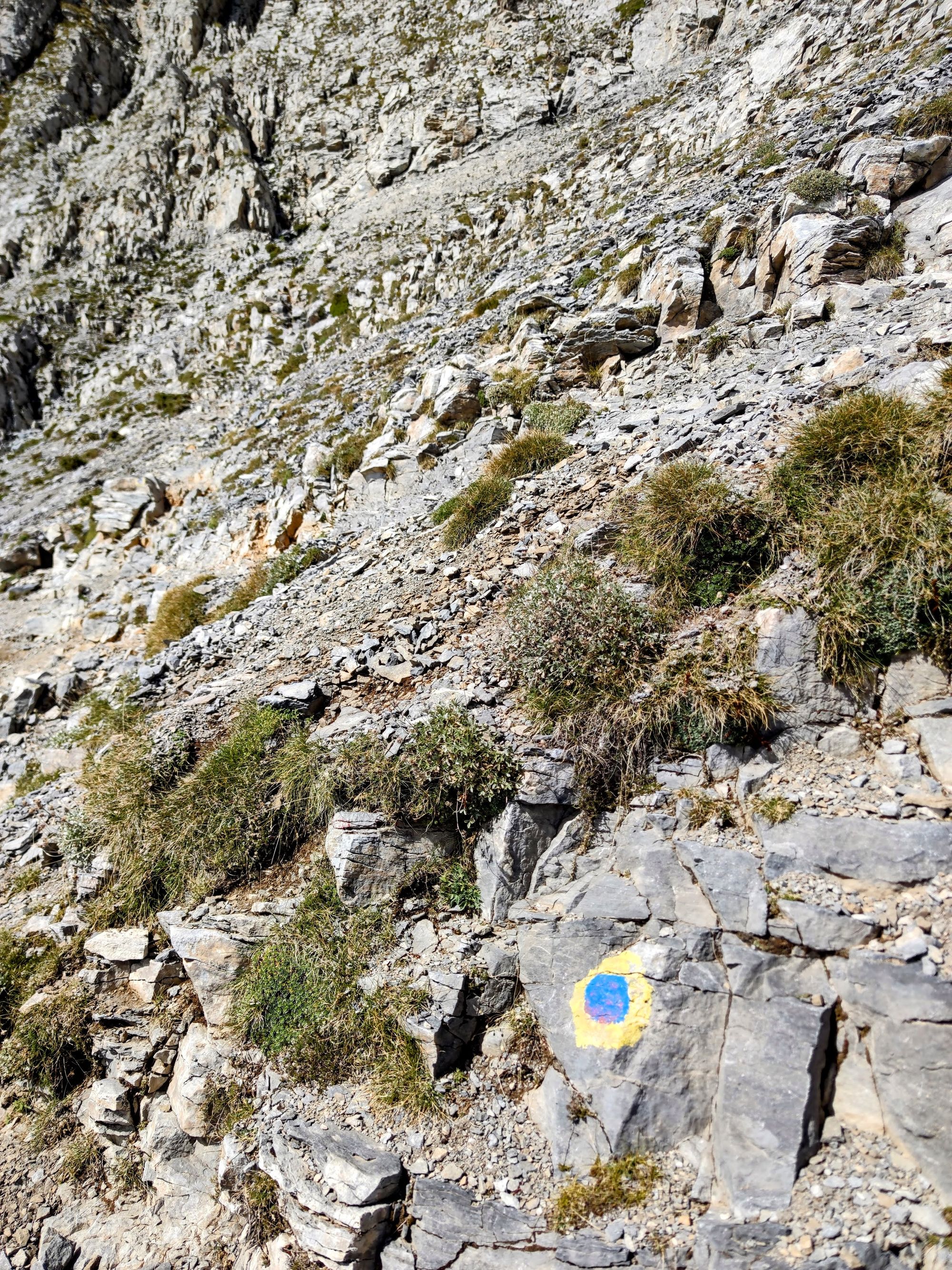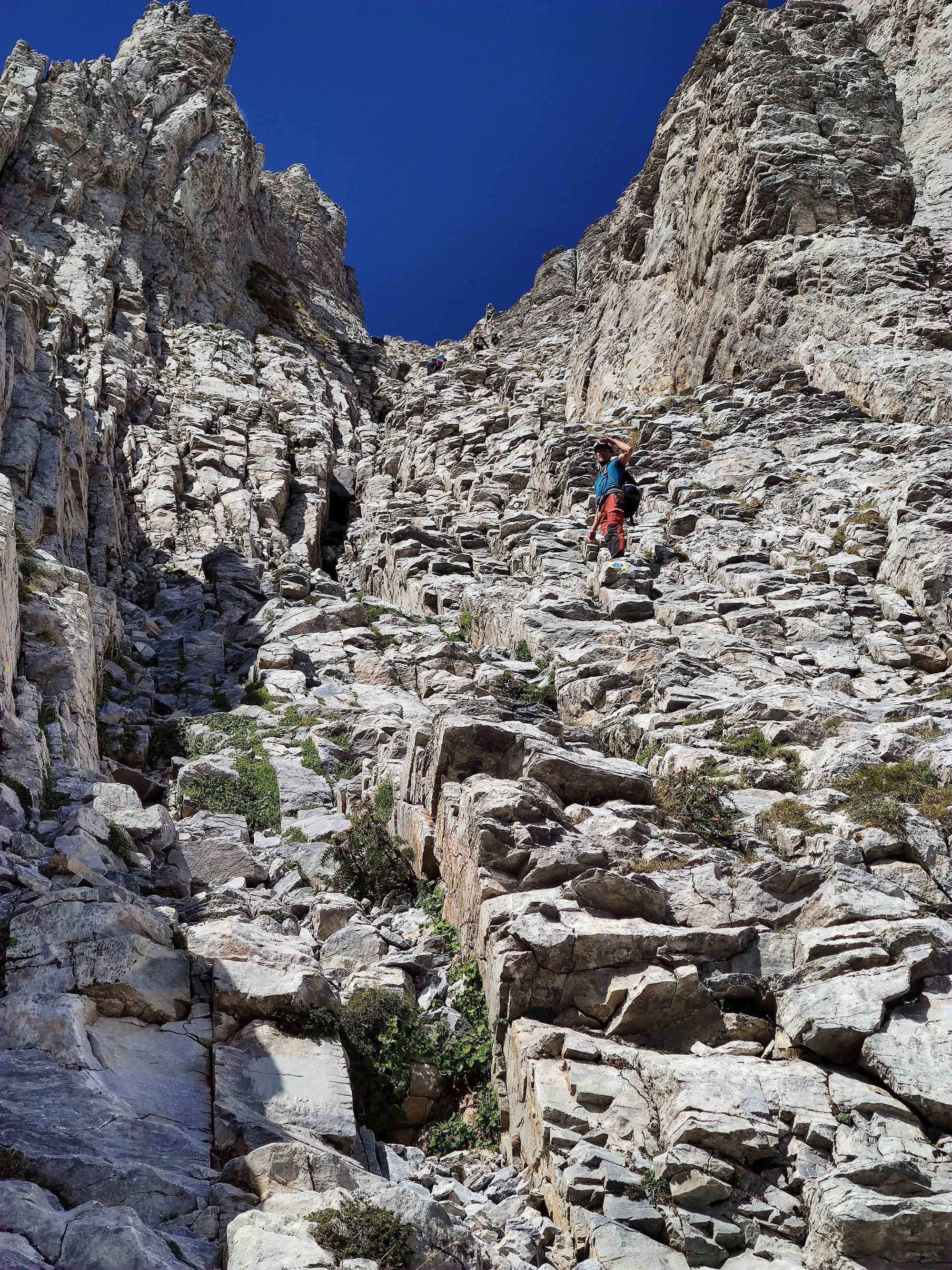 However, the couloir presented significant dangers, including the risk of falling rocks dislodged by teams above us. Wearing a climbing helmet was more than advisable in this section. We witnessed a close call with falling boulders, emphasizing the importance of safety precautions in this area.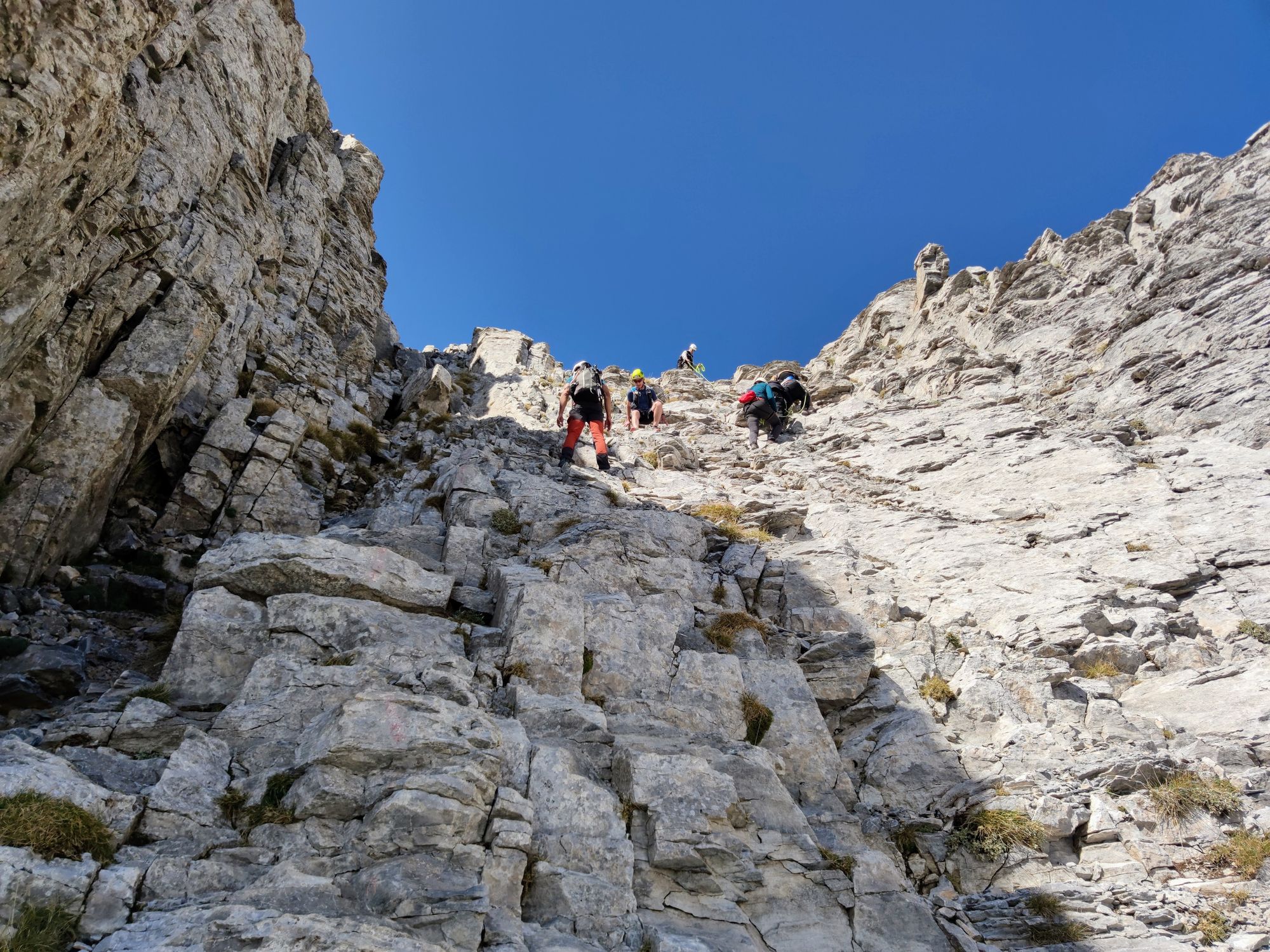 Climbing the Louki Couloir took us 25 minutes, bringing us to Mytikas, the highest peak of Mount Olympus, at 12:05 PM.
Reaching the Summits of Mount Olympus
Mytikas
Upon reaching Mytikas, we found it to be a popular time for hikers to converge at the peak. Space was limited, but we managed to find a cozy corner to take a break. Interestingly, an hour later, the peak was deserted, offering a tranquil atmosphere to soak in the accomplishment.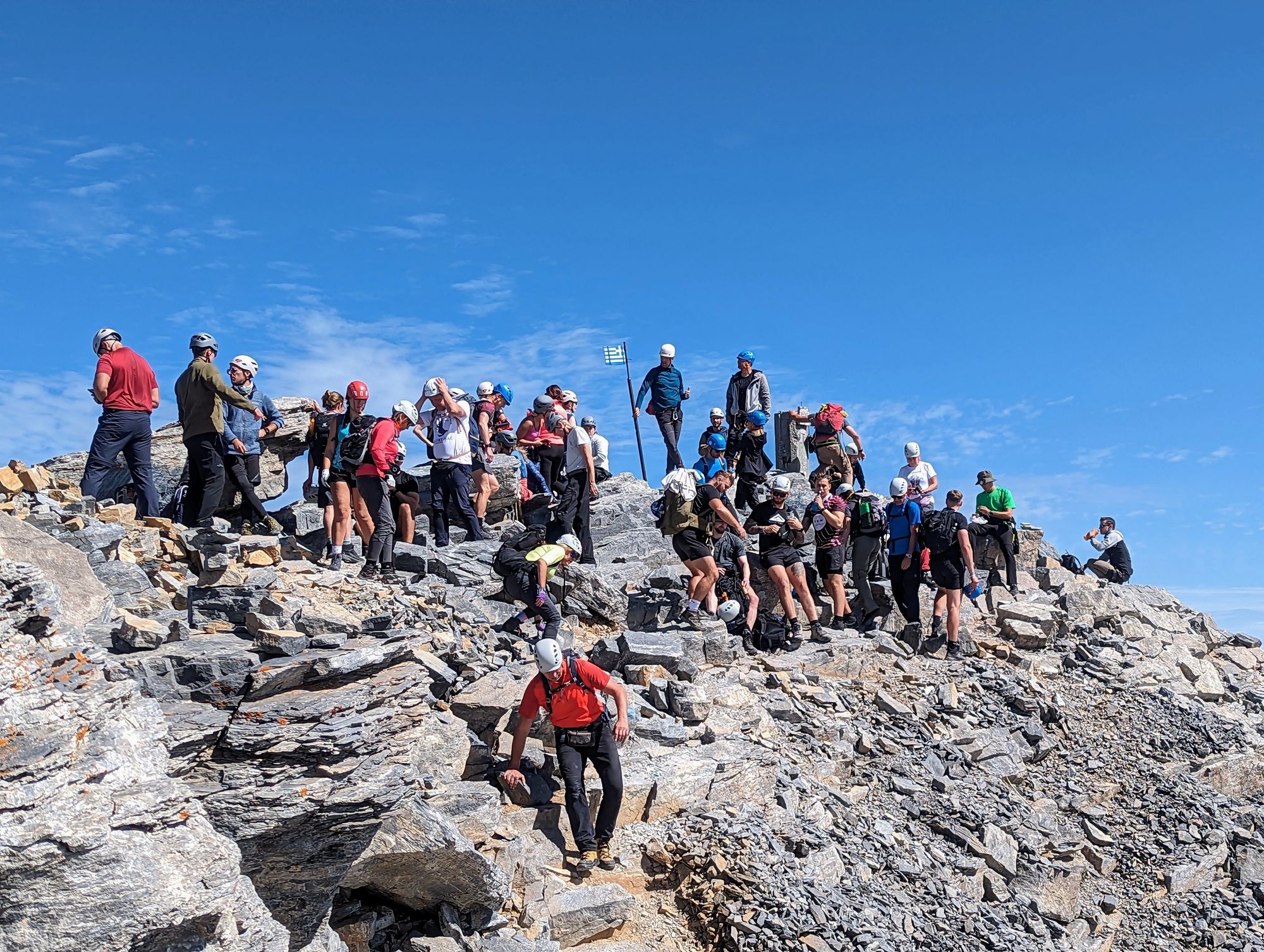 Mytikas to Skala
Our journey continued along the ridge towards Skala, a segment marked with a red dot encircled by a yellow outline, potentially indicating a high level of difficulty and exposure to potential dangers. The descent from Mytikas involved navigating a long and steep section with slippery rocks, followed by crossing other exposed areas, but with somewhat better grip.
At some point we encountered a trail descending to Kakoskala, which appeared quite steep and challenging, but we carefully followed the markings towards Skala.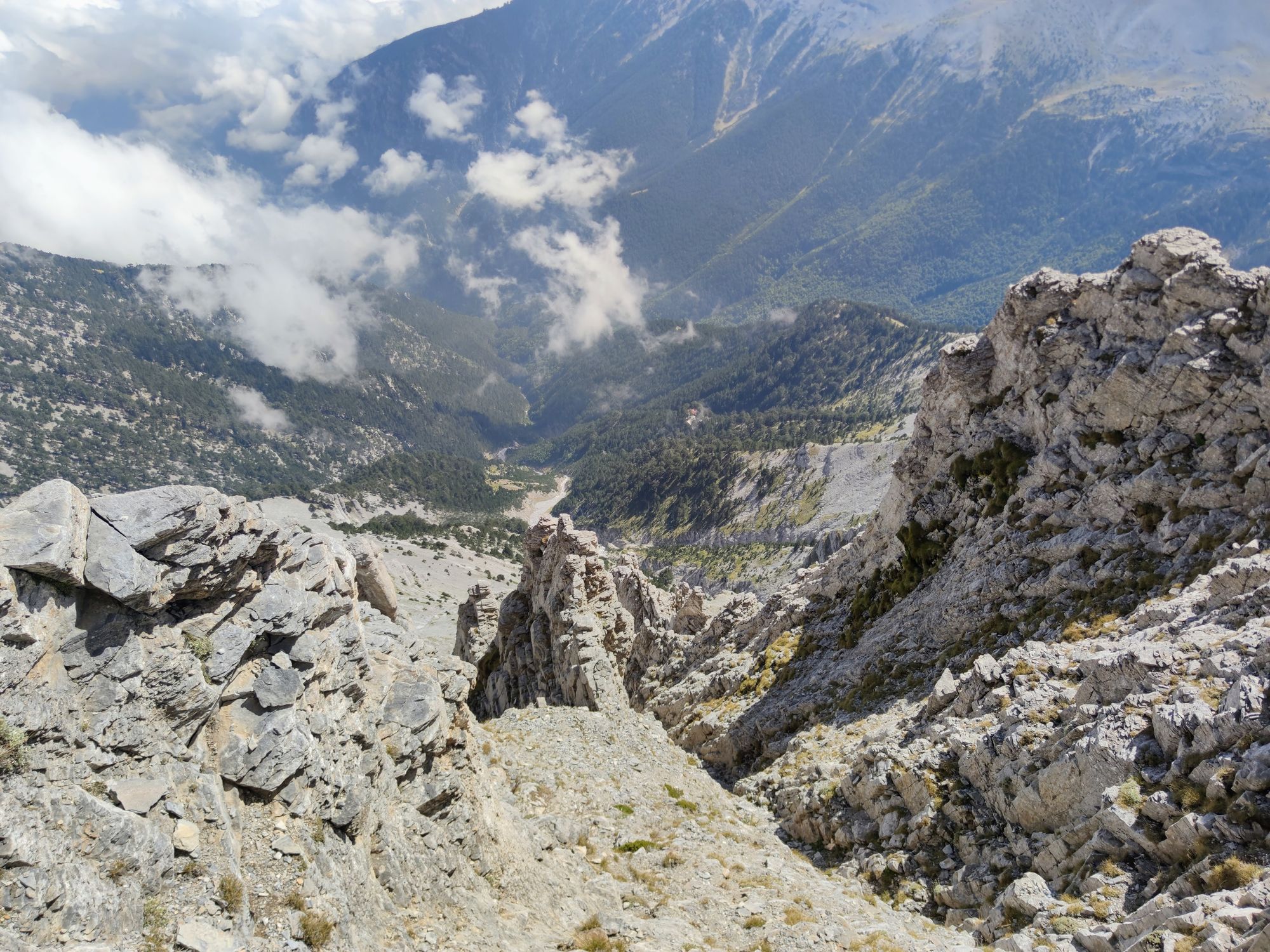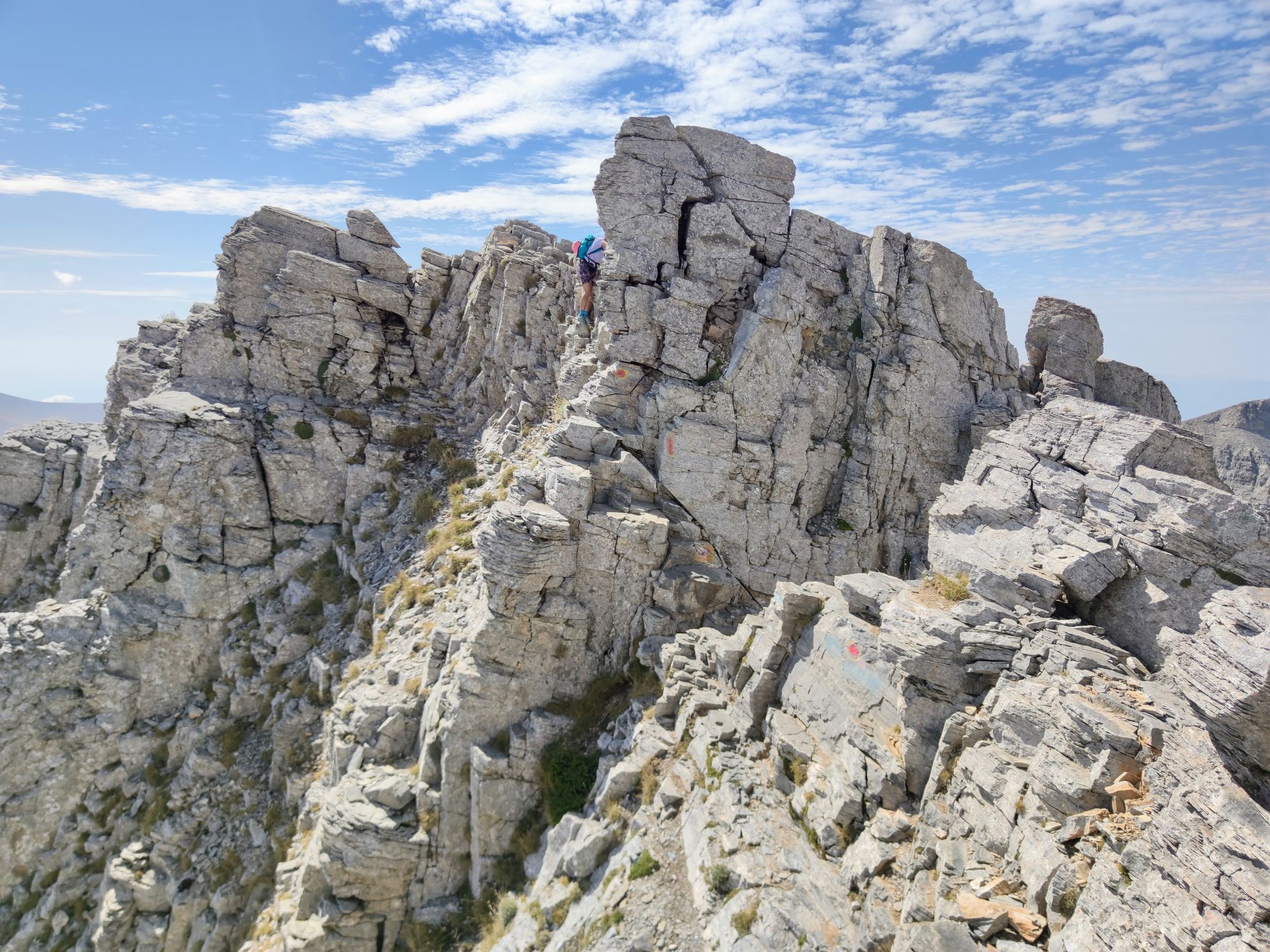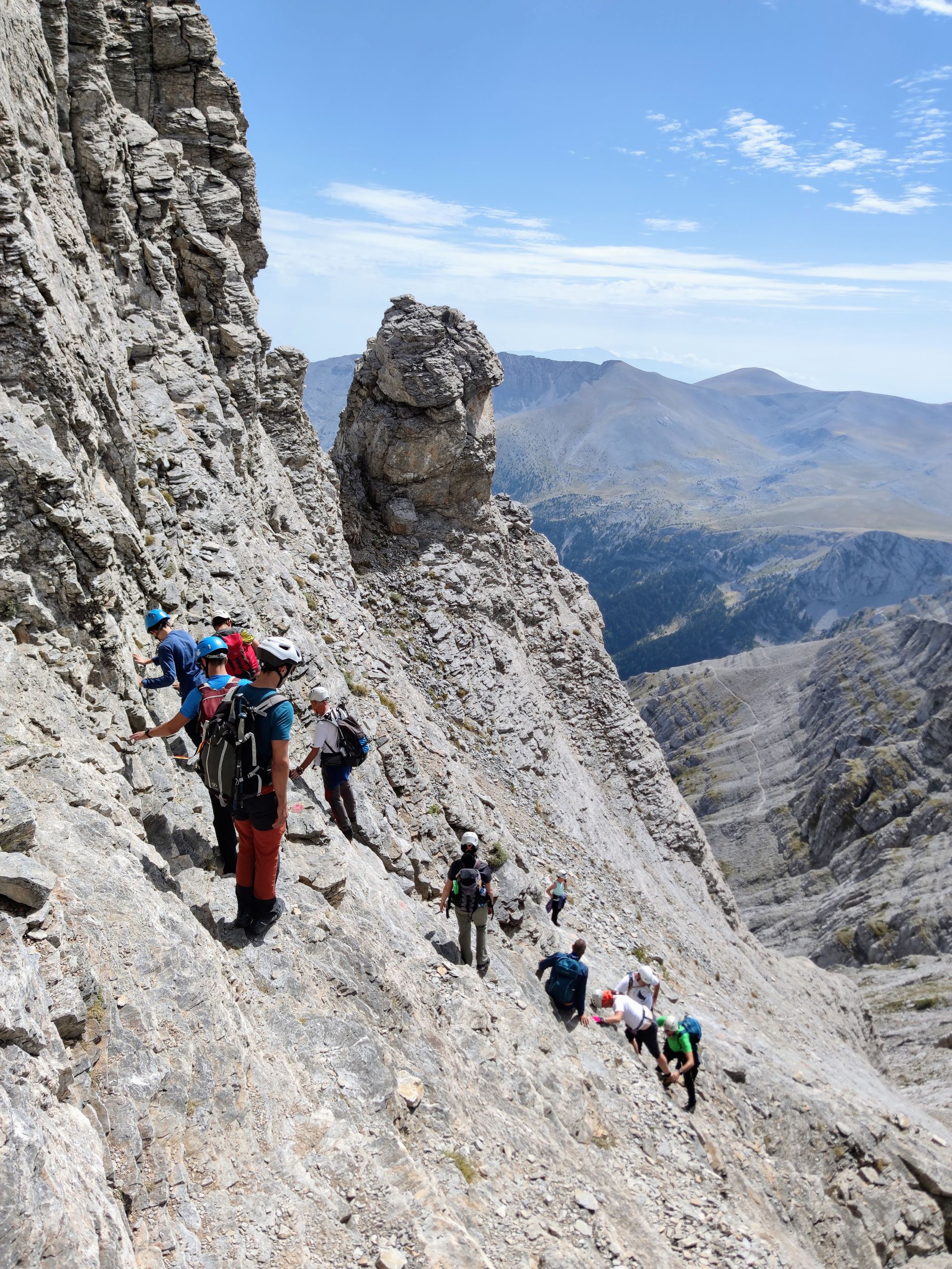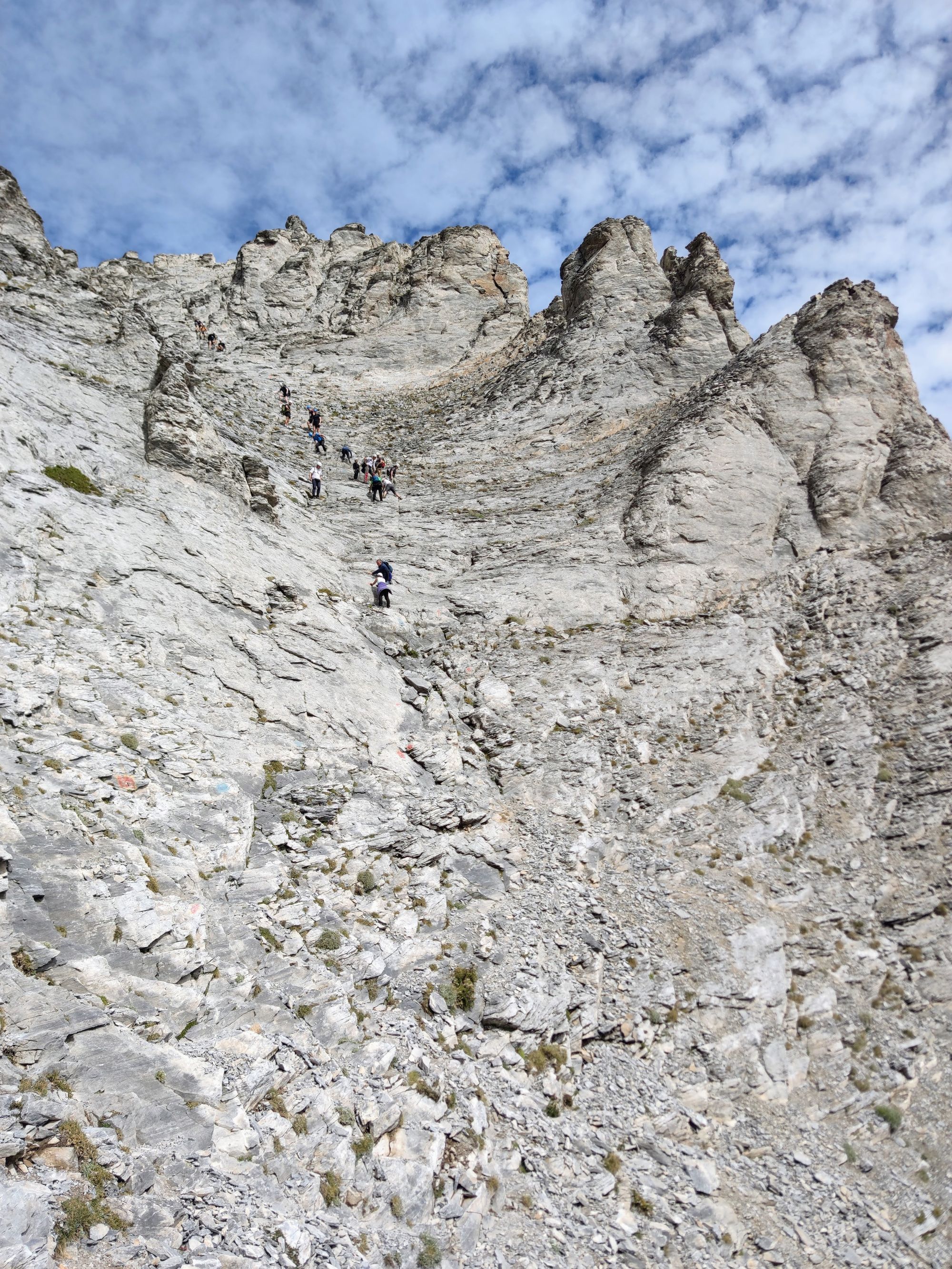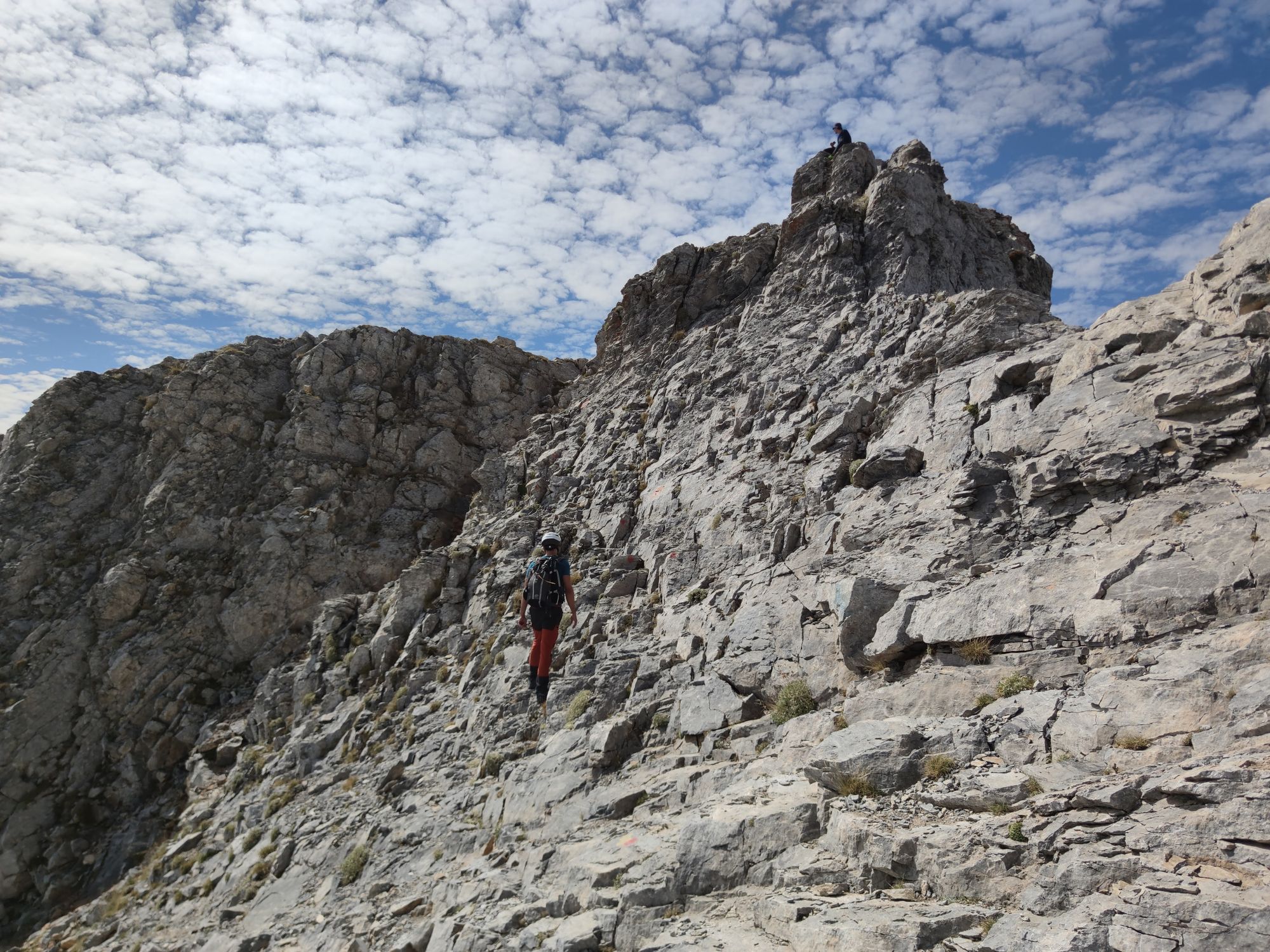 Skala Peak
At 1:10 PM, we reached Skala Peak, offering a splendid view of Mytikas and a moment to capture the beauty surrounding us.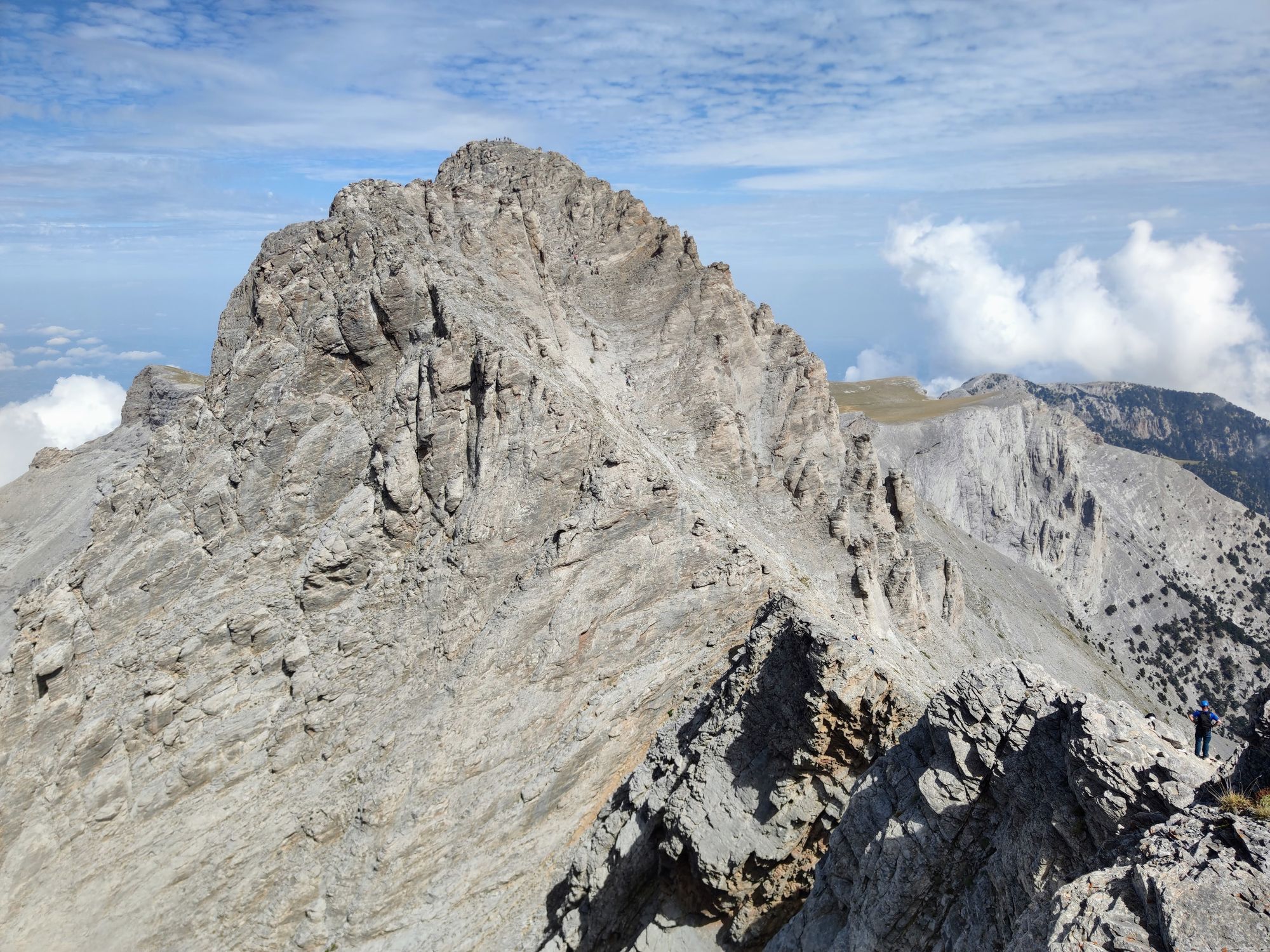 Skolio Peak
From Skala, we ventured towards Skolio Peak, a journey taking about 30 minutes with clear directions and minimal difficulty. The peak offered a moment of respite, where we enjoyed a meal while admiring the stunning crest of Mount Olympus. The anticipated storm seemed to have bypassed us, leaving clear skies to enjoy the panoramic views.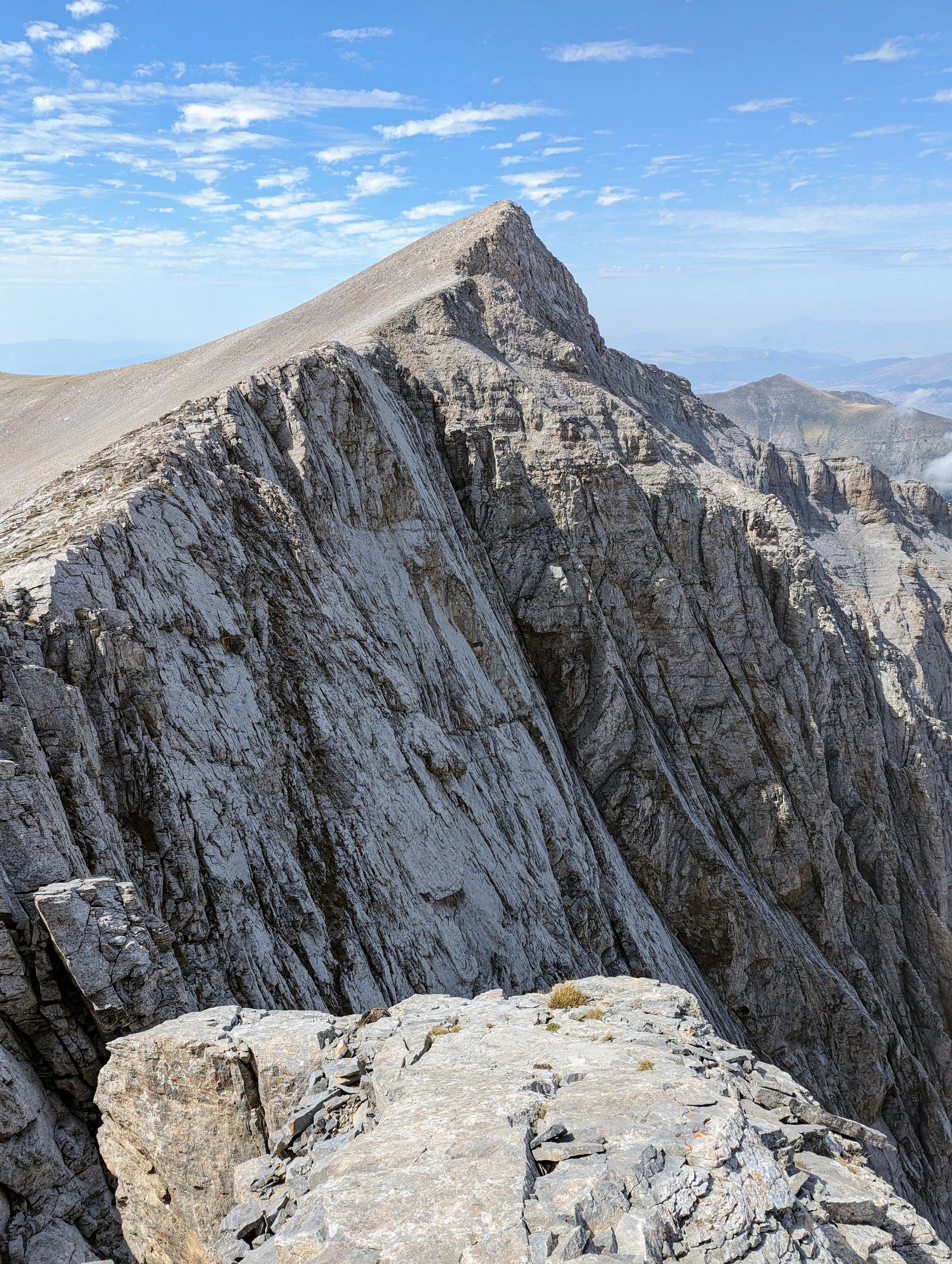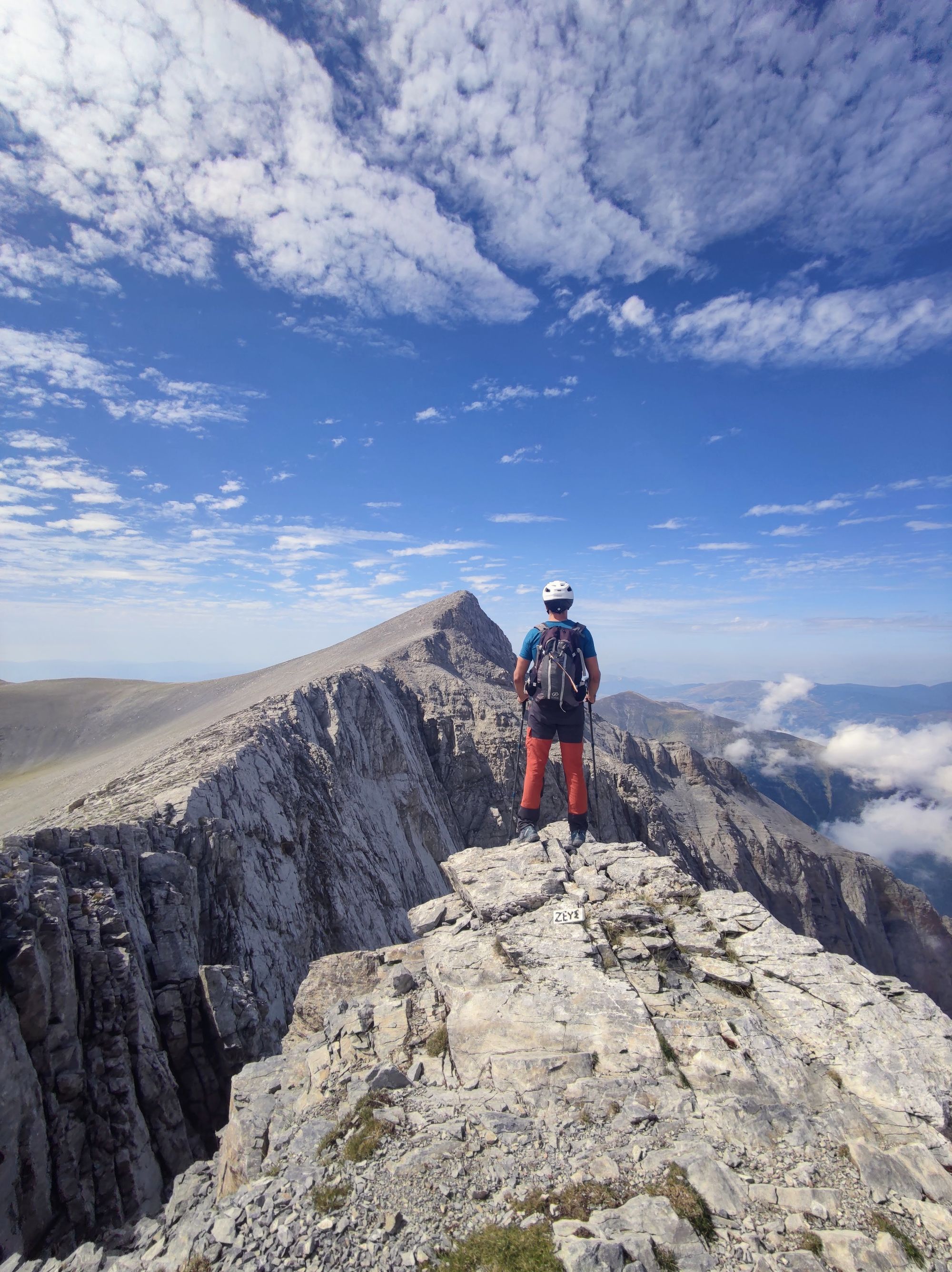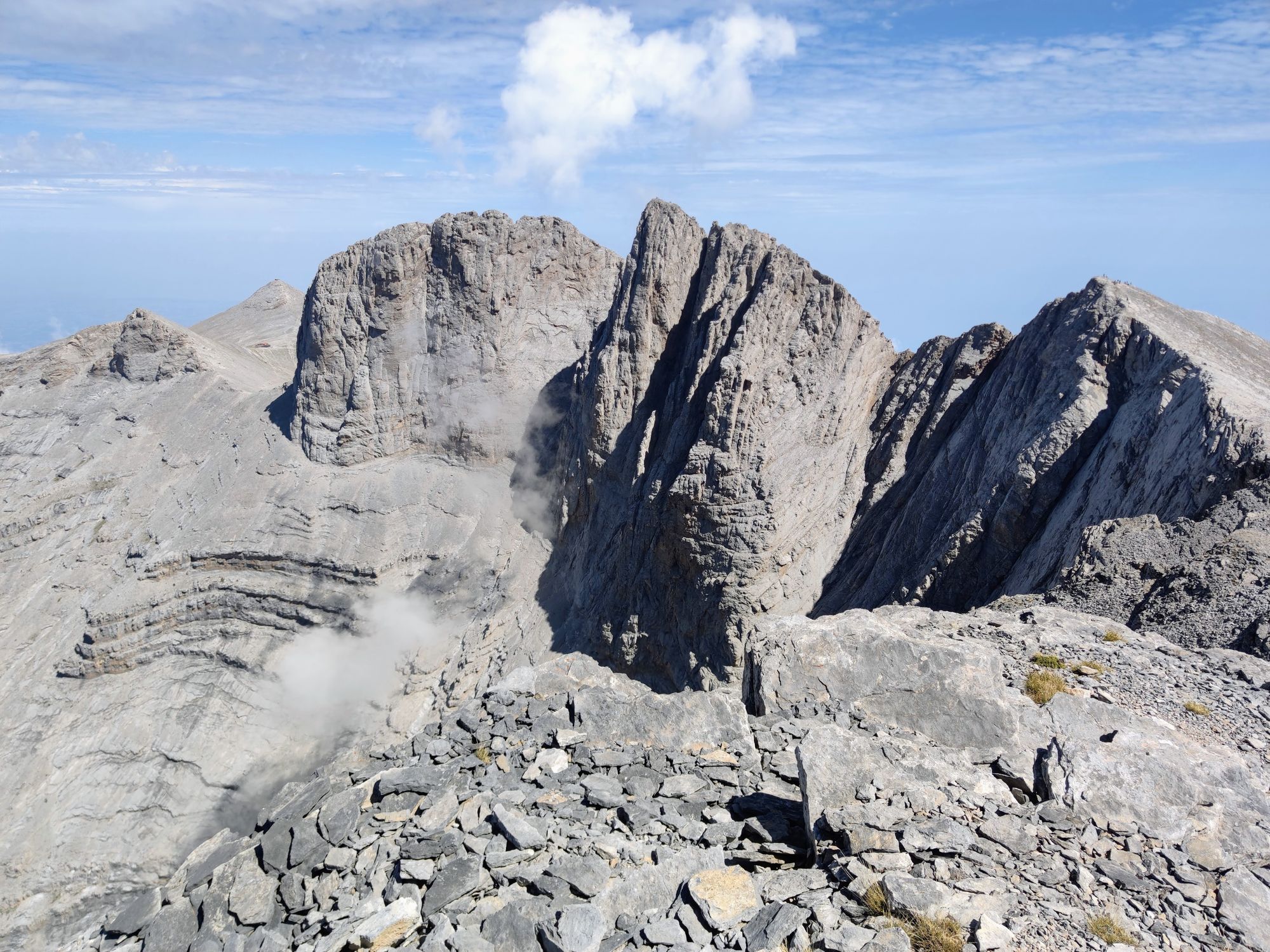 Descent to Prionia
Returning to Skala, we were joined by Diana and Nico at 2:30 PM, marking a happy reunion of our group. Having set out from Refuge A, they followed the E4 path and managed to reach Skala Peak in a span of 3 hours.
Together, we began our descent towards Prionia, marking the final leg of our journey. A brief stop at Refuge A allowed us to enjoy a comforting chicken soup and Greek coffee before resuming our descent.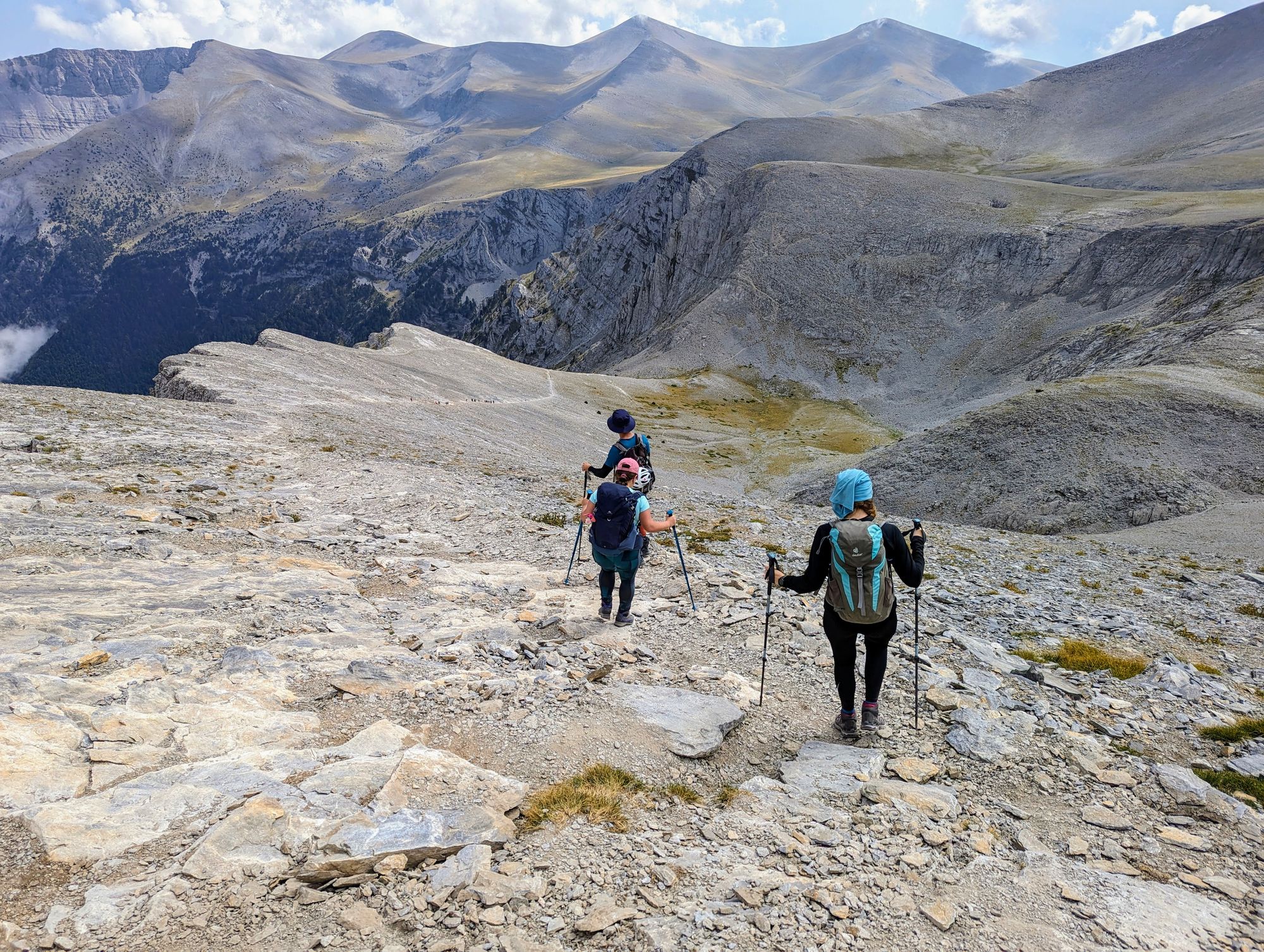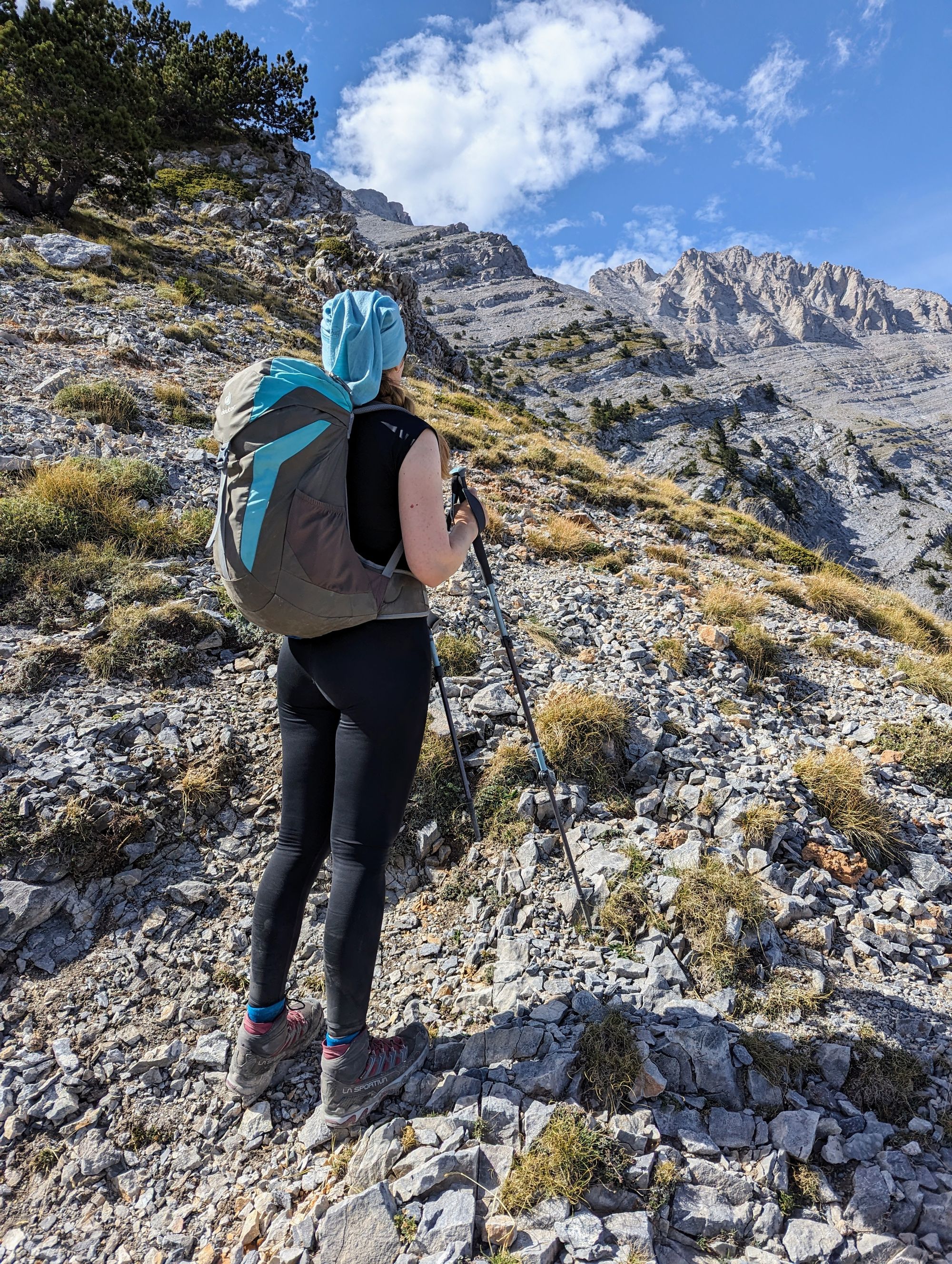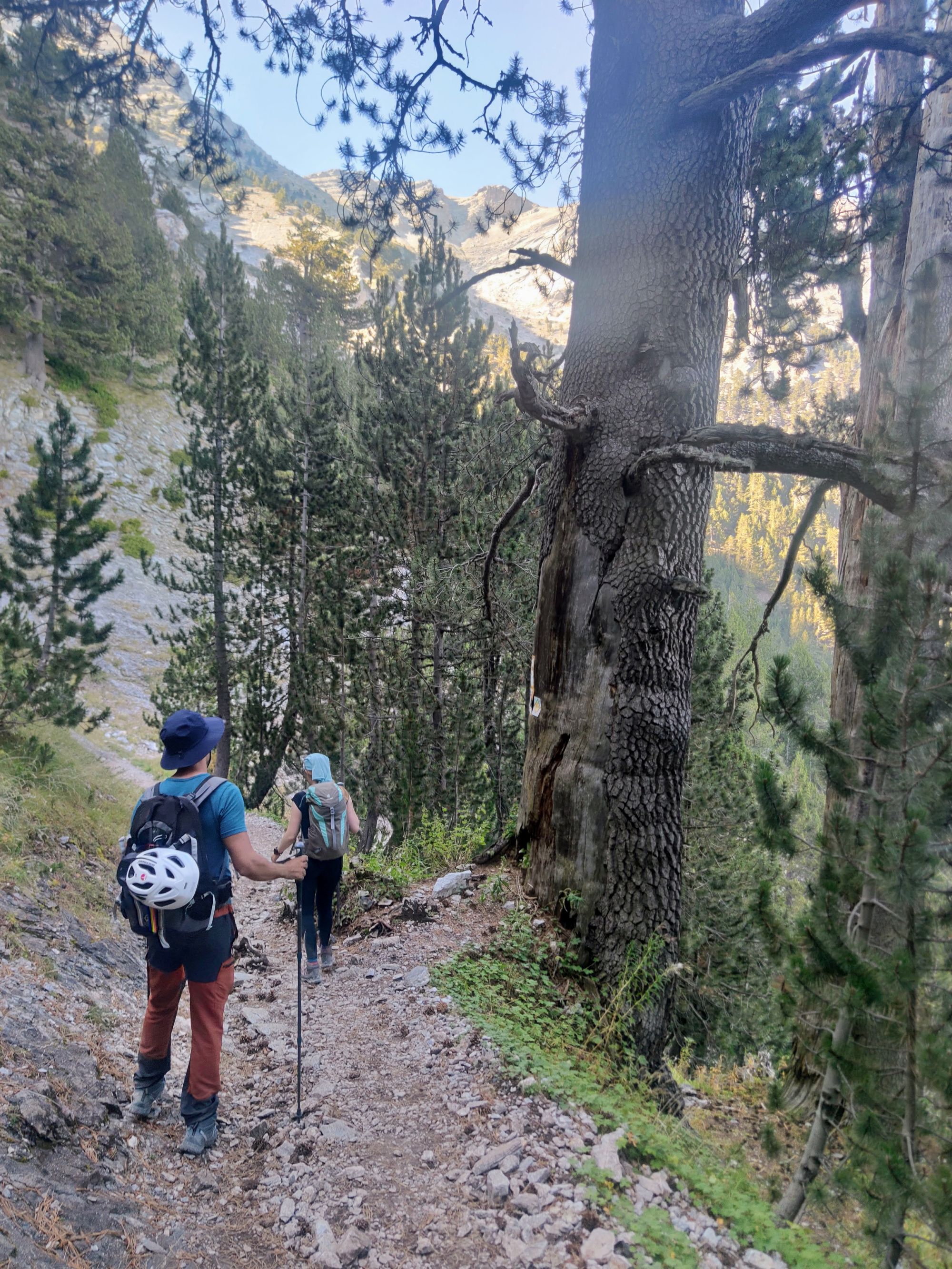 Reaching our vehicle at Prionia around 7:20 PM, we concluded our 12-hour adventure, filled with challenges and breathtaking sights. The descent felt long and tiring, prompting us to refresh ourselves in the cool waters of the Enipeas River, a perfect ending to a day of exploration and bonding.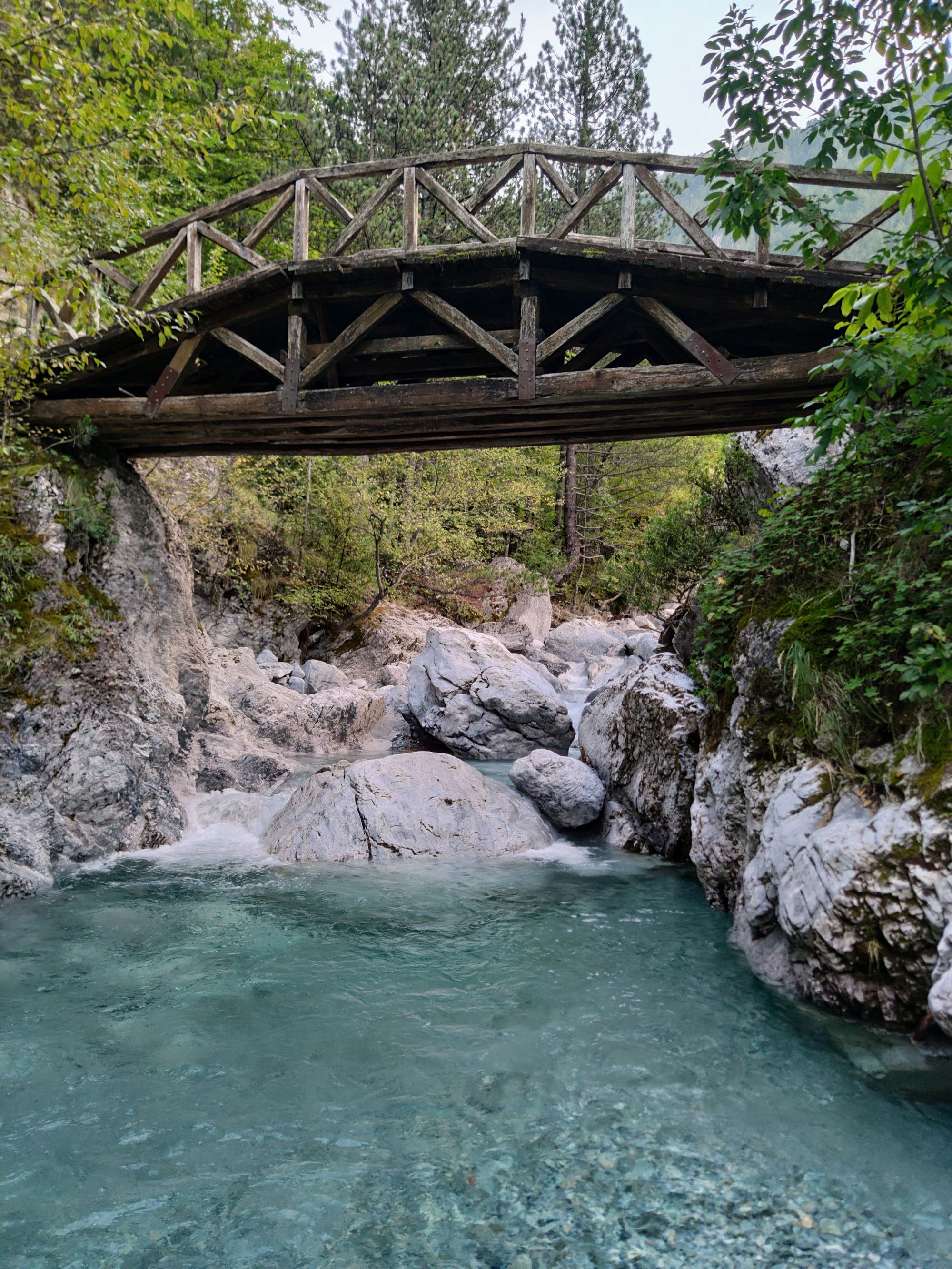 Conclusion and Safety Tips
Our adventure from Prionia to Mytikas Peak was a day filled with awe-inspiring vistas, camaraderie, and the thrill of conquering the highest peak of Mount Olympus. As we reminisce about our journey, we would like to share some essential safety tips and information for fellow adventurers planning to undertake this hike:
Safety First: Always prioritize your safety. The trails can be steep and challenging, especially in the Louki Couloir. Ensure to wear a climbing helmet to protect yourself from falling rocks.
Weather Forecast: Before setting out, check the weather forecast and be prepared for sudden weather changes. It's advisable to start early to avoid being caught in afternoon storms.
Accommodation in Litochoro: For those planning to stay overnight, Litochoro offers a range of accommodation options.
Exploring the Aegean Sea: After your hike, you might want to relax and unwind by the beautiful Aegean Sea, which is just 7 km away from Mount Olympus. The sea offers a tranquil setting to rejuvenate after the strenuous hike.
Respect the Environment: While on the trails, remember to respect the environment by not littering and adhering to the principle of 'Leave No Trace'.
Emergency Contacts: Keep a list of emergency contacts handy, including the local mountain rescue service, in case of any unforeseen events.
We hope that our journey inspires you to explore the majestic Mount Olympus, a place where the beauty of nature meets the thrill of adventure. Remember, the journey is as beautiful as the destination. Happy hiking!