Bucegi Mountains, Romania: Ascending to Omu Peak in winter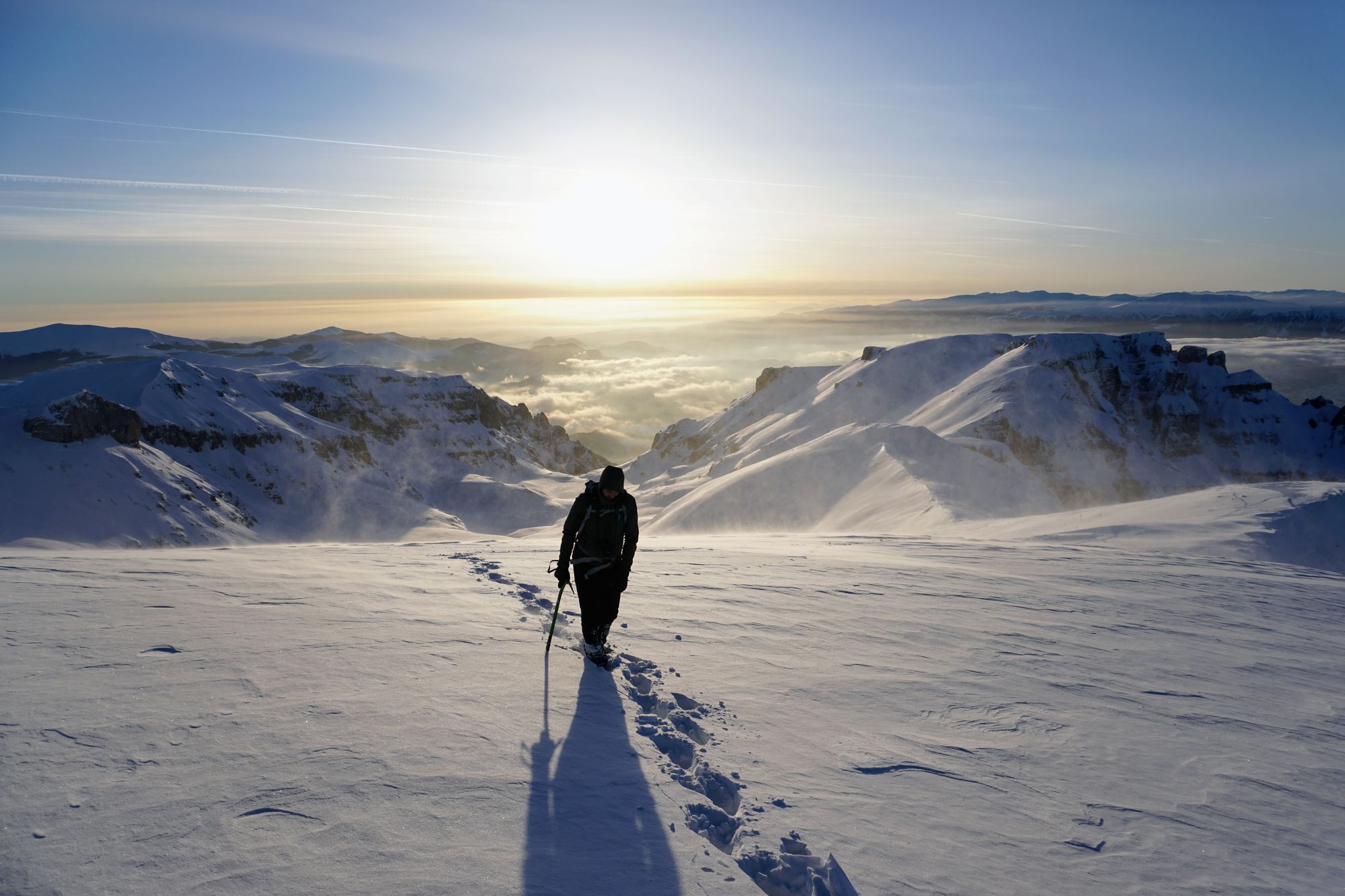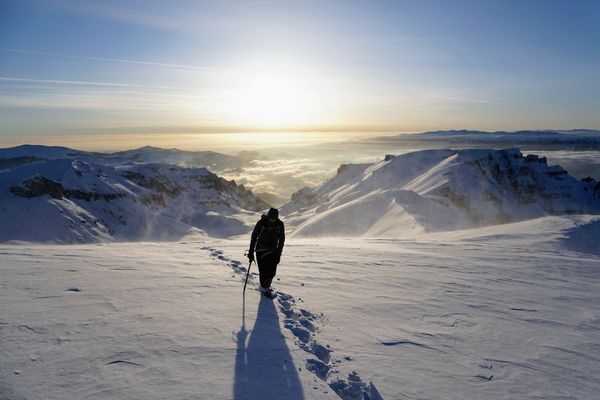 Omu Peak is the summit of Bucegi. From Omu Peak you will have some nice panoramic views of all the mountains and valleys around. Also, the ascend from Cabana Malaiesti to Omu Peak via the Malaiesti Valley is beautiful as well.
The Bucegi mountains in winter
The summit of Bucegi Mountains is Omu Peak (Varful Omu) at 2505 m.
From Omu peak you will have some nice panoramic views of all the mountains and valleys around. Also, the ascend from Cabana Malaiesti to Omu Peak via the Malaiesti Valley is beautiful as well.
At Omu Peak there is a chalet, which is closed during winter, and a weather station which is functioning all year round.
The official height of Omu Peak is 2505 m. If you want to go even higher, you can climb on top of the rock near the Omu Chalet to reach the altitude of 2514 meters.
During winter (November 1 – April 30), most of the trails above 1800 meters altitude are closed (or not recommended) mainly because of the high risk of avalanches.
The only trail towards Omu Peak that remains open during winter is from Cabana Malaiesti via Malaiesti Valley and Hornul Mare chimney. Of course the route needs to be approached with caution.
The trail starts at Cabana Gura Diham in Busteni. From here to Omu Peak it's a 13 km hike with more than 2000 m elevation gain uphill.
People usually split the hike in 2 days. They spend the night at Malaiesti Chalet (1720 m) and ascend to Omu Peak the next day.
The chalet at Omu Peak, Cabana Omu, is closed during winter
The weather station next Omu Chalet is functioning all year round. It is considered the highest place in Romania which is permanently inhabited.
The meteorologists work in 2-week shifts. Since there is no transportation available, the only way to get to and from the weather station is by hiking.
Hiking to Omu Peak in winter – trail summary
Going up
Cabana Gura Diham – Cabana Diham – Cabana Malaiesti – Hornul Mare – Saua Hornurilor – Omu Peak (8 h)
Going down
From Omu Peak you can either:
Descend the same way you climbed (~6 h to Gura Diham)
Descend via Valea Cerbului (~5 h to Gura Diham) – only if the snow conditions allow it
Trail markings


Blue triangle: Busteni - Cabana Gura Diham to Cabana Diham: 2 h

Blue cross then blue stripe: Cabana Diham to Cabana Malaiesti: 3 h

Blue stripe: Cabana Malaiesti to Omu Peak: 5 h

Yellow stripe: Omu Peak to Cabana Gura Diham via Cerbului Valley: 5 h
Map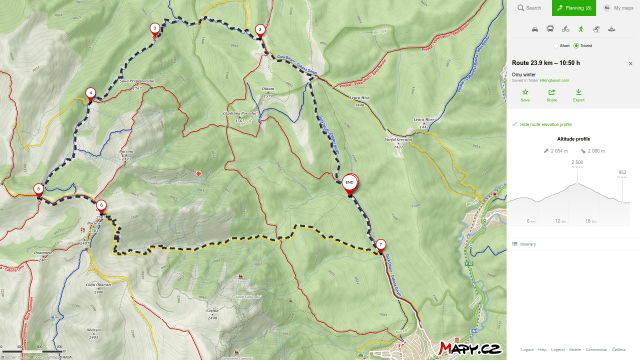 Trail Profile
Important:
Before ascending to Omu Peak in winter you must inform yourself about the snow and wind conditions.
Ask the mountain rescue service or the tenants at Malaiesti Chalet. Also make sure you tell them the exact route you are planning to follow so they know where to look for you in case of an emergency.
There may be days when nobody ventures past the Malaiesti chalet so the mountain rescuers don't have up-to-date information about the snow conditions.
In this case, they may say that if you decide to climb to Omu Peak it will be on your own risk.
Read more about avalanches here.
Equipment
Not only it's important to have the proper equipment with you, but you also have to know how to use it.
If you are in Bucharest you can rent winter equipment from ncort.ro
Ice ax
Crampons
Snow shoes
Helmet
Vacuum insulated water bottle
Hydration
This is a strenuous hike so make sure you hydrate properly because you will sweat a lot.
Hydration is a problem in winter because you don't feel as thirsty as you do in summer.
Another issue is that the water in your bottle gets real cold (or even freeze) and can be unpleasant to drink. Take with you a vacuum insulated water bottle filled with hot water that you can mix with the cold water if needed.
Make sure you have some cups of tea or a soup at Diham and Malaiesti chalets and use electrolytes tabs.
Hiking to Malaiesti Chalet during winter
5 h, blue triangle, blue cross, blue stripe
During winter, there is only one trail you can take to safely reach Malaiesti Chalet.
It is a 5-hour moderate walk, although the amount of time it actually takes depends on how much snow is covering the trail. During weekends the path is usually well beaten.
Start of the trail: Cabana Gura Diham
The trail starts at Complex Turistic Gura Diham, 5 km away from Busteni train station. If you travel by car, you can park in front of the chalet for free.
Complex Turistic Gura Diham to Cabana Diham
2 h, blue triangle
The trails starts at the right of the Gura Diham Chalet. Follow the blue triangles markings until you reach at Cabana Diham. It is a 2 hours easy hike.
At Cabana Diham they serve food and hot drinks. They offer accommodation in bunk beds at the price of around 30 lei per night.
Cabana Diham phone number: +40 726 203 262
Cabana Diham to Cabana Malaiesti
3-4 h, blue cross then blue stripe
From Cabana Diham, start following the blue cross markings towards Malaiesti Chalet.
You will descend 300 meters and then start to ascend again. After you start ascending, you will soon get to an intersection with a signpost at the right of the trail, which is easy to miss if you don't pay attention. At this intersection turn left and start following the blue stripe markings.
After 1 hour of ascending, you will reach a scenic viewpoint. From here the path becomes less steep for about 30 minutes and then it starts to ascend again. From the viewpoint, you should reach Malaiesti Chalet in about 1.5 hours.
The Malaiesti Chalet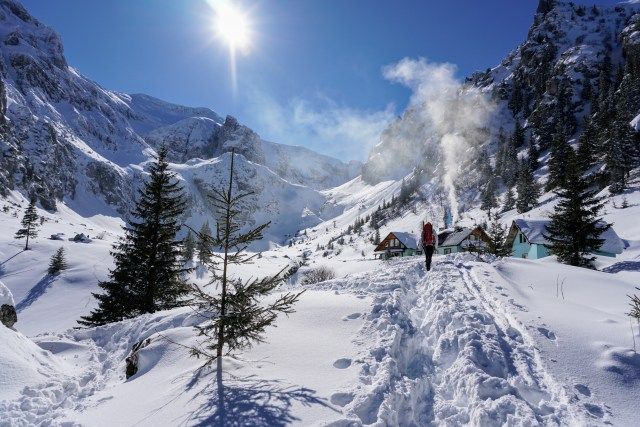 From the start of your hike you should reach the Malaiesti Chalet (Cabana Malaiesti) in about 5 hours.
The Malaiesti Chalet is located at 1720 m altitude in the superb glacial valley of Malaiesti.
Cabana Malaiesti phone number: +40741074884
At Malaiesti they serve food and hot drinks and offer accomodation for around 35 lei per night in bunk beds. There is no running water and toilets are located outside.
This is the last chalet you will pass by for the rest of the hike. Omu Chalet is closed during winter.
Make sure you ask the tenants about the snow and wind conditions and inform them about the route you are planning to take.
Malaiesti Valley to Hornul Mare
3h, blue stripe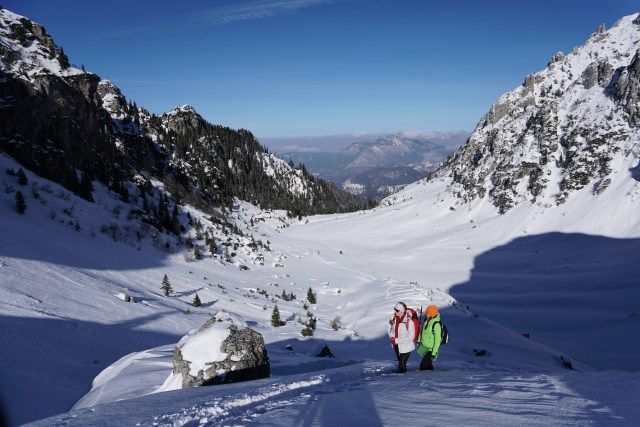 The trail from Malaiesti to Hornul Mare is not closed during winter, but this doesn't mean it's always safe.
Maliesti valley is facing north-east. According to avalanche.org:
North facing slopes receive very little heat from the sun in mid winter. Conversely, south facing slopes receive much more heat. Therefore, a north facing slopes will usually develop a dramatically different snowpack than a south facing slope.

In wet snow conditions due to strong sun, it's just the opposite of a dry snowpack: south and west facing slopes will usually produce more wet avalanches than the more shady slopes.
On warm and sunny days snow sluffs may occur especially on the eastern walls of the Malaiesti Valley. This means you will have to walk on the middle of the valley and not to follow the marking poles that would take you too close to the eastern side of the valley.
If there is no trail in the snow beyond the Malaiesti chalet, snowshoes will help a lot. If the snow is knee deep, having snowshoes can save you up to 3 hours.
From Cabana Malaiesti continue the ascent on blue stripe markings.
You will climb 3 glacial terraces before reaching at the base of Hornul Mare, a steep chimney.
Ascending the Hornul Mare chimney
up to 1h, depending on the snow conditions, blue stripe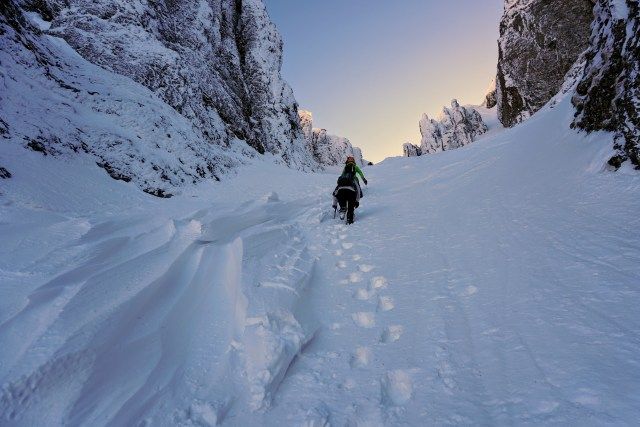 You will notice there are 2 chimneys.
Hornul Mare (The Big Chimney) – the one you should climb – is the one at the right (the markings – blue stripe – will most likely be covered in snow)
From the base of Hornul Mare chimney to its top, Saua Hornurilor saddle, there is a level difference of 100 meters.
You will most likely need crampons and an ice axe in order to safely climb the chimney.
Be aware that cornices may form at the end of Hornul Mare chimney.
Saua Hornurilor saddle to Omu Peak
1h, blue stripe or red stripe or red cross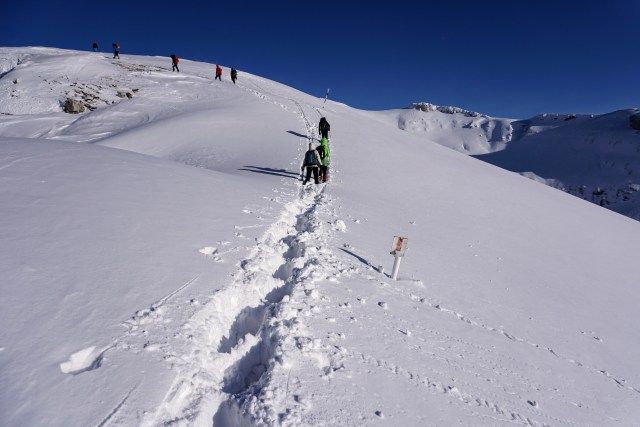 After you exit the chimney, you will find yourself at Saua Hornurilor saddle. From here you will have some nice views over the Malaiesti Valley at the north and Gaura Valley at the south.
You can already spot Omu Peak and the west. From the signpost at Saua Hornurilor saddle you should reach the summit in about 40 minutes.
While heading towards Omu Peak, make sure you don't stay too close to the edge at the left. A safe zone would be at half the distance between the edge of the cliff and the marking poles at the right (which are meant to mark the summer trail and are too low for winter trekking).
The summit – Omu Peak (2505 m)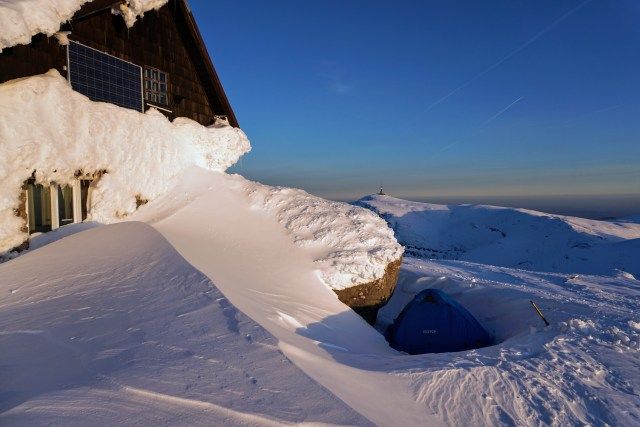 Omu Chalet is closed during the winter season and you will probably find it half-buried in snow.
The weather station located nearby is habituated all year round. They don't offer accommodation at the weather station, but if you need any help, the guys working there, even if busy, will be more than willing to help you.
Don't make loud noises near the weather station unless you are in danger. The meteorologists work in shifts; they have to take measurements every hour, and some of them are resting while their colleagues are working.

In case you need help, you can quietly enter the weather station. The entrance may be hard to find because it's dug in the snow. Make sure to take your crampons off before entering the station.
Descending via Valea Cerbului Valley
5h, yellow stripe
Cerbului Valley is officially closed during winter (November 1 to April 30) due to high risk of avalanches occurring.
Inform yourself about the snow conditions and make a decision accordingly. You can descend via Cerbului Valley or go back the same way you climbed, via Hornul Mare and Malaiesti Valley.
You could ask the personnel at the weather station at Omu Peak, they may have met people who had recently hiked to Omu Peak via Valea Cerbului.
If they say it's too dangerous, return via Hornul Mare and Malaiesti Valley.
The descent via Valea Cerbului is about 13 km long and takes between 4-5 hours. You should see a signpost in front of the Omu Chalet. Follow the yellow stripe marking until you reach the asphalt road, 1 km away from Gura Diham Chalet.
How we approached this hike in the past
1. As a relaxed, two-day hike
We ascended the first day to Malaiesti Chalet and spend the night there.
The next day we climbed to Omu Peak and descended all the way down to Gura Diham either via Cerbului Valley or Malaiesti Valley.
There where times when others hikers went to Omu Peak the day before and made a path in the snow which eased our hike a lot.
Malaiesti Chalet gets completely full every Saturday night. If you plan to hike during weekends, you must book your beds weeks in advance.
2. As a strenuous hike the first day and an easy one the next day
We left at 6 am from Bucharest, drove to Gura Diham Chalet, hiked to Omu Peak and descended to Cabana Diham where we spend the night.
The hike took around 13 hours, we walked at a normal pace, with some decent breaks at Malaiesti Chalet.
We caught an incredible sunset at Omu Peak and then descended at headlamp from Hornul Mare.
We had dinner at Malaiesti Chalet. At Diham they close the restaurant at 9 pm.
3. As a one-day hike
We left at 5 am from Bucharest and returned the same day.
We walked at a fast pace, without many stops and the hike took around 10 hours (6h30m moving time).
It can only be done if you are fit, you are used to hiking in the snow, you have the proper gear (e.g. snowshoes), you run while descending and you can drive after a strenuous hike.