Romania
Bucegi Mountains – the closest mountains to Bucharest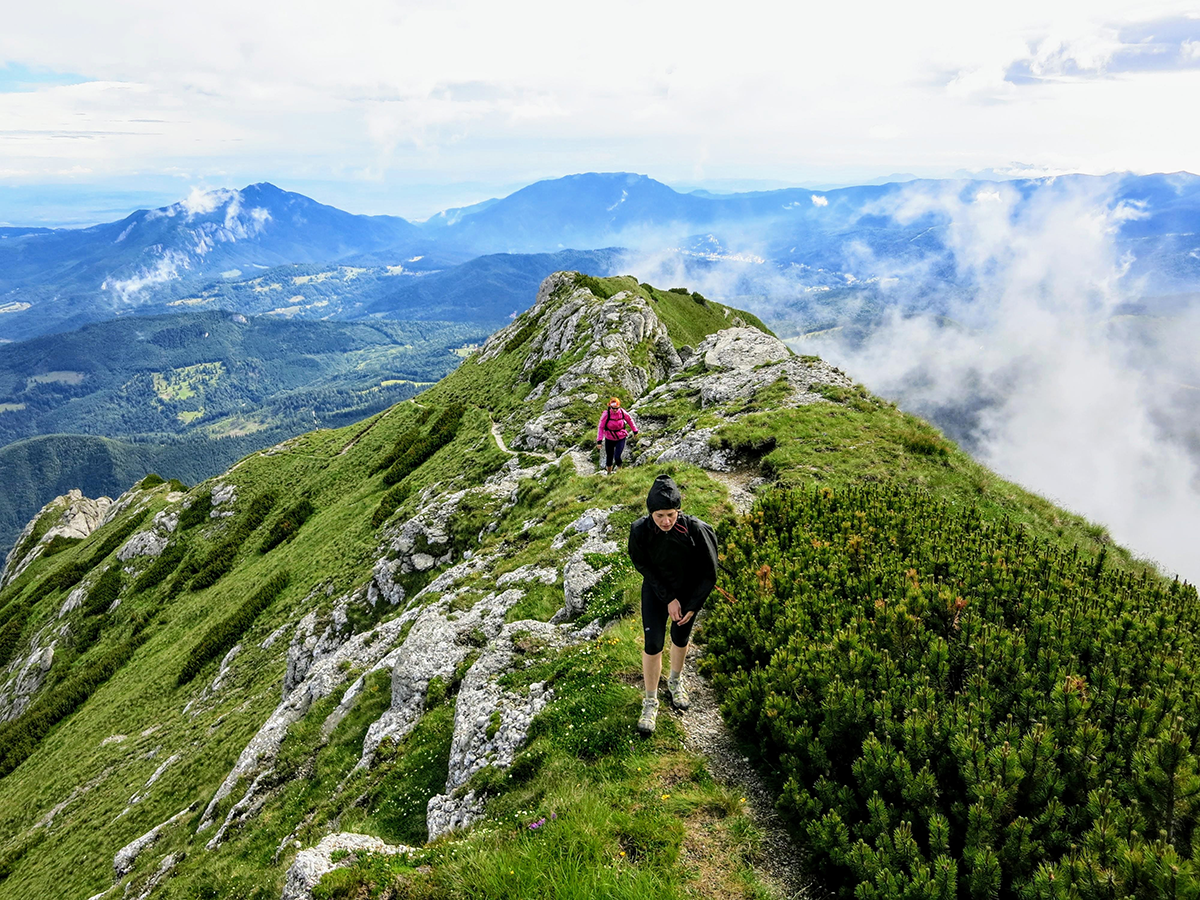 Why should you visit Bucegi Mountains?
Bucegi mountains are perfect for 1 to 2 days hiking trips. They offer breathtaking views and a good variety of hiking trails for both beginners and advanced.
The hiking trails are well maintained and the markings are in good conditions. There are several chalets where you can spend the night or just have a warm meal.
From Bucharest you can reach the base of Bucegi Mountains in about two hours, either by train or by car.
Glacial landforms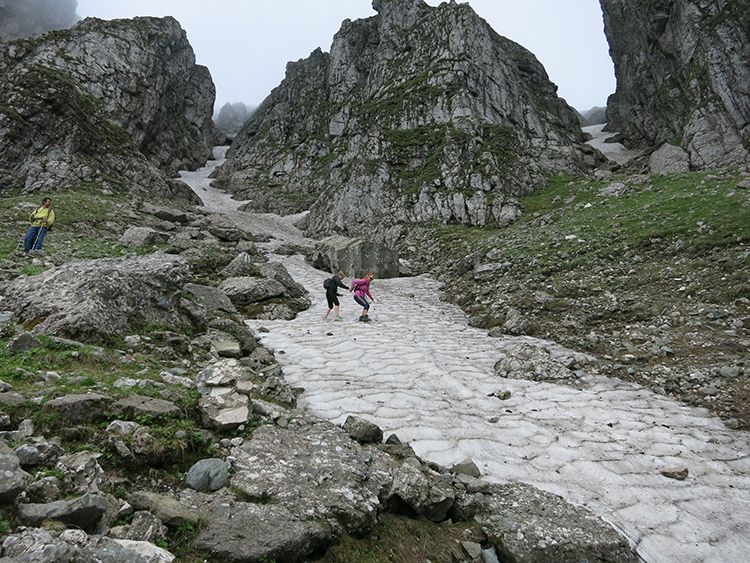 During the last ice age, the top of Bucegi Mountains was covered by glaciers. The melting of these glaciers has left behind some beautiful glacial landforms like Morarului Valley, Padina Crucii, Malaiesti and Tiganesti valleys, Hornurile Malaiesti and Hornul Tiganesti, Tiganesti glacial lake (2050m).
Natural rock formations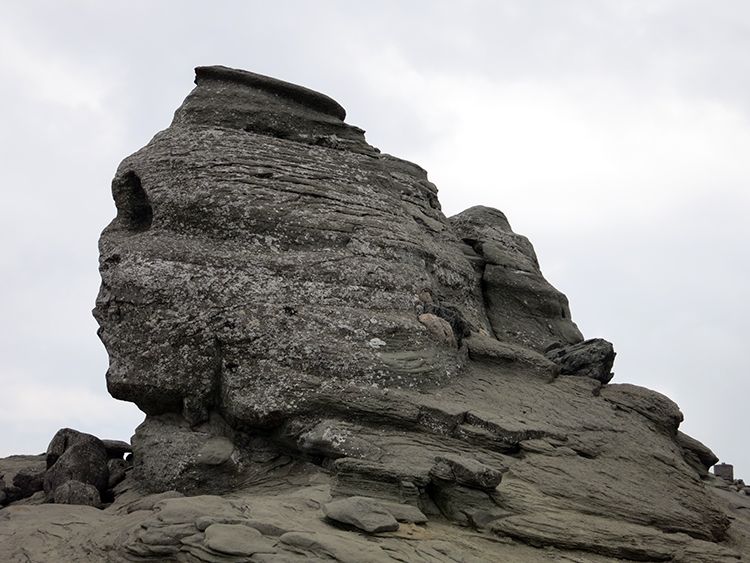 Babele (The Old Ladies) and The Sphinx are the most famous natural rock formations in Bucegi Mountains and attract thousands of tourists yearly. They are located in the southern part of Bucegi plateau, near Cabana Babele chalet (2206m).
Spectacular views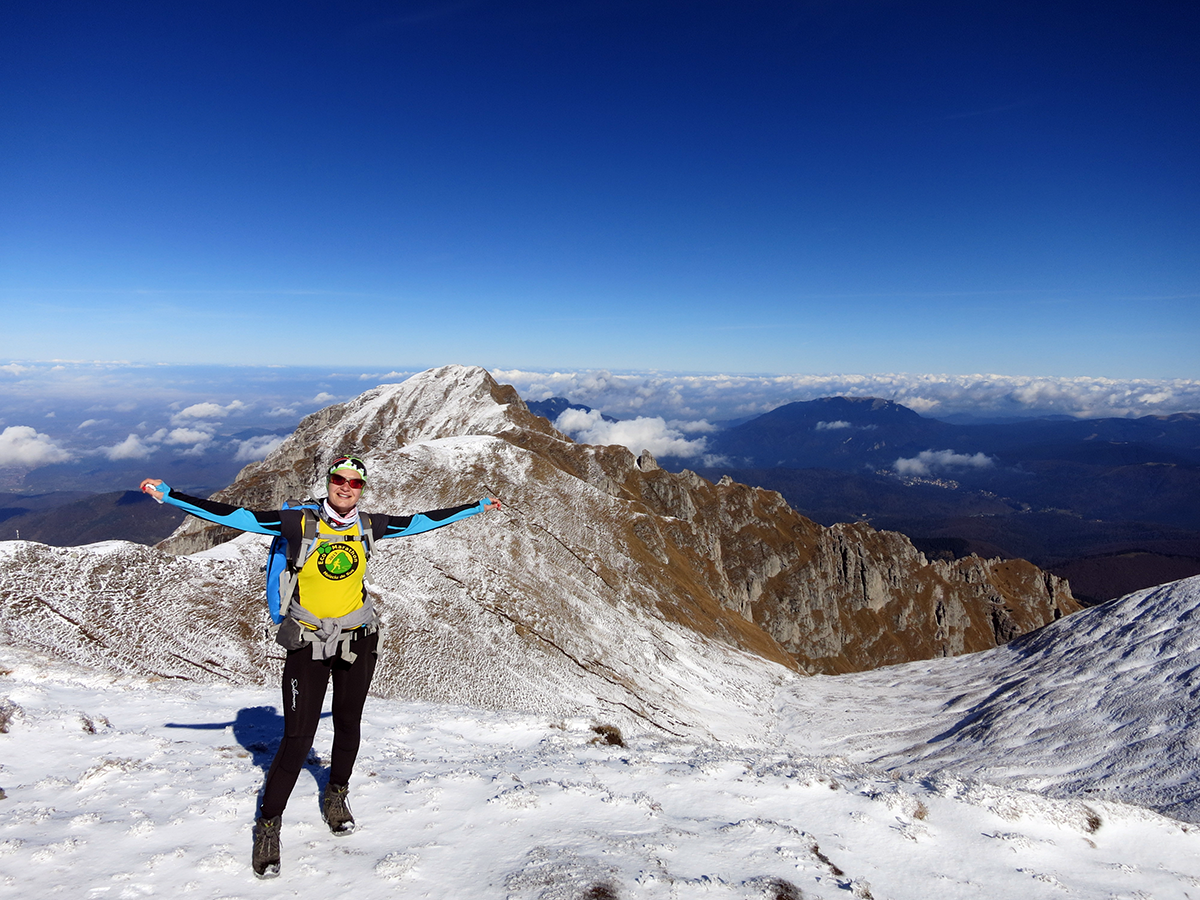 The most spectacular views are from Varful Omu Peak, Varful Bucsoiu peak (2492m), Tiganesti bivouac refuge, Heroes Cross on Varful Caraiman peak (2384m).
Bucegi summit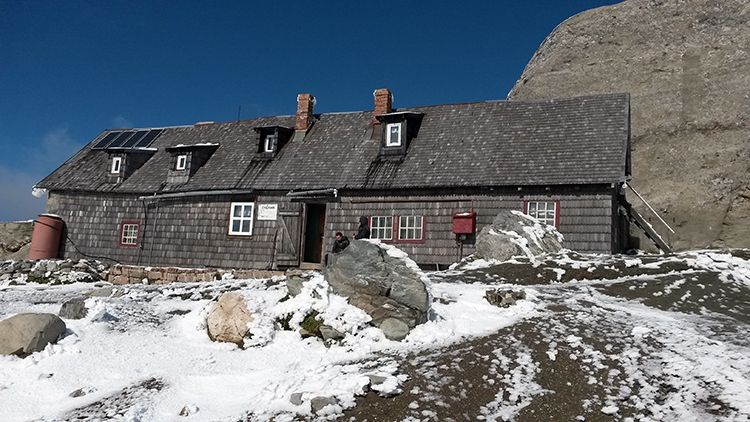 Omu Peak (2507 meters) is the highest in Bucegi and only 37 meters less tall than the highest peak in Romania, Moldoveanu (Fagaras Mountains). You can reach it in 6-8 hours from any side of the mountain. The descent takes around 4-5 hours.
Cabana Omu chalet, built on top of Omu Peak, is the building located at the highest altitude in Romania.
Access routes
Bucegi Mountains are located in the eastern part of Southern Carpathians. You can reach their base in 2 hours from Bucharest and less than 1 hour from Brasov. This makes them some of the most visited mountains in Romania.
From Busteni (Prahova Valley) – closest to Bucharest
The most popular hiking trails to the Bucegi Massif start from the town of Busteni in Prahova Valley.
The fastest way from Bucharest to Busteni is by train and the trip usually lasts for about 2 hour. It's recommended to book your ticket one week in advance from here.
If you decide to go by car expect traffic jams during weekends that can add up to 1 hour to your trip. You can avoid the traffic jams by leaving Bucharest before 7 am.
Cable car
The cable car from Busteni will take you right on top of Bucegi plateau, near Cabana Babele (2206m). Keep in mind that waiting times can be huge during weekends. For more information see here.
From Bran – Dracula's Castle
You can also start hiking Bucegi mountains from the towns of Bran, Rasnov, Moieciu de Sus and Moieciu de Jos. Best way to get here is by personal car.
Hiking trails in Bucegi Mountains
The Bucegi Massif consists of a main plateau and several secondary ridges. Hiking to the summit, Omu Peak, usually takes from 6 to 8 hours from either side of the mountain.
Compared to Fagaras Mountains, the Bucegi Massif is a lot more compact and is perfect for 1 to 2 days hiking trips.
If you are fit, the shortest path from Busteni to the Bucegi Plateau is the Jepii Mici trail. The start of the trail is close to the train station. Following this path, you should get to the famous and touristic rock formations Babele and The Sphinx in 4-5 hours from where you can reach the summit, Varful Omu (2505 m) in about 2 hours.
From Cabana Babele you can hike to the Hero's Cross by following the red cross markings. The path is easy, takes around 3 hours round trip and you'll be rewarded with some spectacular views over the town of Busteni and Baiului Mountains.
You can walk to the summit, Varful Omu (2505 m), by following the yellow stripe markings from Cabana Babele. The trail is easy and it takes around 4 hours round trip.
Trail blazing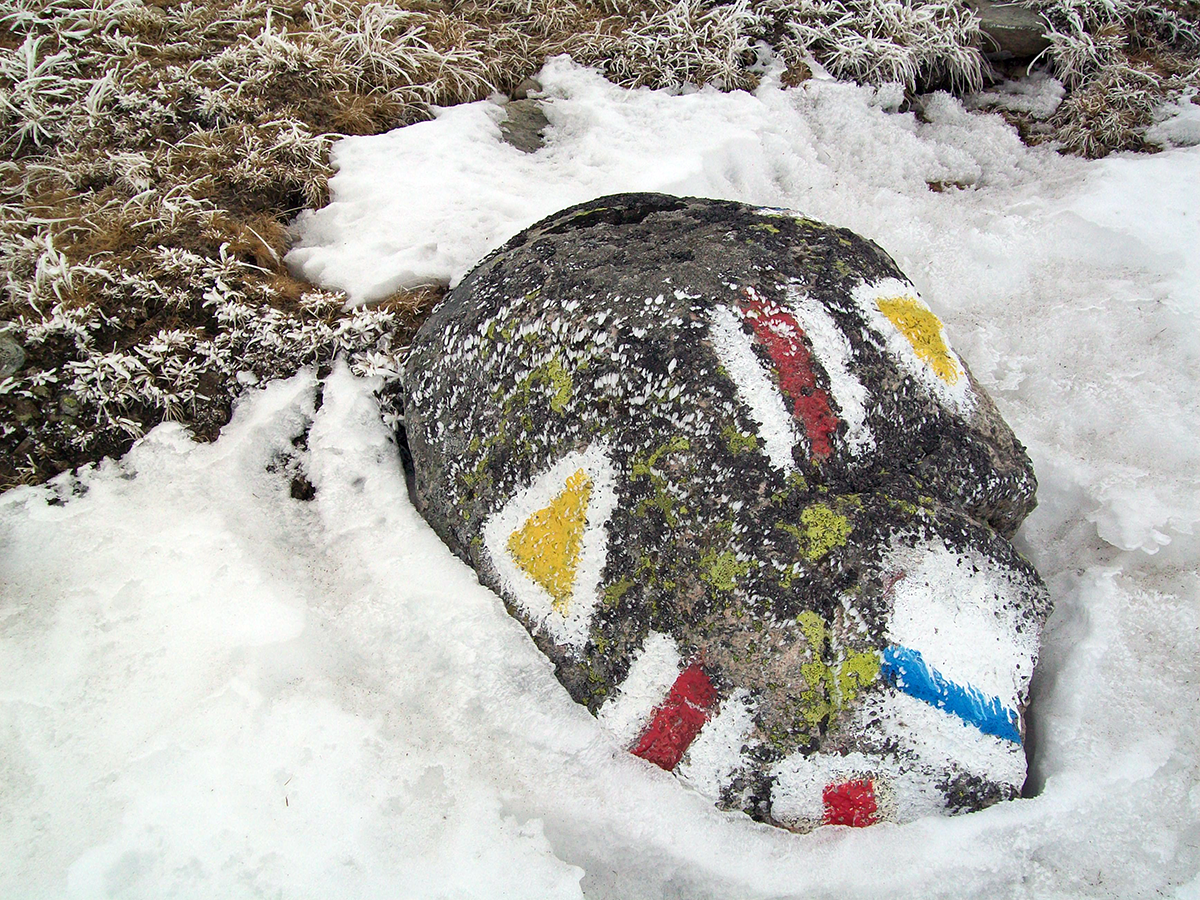 The hiking trails in Bucegi mountains are well marked and maintained.
The official trail markings in Romania can have the shape of triangle, cross, bar, and dot colored in either red, yellow or blue on white background. The marks are painted on trees, rocks and poles.
Summer season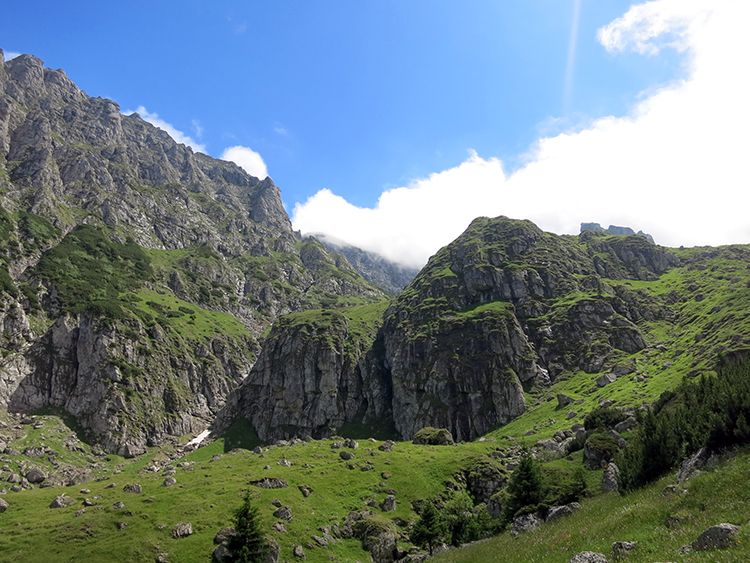 Most of the marked trails are of moderate difficulty, suitable for beginners if they are in good physical shape. No special climbing equipment is required during summer.
In June and July thunderstorms form around 1 pm, so make sure they will not catch you exposed. Also make sure you carry plenty of water with you. It gets hot and humid. On many trails you will not find water and it is rather expensive at the chalets – around 6 lei for half a liter.
Winter season (November – late April)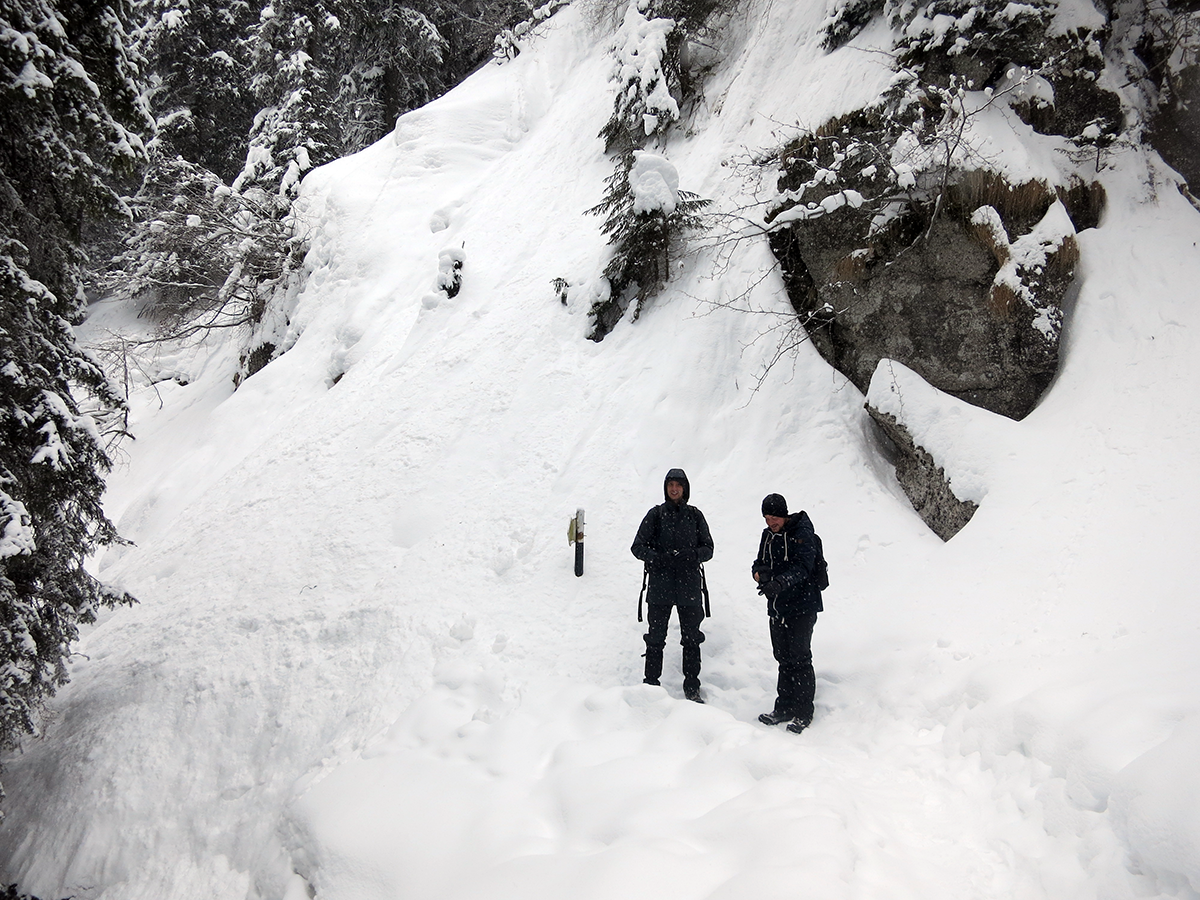 During winter the trail is covered in snow but you can reach most of the chalets without problems. If the path is not beaten it will require quite an effort to break the snow.
Many of the hiking trails towards the plateau are closed due to risk of avalanches. You can still reach the summit from Malaiesti Chalet via Hornuruile Malaiestilor if the snow conditions allow it. Depending on the situation you might need crampons, snow shoes and an ice axe.
Example of hiking trails
From Busteni
Busteni – Jepii Mici – Cabana Caraiman Chalet (2025 m) – Cabana Babele – Bucegi Plateau – Varful Omu Peak (2505m) – 6-7 hours
Valea Cerbului – Varful Omu Peak – 4-5h
Cabana Gura Diham (987m) – Poiana Izvoarelor – La Prepeleac – Bucsoiu Ridge – vf. Bucsoiu (2492m) – Varful Omu Peak – 6-7 hours
From Bran, Moieciu de Sus and Moieciu de Jos
From Bran (where you can visit the famous Dracula's castle), Moieciu de Sus and Moieciu de Jos you can reach Varful Omu peak in 5-7 hours.
The paths on this side of the mountain are less popular than the ones in Busteni and you will not find any chalet until Omu Peak.
Bran (720 m) – Valea Gaura – Varful Omu (2507 m) – 6-7 hours
From Rasnov
From Rasnov you can get to Malaiesti Chalet or Tiganesti ridge. The start of the trail is 13 km away from Rasnov center, so it's best to get there by car.
Accommodation
Resorts at the foot of Bucegi Mountains
At the east, the main resorts in Prahova Valley are the towns of Sinaia and Busteni, located 150 km away from Bucharest.
At the west, the towns of Bran, Rasnov, Moieciu de Sus and Moieciu de Jos offer plenty of accommodation options.
The price for a double room starts from 80 lei (17 EUR) per night. Easiest way to book an accommodation is by using websites like  booking.com but you will find many more options the local website www.turistinfo.ro (for now only available in Romanian)
Chalets in Bucegi Mountains
In Romanian, the word "cabana" means either chalet or hut. A "cabana" can be anything from a rustic hotel to a simple hut where you can spend the night in a bunk bed.
In Bucegi Mountains, there are several of chalets where you can spend the night or just have a warm meal. A bed in a dorm room starts at 35 lei (8 eur) per night. The chalets usually get full during weekends so make sure you book in advance.
The most isolated chalets (like Cabana Malaiesti) are supplied with the help of donkeys during the summer. During winter, the tenants have to carry all the provisions with their back. So don't blame it on the cook if you won't find an à la carte menu at the chalet.
Hotels
Cabana Gura Diham (820 m)
Cabana Piatra Arsa (1950 m)
Hotel Pestera (1610 m)
Chalets with running water and showers
Diham (1320 m)
Padina (1525 m)
Babele (2206 m)
Chalets without running water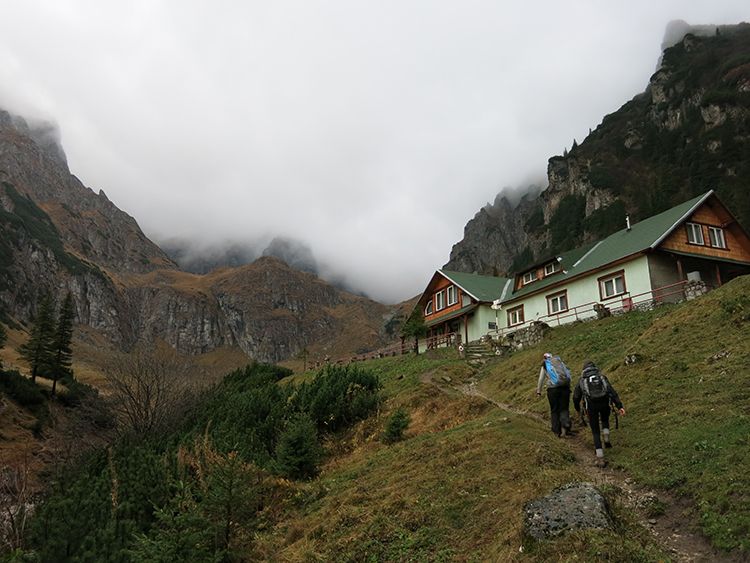 They have no running water, toilet is outside but in return they offer the best views and best atmosphere:
Cabana Malaiesti (1720 m)
Cabana Omu (2505 m)
Bivouac refuges or shelters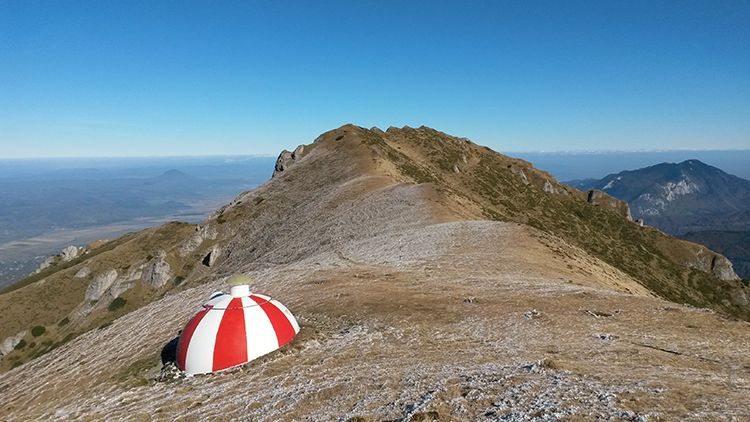 If you're going for something more extreme, you can spend the night in one of the refuges in Bucegi Mountains. Some are located right on top of the ridge. They have the shape of an igloo and are made of some strong plastic material.
Make sure you bring your own food and water because you will not find anything there. You will also need good sleeping bag because they are not heated.
The main refuges in Bucegi Mountains are:
Tiganesti refuge (2195 m) in Saua Tiganesti saddle
Batrana refuge (2150 m), close to Varful Batrana Peak (2181m)
Strunga refuge (1909m) in Saua Strunga saddle
Camping
Camping is not allowed in Bucegi Natural Park. However, in case of emergency you can set up your tent but only from dusk till dawn, otherwise you risk to be fined.
It's better to camp above 2000 meters (above the tree line) in order to avoid encounters with the brown bears. You can also ask the tenants if they let you camp near their chalets.