Bucegi Mountains – the closest mountains to Bucharest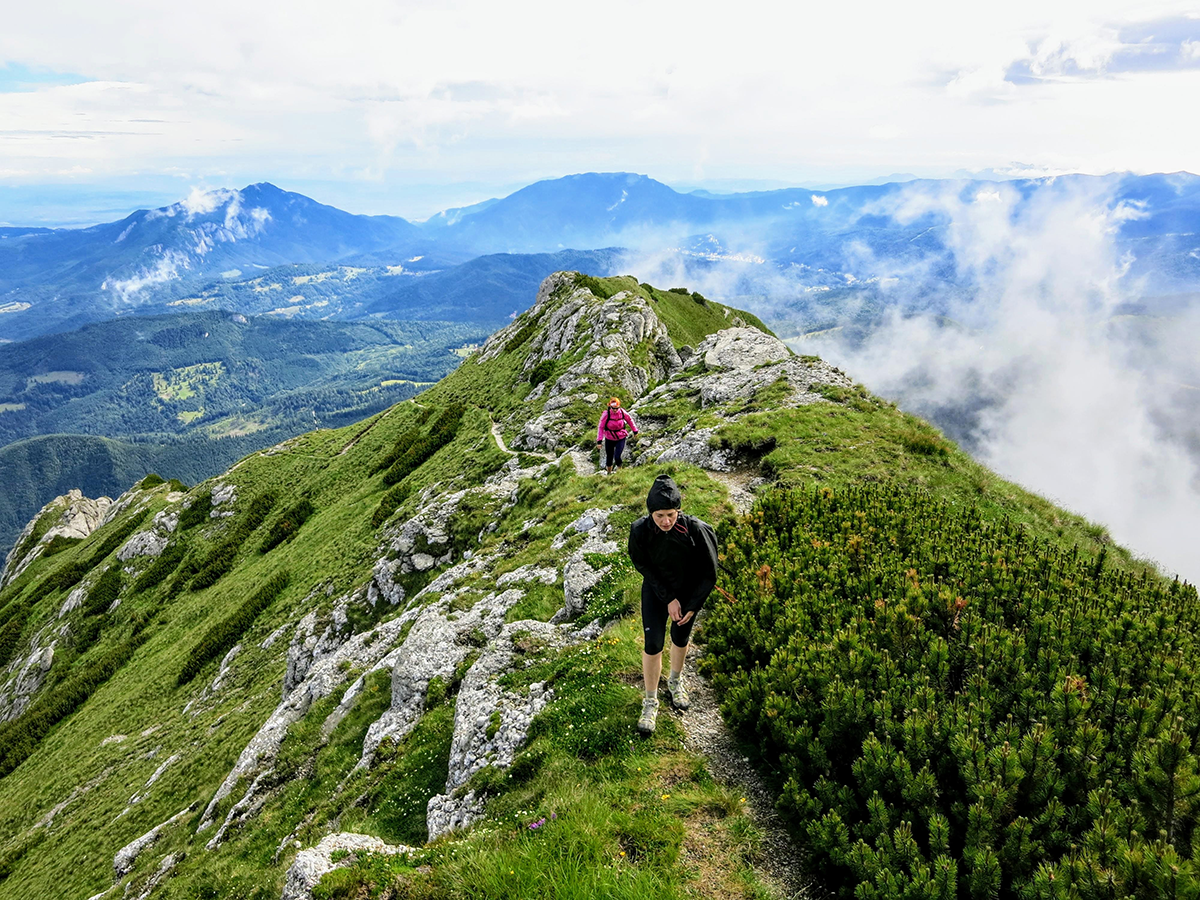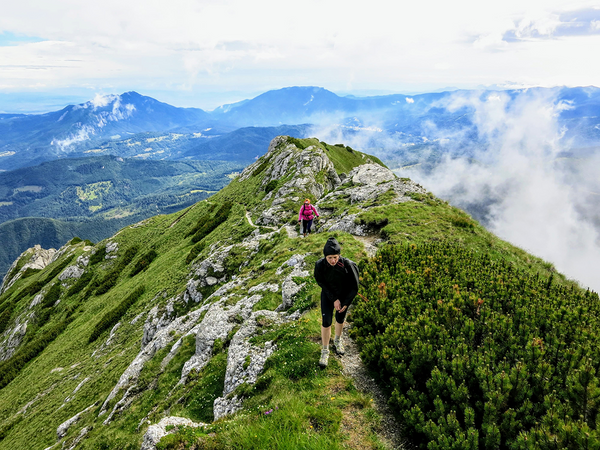 Why you should visit Bucegi Mountains
The Bucegi mountains are ideal for day hikes, trail running, scrambling, and alpine climbing. They offer breathtaking views and a wide range of trails suitable for both beginners and experienced hikers.
There are a few huts where you can sleep or eat a hot meal. Camping is not permitted in the Bucegi Natural Park, but there are a few mountain refuges where you can spend the night in the wilderness.
Bucegi have the advantage of being only a 90-minute train ride from Bucharest, Romania's capital city.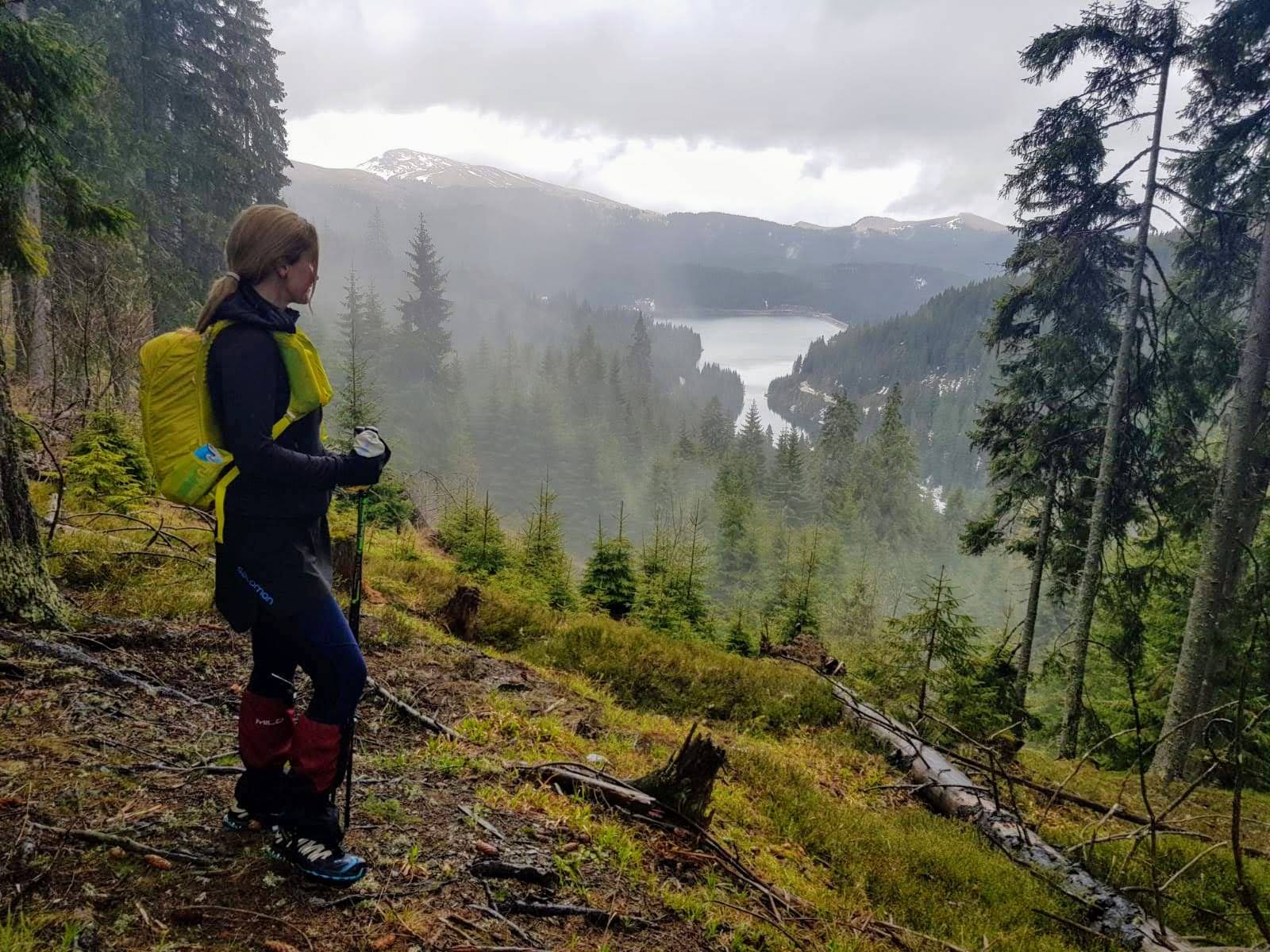 Trail blazing
The hiking trails in the Bucegi mountains are, in general, well marked and well-kept.
In Romania, official trail markings can take the form of a triangle, cross, bar, or dot. The shapes are coloured in either red, yellow or blue on white background. The markings are painted on trees, rocks, or poles.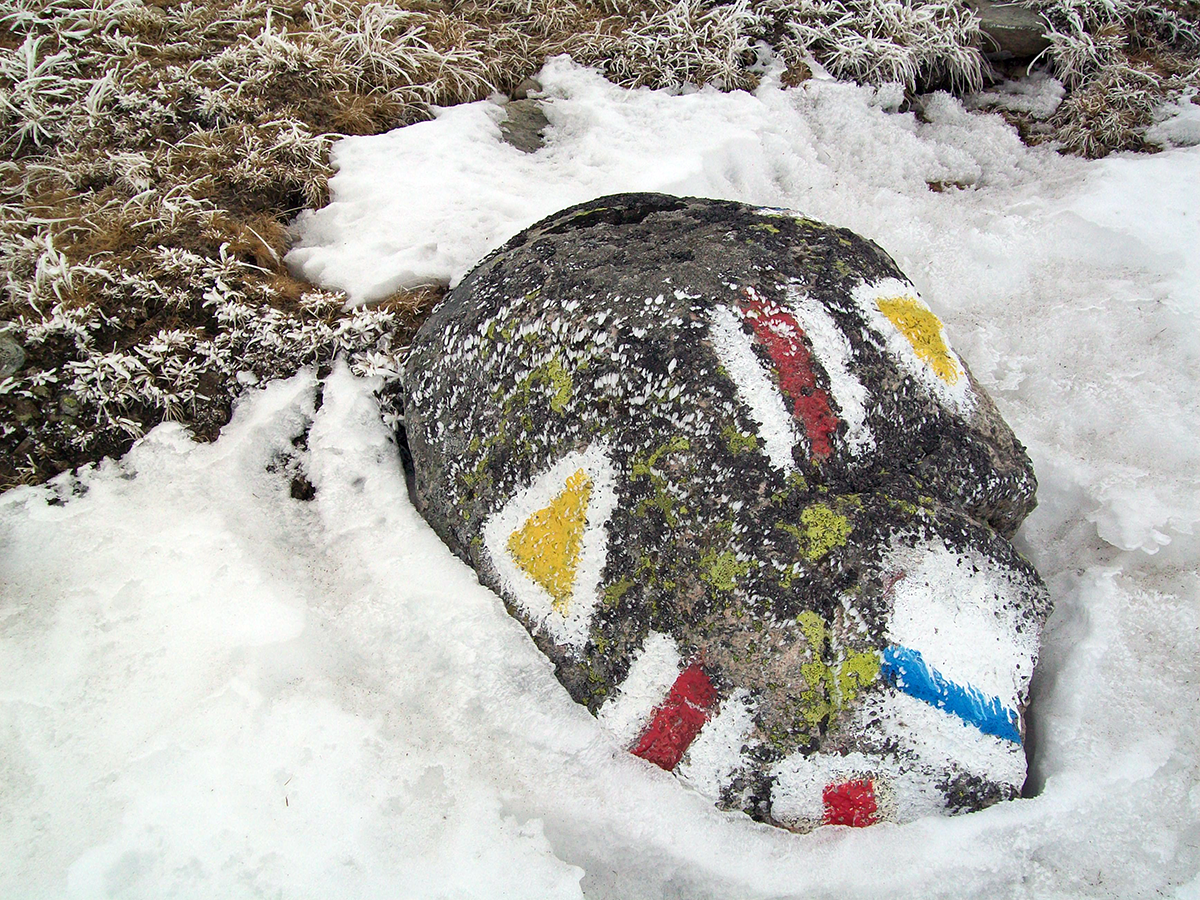 Glacial landforms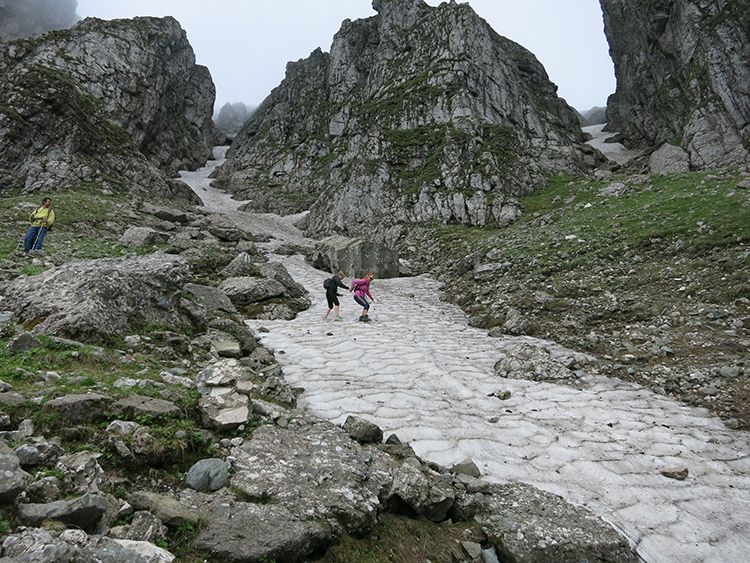 During the last ice age, glaciers covered the top of the Bucegi Mountains. Melting glaciers have left beautiful glacial landforms such as Morarului Valley, Padina Crucii, Malaiesti and Tiganesti valleys, Hornurile Malaiesti and Hornul Tiganesti, and Tiganesti glacial lake (2050m).
Natural rock formations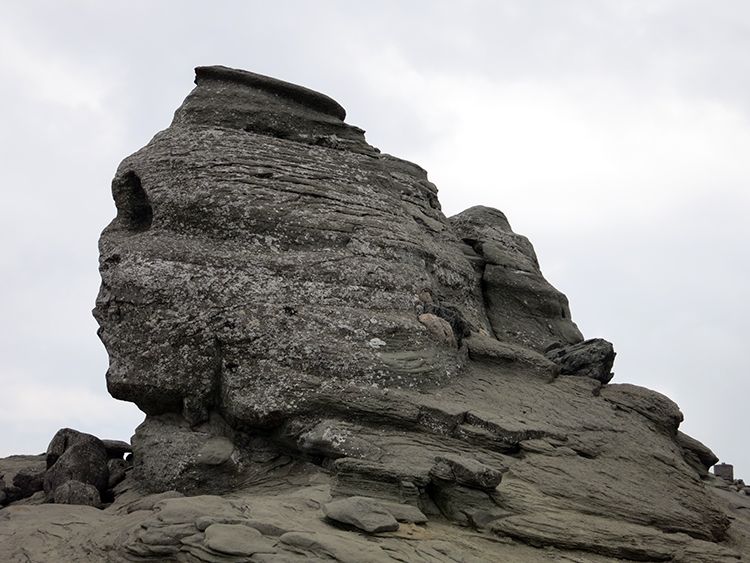 Babele (The Old Ladies) and The Sphinx are the most well-known natural rock formations in the Bucegi Mountains, attracting thousands of visitors each year. They are located near Cabana Babele hut in the southern part of the Bucegi plateau (2206 m alt).
Spectacular views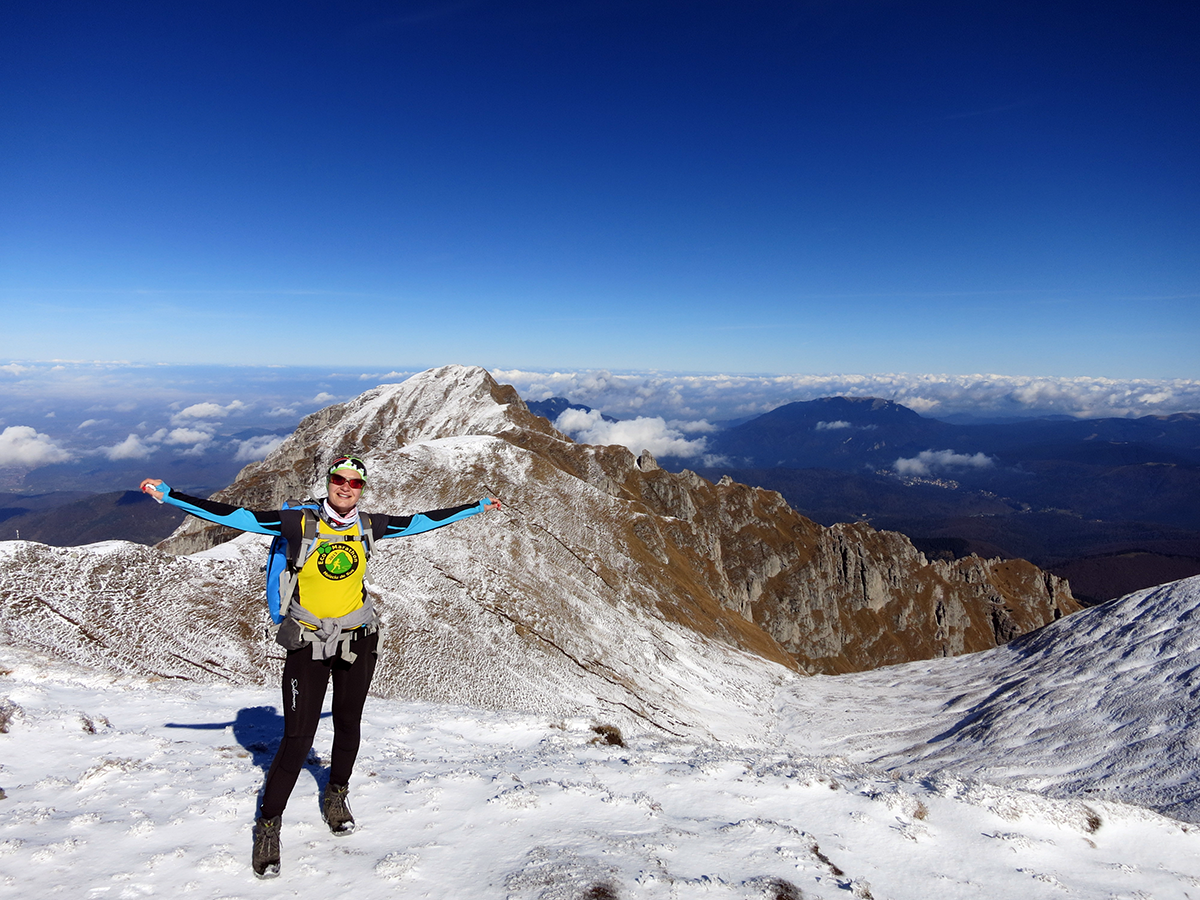 Omu Peak, Bucsoiu Peak (2492 m), Tiganesti Ridge, and Caraiman Peak provide the best views (2384 m).
Bucegi summit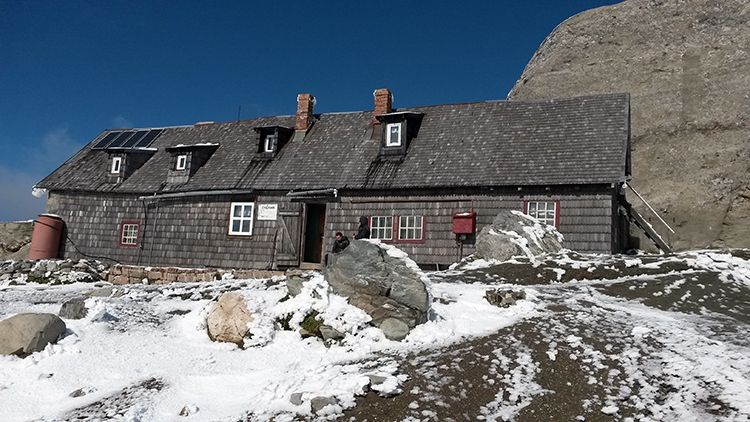 Omu Peak (2507 meters) is the highest point in Bucegi and is only 37 meters shorter than Moldoveanu (Fagaras Mountains) - Romania's highest peak.
Hiking to Omu Peak from any side of the mountain takes about 6-8 hours. The descent takes approximately 4-5 hours.
Cabana Omu, the hut near Omu Peak, is Romania's highest-altitude building. It is usually only open on weekends during the summer season.
Access routes
Bucegi Mountains are located in the eastern part of Southern Carpathians. You can reach their base in 2 hours from Bucharest and less than 1 hour from Brasov. This makes them some of the most visited mountains in Romania.
From Busteni (Prahova Valley) – closest to Bucharest
The most popular hiking trails in the Bucegi Mountains begin in the Prahova Valley town of Busteni.
The train is the quickest way to travel from Bucharest to Busteni, the journey taking less than two hours. It is recommended that you purchase your train tickets in advance from this website.
If you choose to travel by car, keep in mind that traffic on weekends can add up to two hours to your journey. By leaving Bucharest as early as 6 a.m., you can avoid traffic jams.
Cable car
The Busteni-Babele cable car will take you to the top of the Bucegi plateau, near Cabana Babele (2206m). Keep in mind that wait times can be extremely long on weekends.
The cable car (telegondola) in Sinaia will take you to around 2000 meters altitude, near Furnica Peak.
From Bran – Dracula's Castle
Beautiful hiking trails begin in Bran, Rasnov, Moieciu de Sus, and Moieciu de Jos. There is public transportation, but driving is the best option.
Hiking trails in Bucegi Mountains
The Bucegi Massif is mainly composed of a main plateau and a number of secondary ridges. Hiking to the Bucegi summit - Omu Peak - takes between 6 and 8 hours from either side of the mountain.
The Bucegi are much more compact than the Fagaras Mountains and are ideal for one to two day hiking trips.
The Jepii Mici trail
The Jepii Mici trail is the shortest path from Busteni to the Bucegi Plateau - if you are fit and not afraid of heights and exposed terrain!
The trailhead starts 2 km away from the train station. Following this path, you should arrive in 4-5 hours at the famous rock formations near Cabana Babele -  Babele and The Sphinx.
From Cabana Babele you can head towards Omu Peak. The trail is marked with yellow stripe and the hike should take about 2 hours (4 hours round trip).
From Cabana Babele you can also hike to the Heroes' Cross on Caraiman Peak by following the red cross markings. The path is easy, takes about 3 hours round trip, and will reward you with spectacular views over Busteni and the Baiului Mountains.
Summer season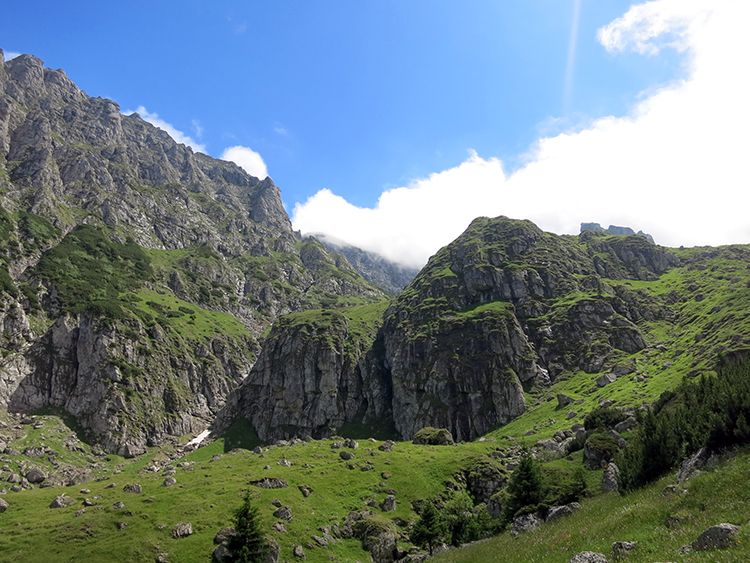 The majority of the marked trails are of moderate difficulty, making them suitable for beginners in good physical condition. During the summer, no special climbing equipment is required.
The weather
Thunderstorms form around 1 p.m. in June and July, so make sure you're not caught out in the open. Make sure you have plenty of water with you as well. It becomes extremely hot and humid. Water is scarce on many trails, and it is expensive at the chalets - around 8-10 lei for half a liter.
Winter season (November – late April)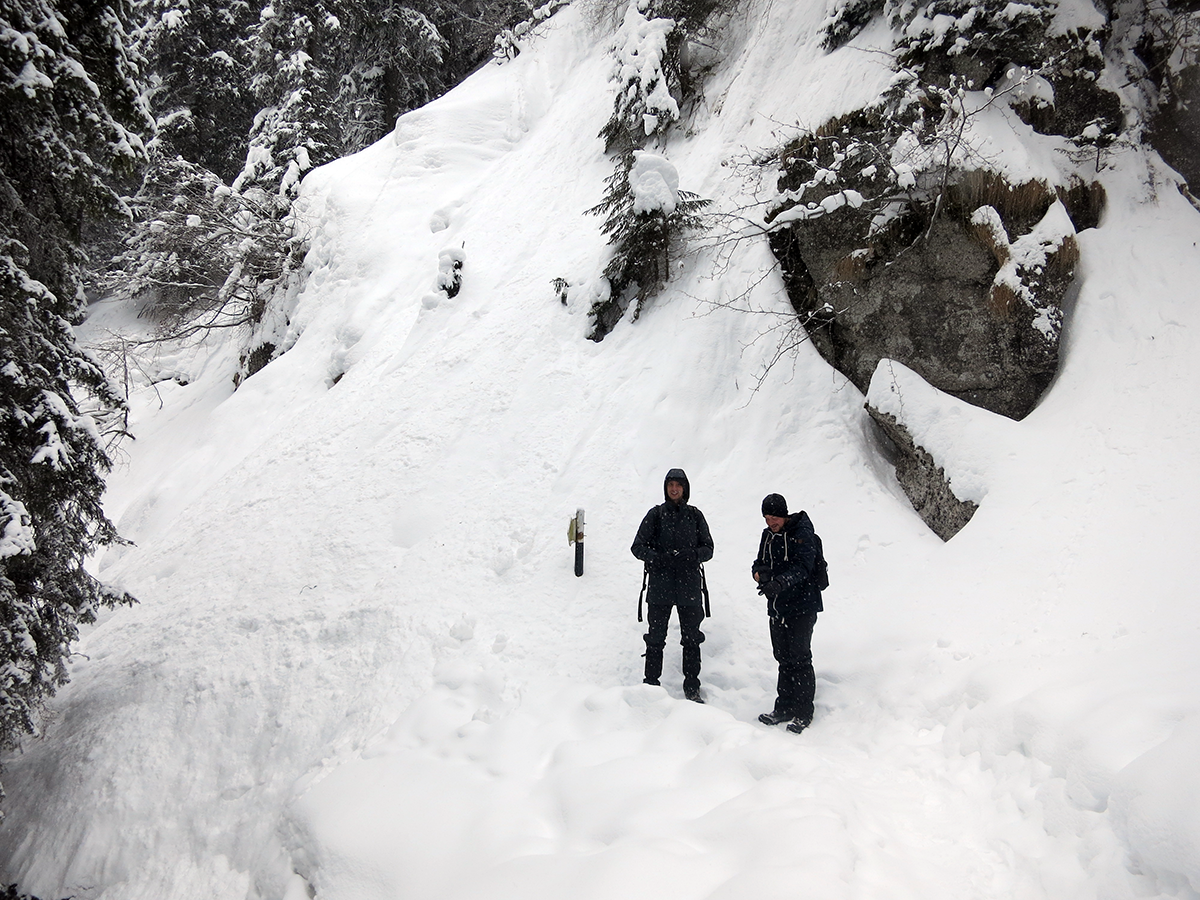 The trails are covered in snow during the winter, but most of the chalets are accessible. It will take considerable effort to break the snow if the path has not been beaten.
Many of the hiking trails leading up to the plateau are closed due to avalanche danger. If the snow conditions permit, you can still reach the summit from Malaiesti Chalet via Hornul Mare. Crampons, snowshoes, and an ice axe are required.
Hiking trail suggestions
From Busteni
Busteni – Jepii Mici – Cabana Caraiman Chalet (2025 m) – Cabana Babele – Bucegi Plateau – Varful Omu Peak (2505m) – 6-7 hours
Valea Cerbului – Varful Omu Peak – 4-5h
Cabana Gura Diham (987m) – Poiana Izvoarelor – La Prepeleac – Bucsoiu Ridge – vf. Bucsoiu (2492m) – Varful Omu Peak – 6-7 hours
From Bran, Moieciu de Sus and Moieciu de Jos
From Bran (where you can visit Dracula's castle), Moieciu de Sus and Moieciu de Jos you can reach Varful Omu peak in 5-7 hours.
The paths on this side of the mountain are less popular than the ones starting in Busteni because they are longer and more strenuous.
Bran (720 m) – Valea Gaura – Varful Omu (2507 m) – 8 hours
From Rasnov
From Rasnov you can easily get to Malaiesti Hut. The start of the trail is 17 km away from Rasnov center and a taxi will take you there for around 40-50 lei.
Accommodation
Resorts near the Bucegi Mountains
The towns of Sinaia and Busteni, located 150 kilometers north of Bucharest, are the main resorts in Prahova Valley.
At the western side of Bucegi Mountains, the towns of Bran, Rasnov, Moieciu de Sus and Moieciu de Jos offer plenty of accommodation options.
The easiest way to book an accommodation is by using websites like  booking.com but you will find many more options the local website www.turistinfo.ro.
Cabanas in the Bucegi Mountains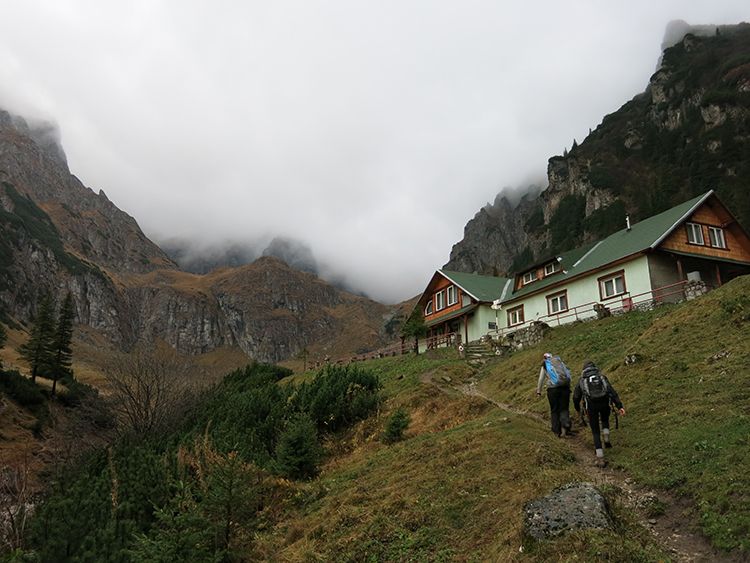 The word "cabana" means "chalet" or "hut" in Romanian. A "cabana" can range from a rustic hotel to a simple hut where you can sleep in bunk beds.
In Bucegi Mountains, there are just a few huts where you can spend the night or just have a warm meal. A bed in a dorm room starts at 35-50 lei per night. The huts are usually fully booked on weekends, so make your reservation in time.
During the summer, donkeys and horses transport supplies to the most remote chalets (such as Cabana Malaiesti). During winter, the tenants have to carry all the supplies with their back. So don't blame it on the cook if you won't find an à la carte menu at the chalet.
Hotels
Cabana Gura Diham (820 m)
Cabana Piatra Arsa (1950 m)
Hotel Pestera (1610 m)
Huts with running water and showers
Diham (1320 m)
Padina (1525 m)
Huts without running water
They have no running water, toilet is outside but in return they offer the best views and vibes:
Cabana Malaiesti (1720 m)
Cabana Omu (2505 m) - almost never opened to the public
Mountain refuges and shelters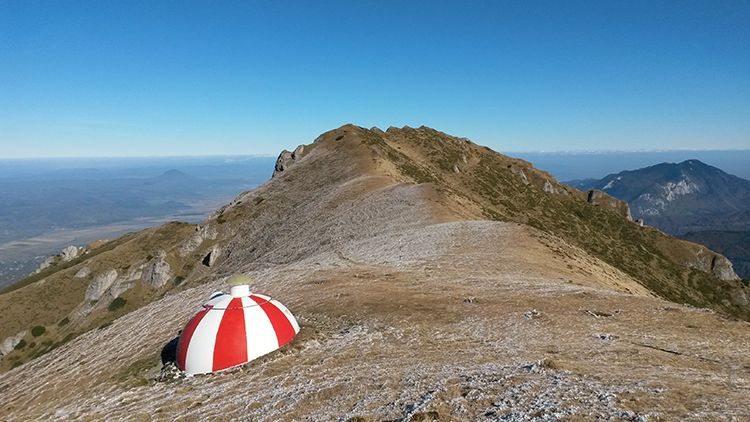 If you prefer something more basic, you can spend the night in one of the Bucegi Mountains' refuges. Some are situated directly on top of the ridge. They are shaped like an igloo and made of a strong plastic material.
There will be no food or water available, so you must bring your own. It can get quite cold at night, so you'll need a good sleeping bag to keep warm.
The main refuges in Bucegi Mountains are:
Tiganesti refuge (2195 m) in Saua Tiganesti saddle
Batrana refuge (2150 m), close to Batrana Peak (2181m)
Strunga refuge (1909m) in Saua Strunga saddle
Camping
Camping is not allowed in Bucegi Natural Park. If you still want to camp, you may risk a fine. Best way to avoid this is to set up your tent late at night and pack it early the next morning and make sure you leave no trace behind.
It is preferable to camp above 2000 meters (above the tree line) near the shelters. Leave your food in the shelter in order to avoid unexpected visitors: brown bears and foxes.