Brâna Caprelor - Brâul Ciorânga. Piatra Craiului, difficult hike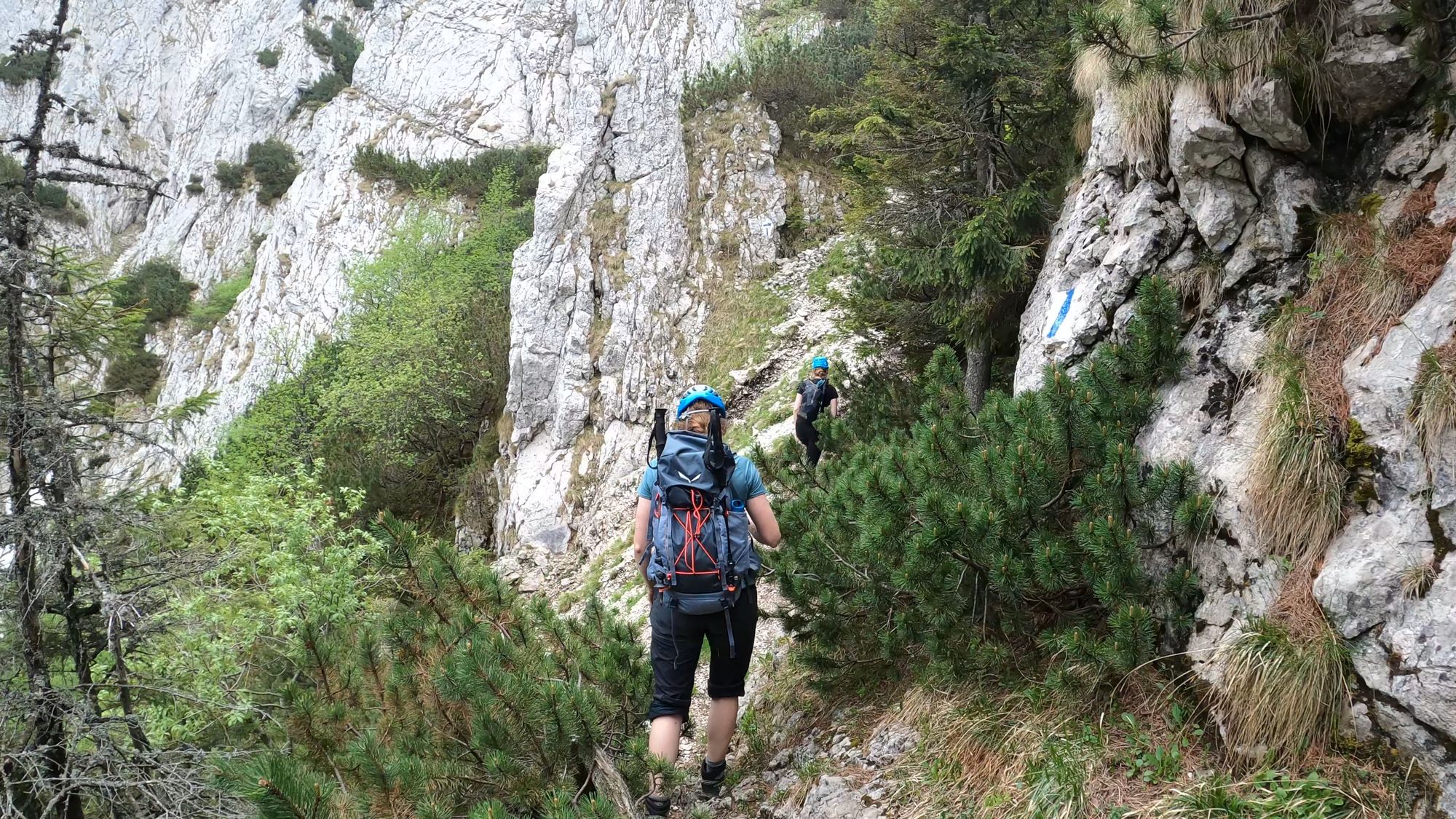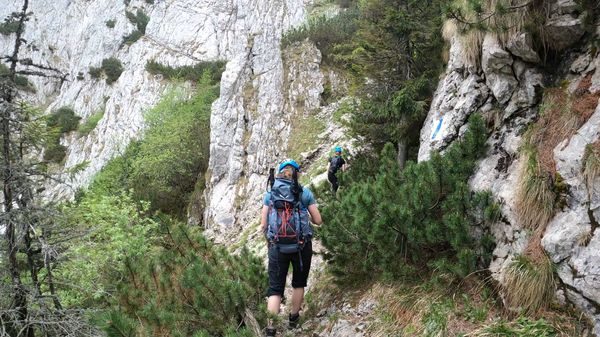 The Brâna Caprelor route begins at an elevation of 1510 meters near Diana Refuge and climbs through difficult and steep terrain to the ridge of the Piatra Craiului Mountains.
We hiked the Brâna Caprelor trail in June 2022, taking the following circuit from Plaiul Foii:
Plaiul Foii - Valea Urșilor - Refugiul Diana - Brâna Caprelor - Șaua Padinei Închise - Vârful Ascuțit - Brâul Ciorânga Mare - Plaiul Foii
Circuit duration: 9-12 hours
Difficulty: demanding, difficult, dangerous
Equipment: hiking boots, helmet
3 liters of water!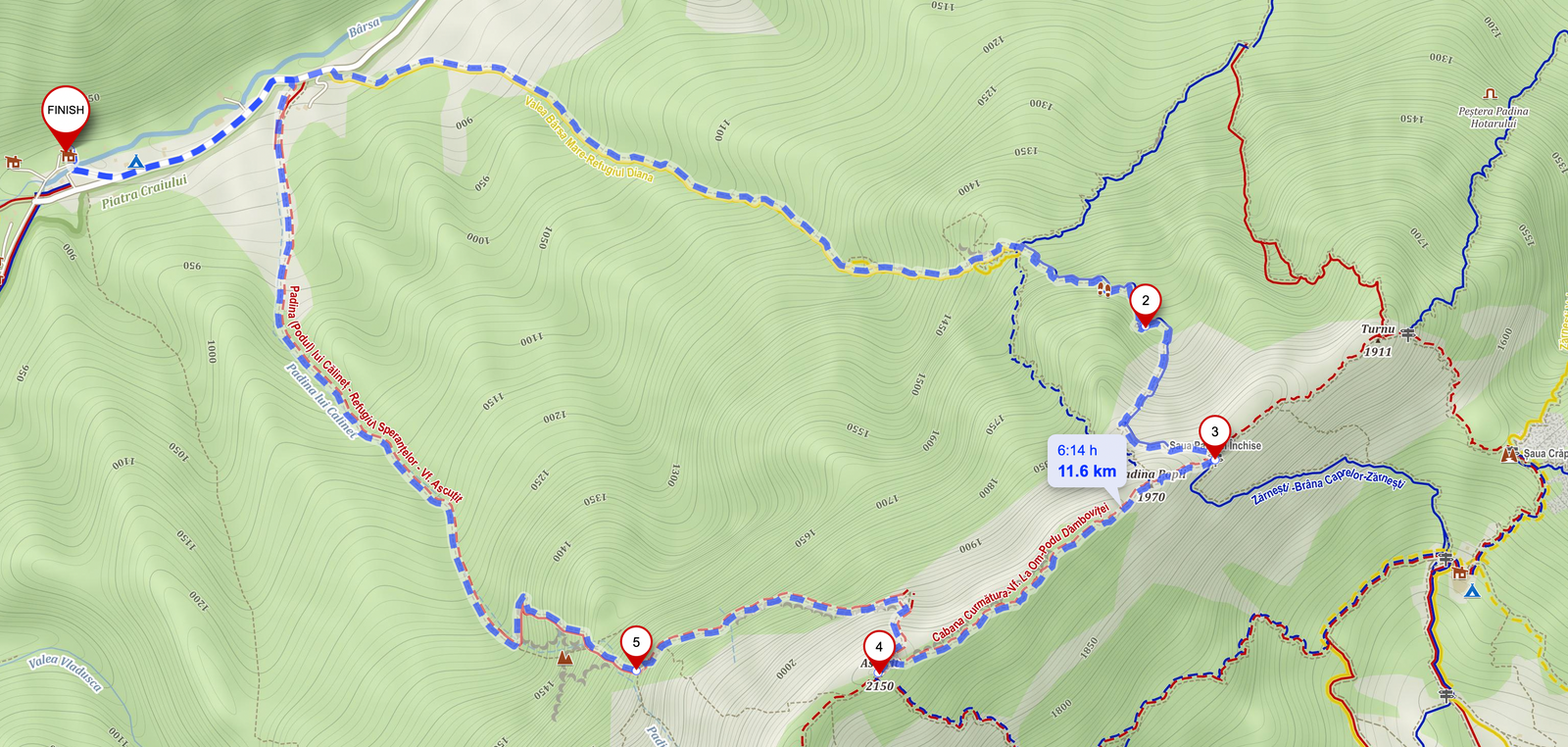 With light backpacks and plenty of experience in Piatra Craiului, we completed this loop in 9 hours.
Watch this video to better understand what to expect: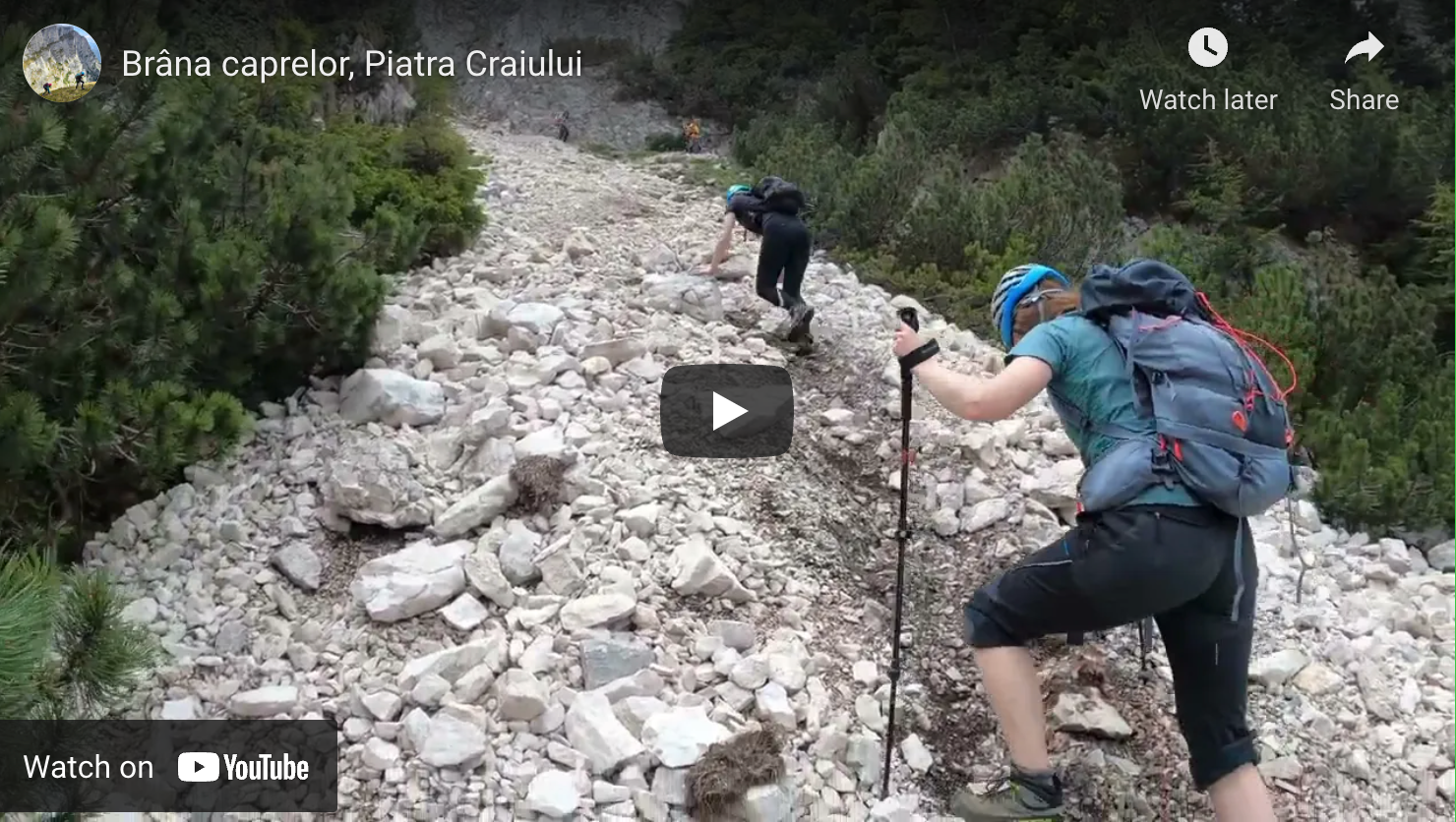 Stages of the route:
Plaiul Foii - Valea Urșilor - Diana Refuge
markings: yellow triangle
duration: 2-2.5 hours
difficulty: medium, a somewhat steep trail through the forest
From Plaiul Foii we walked about 1 km on the asphalt road towards Zărnești, until we spotted the signpost for Refugiul Diana on the right side of the road.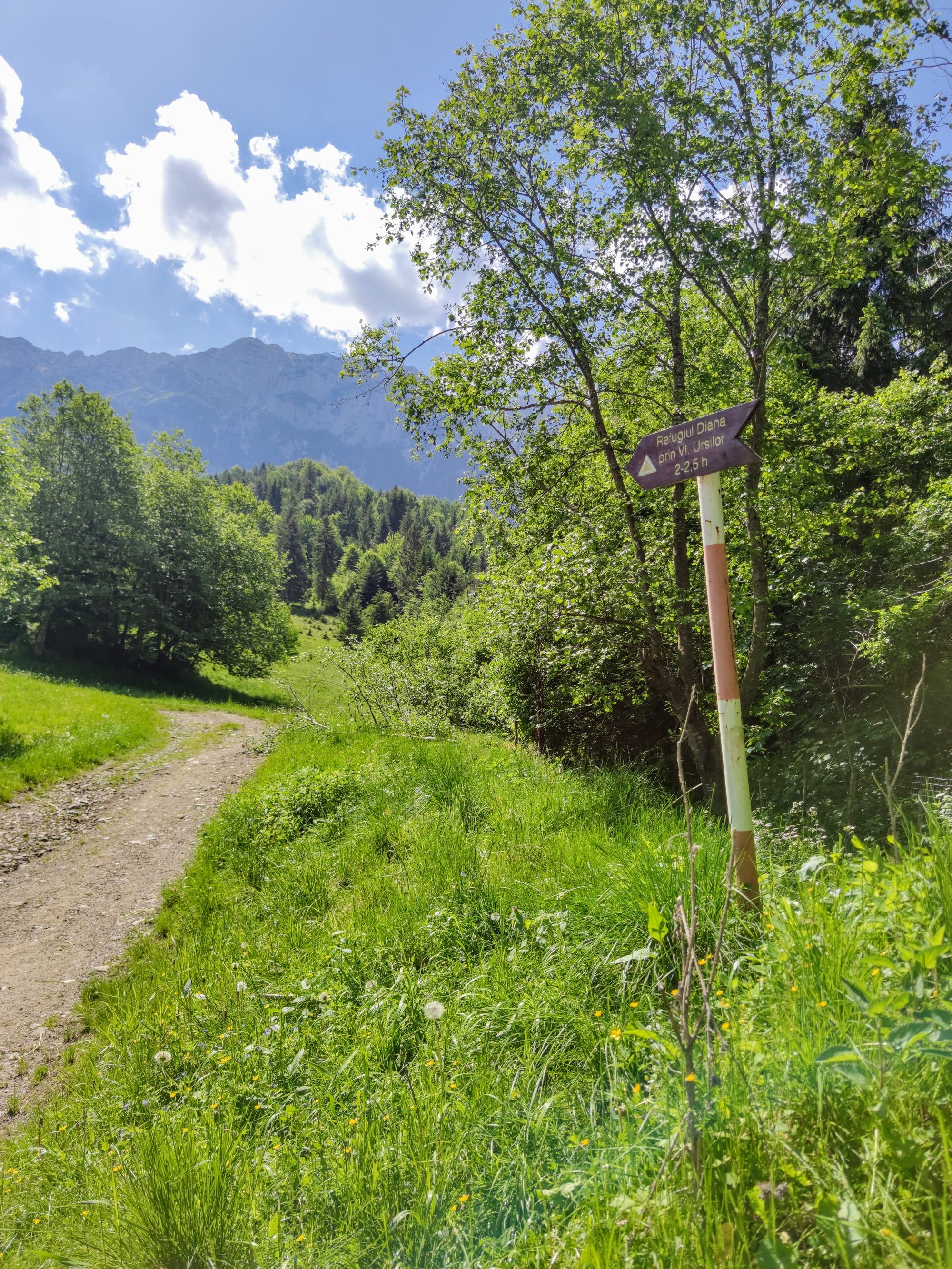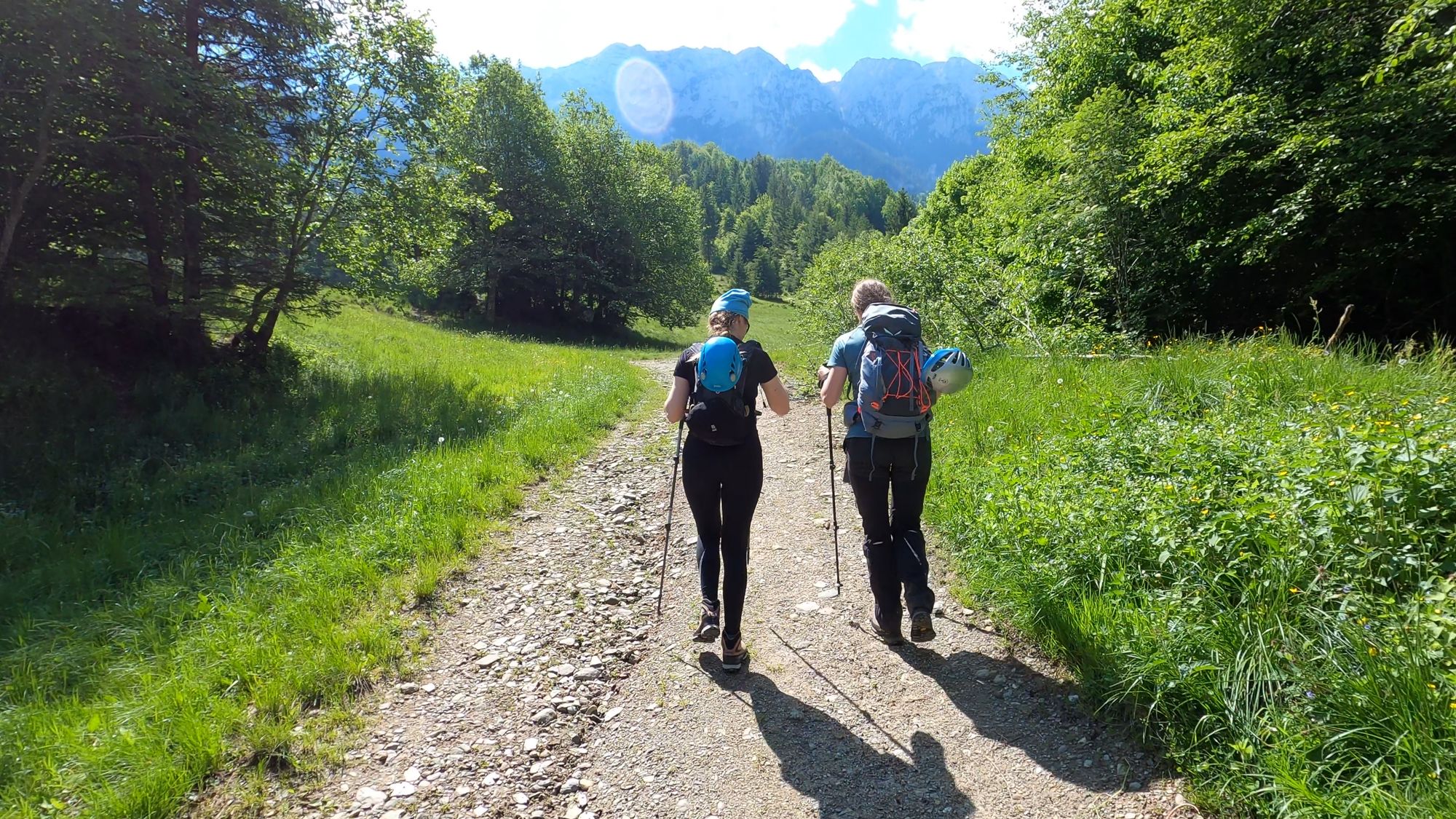 The path is marked with yellow triangle, but the markings were scarce at first. We lost the path once we reached a large meadow and had to rely on GPS navigation until we entered the forest.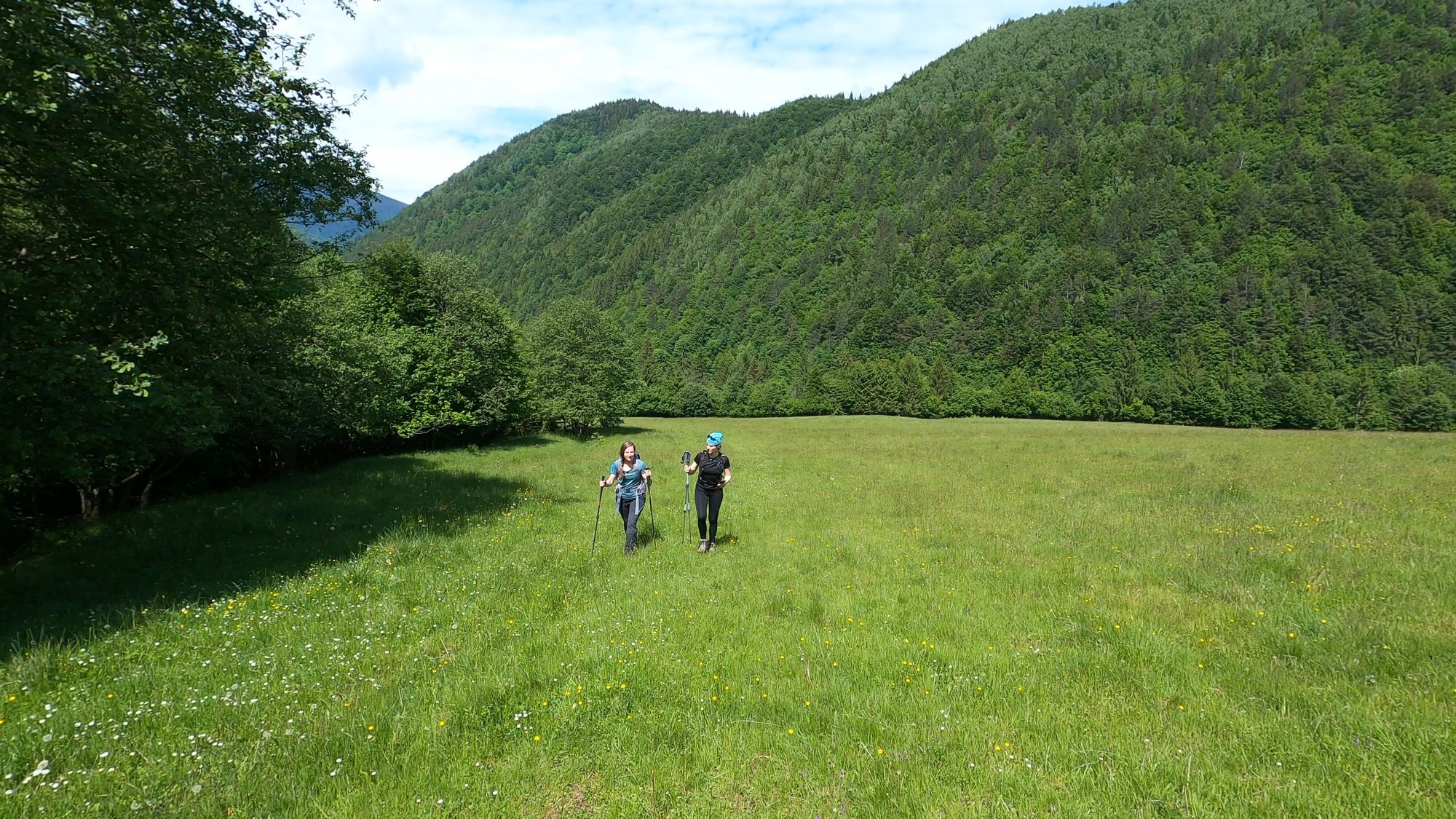 After crossing the meadow we followed the path that ran alongside the Valea Urșilor stream, through the forest. The trail was well marked from there on out.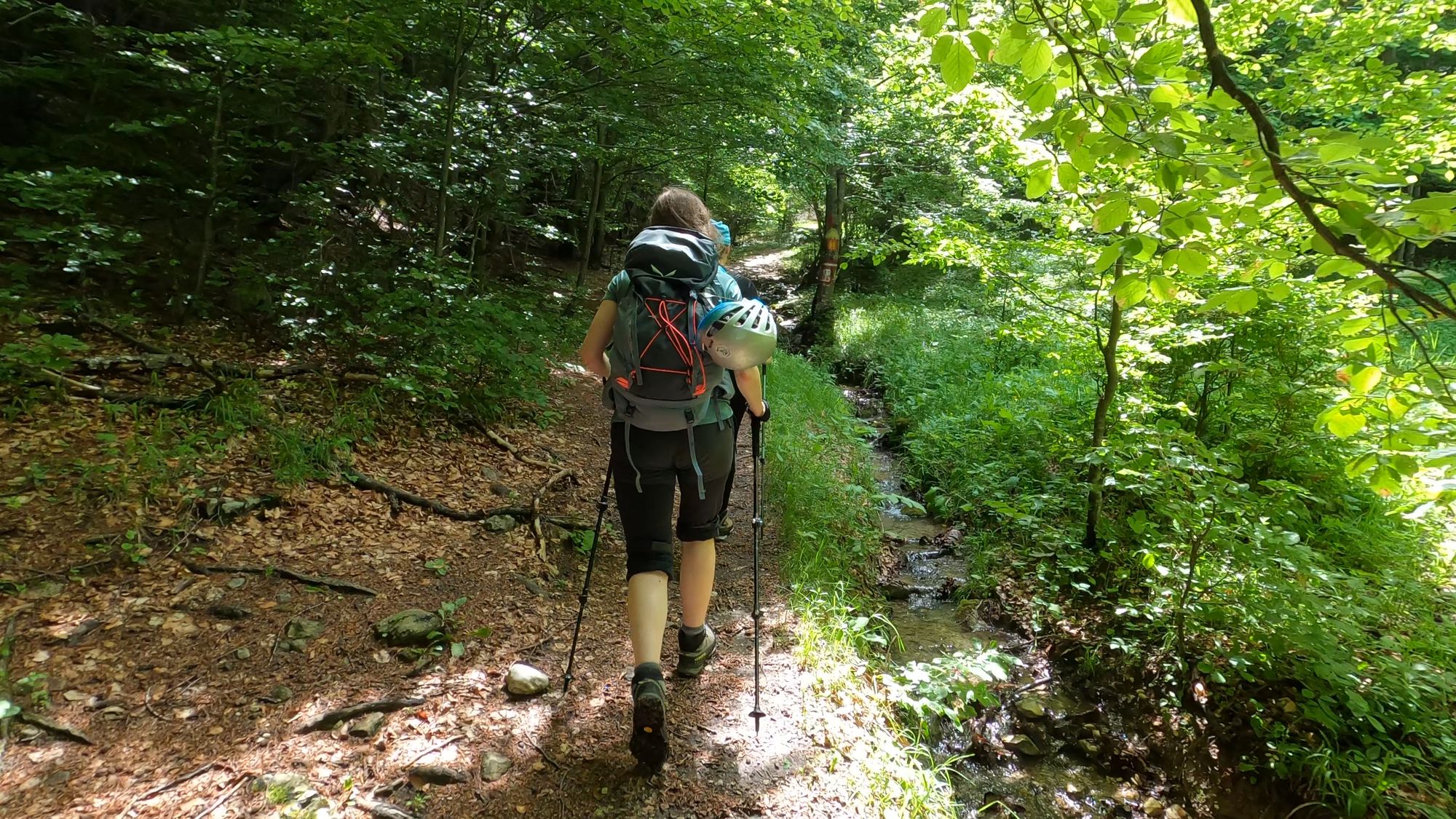 The ascent was pleasant at first, but it became steeper and more rugged as we got closer to the Diana Refuge.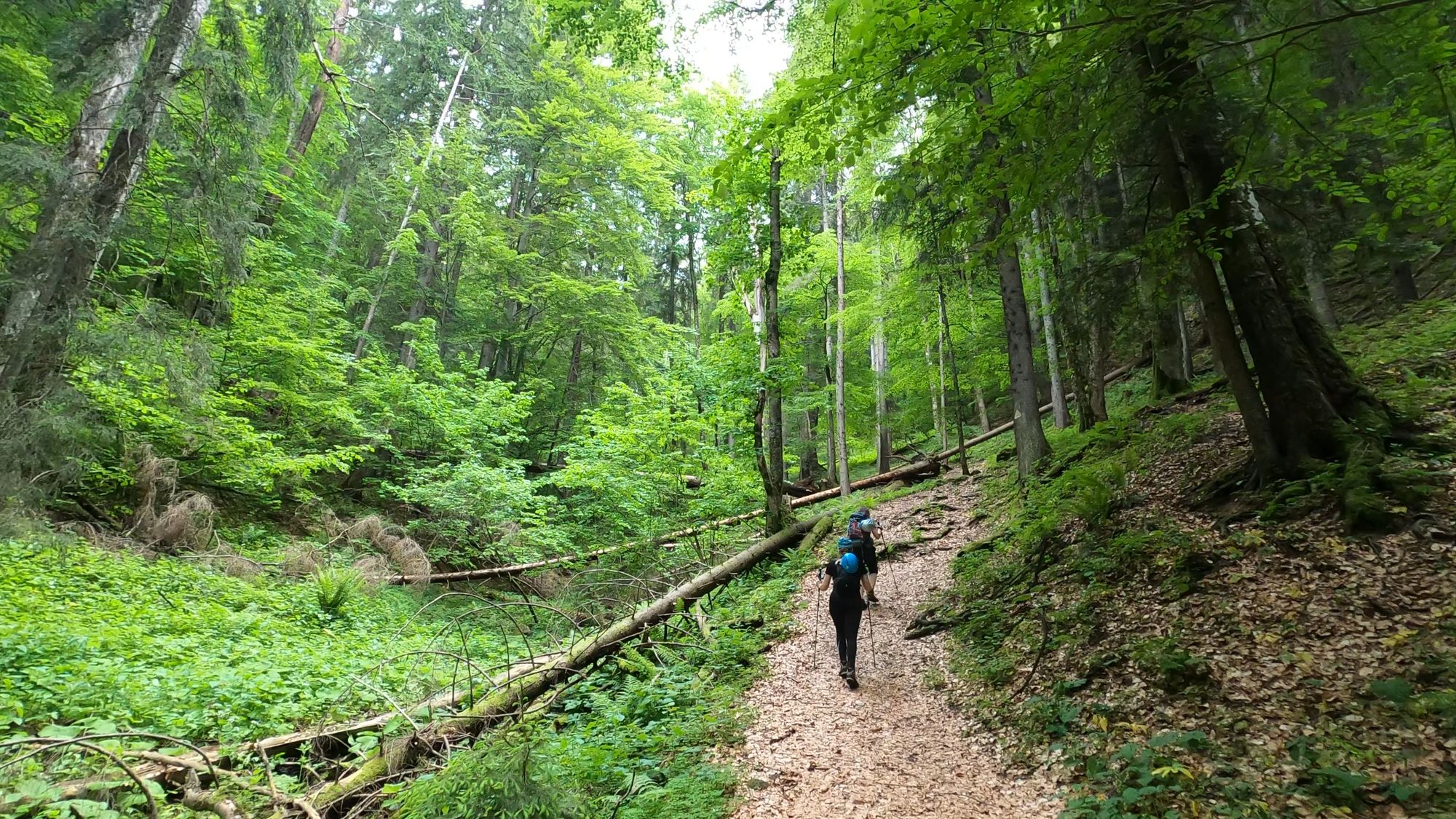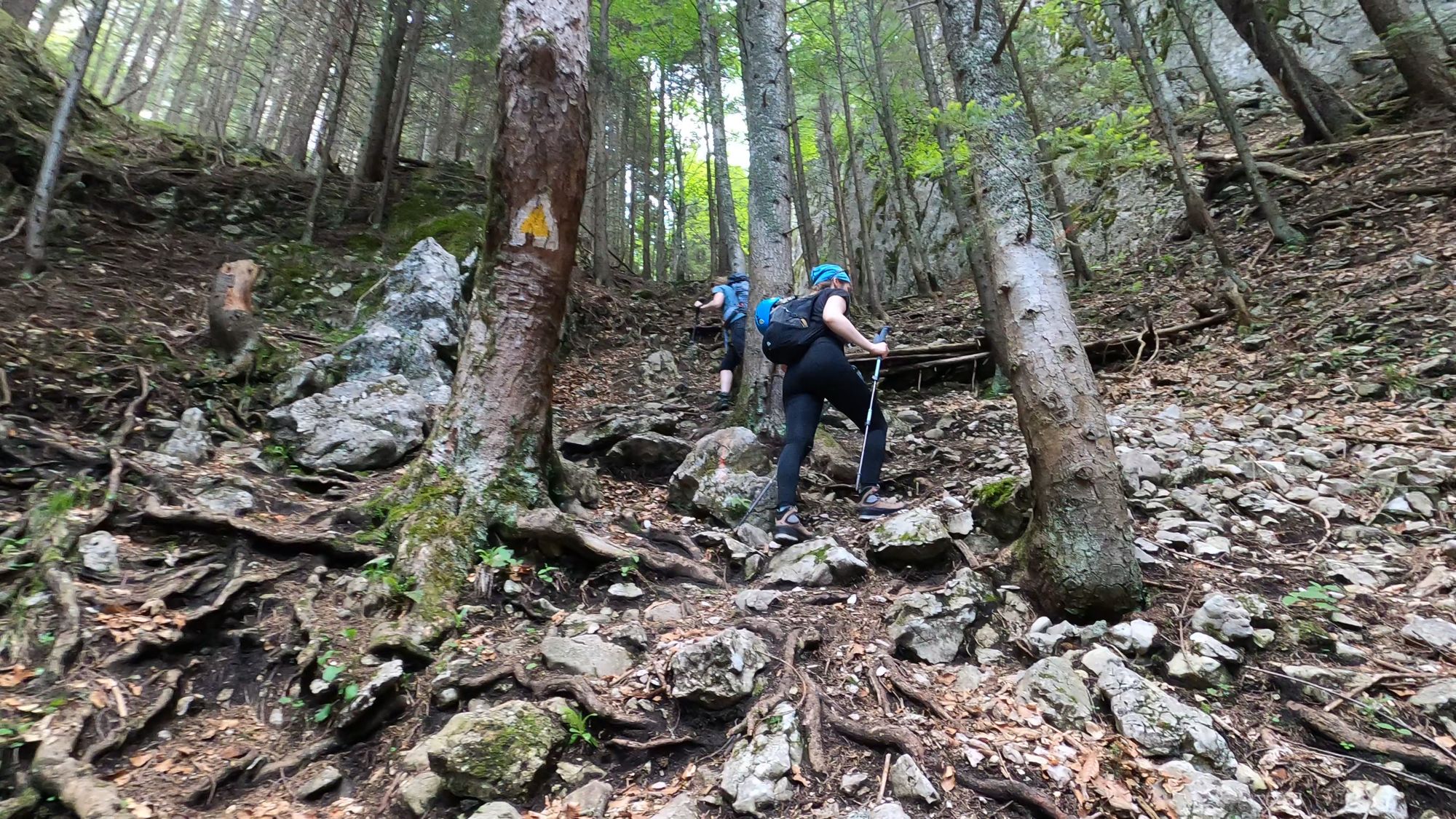 The Diana Refuge (Refugiul Diana) is located in the meadow of Curmătura Prăpăstiilor (1510 m). We arrived at the refuge two hours after we began our hike.
The Diana Refuge is only a bivouac shelter; don't expect to find cold beers there.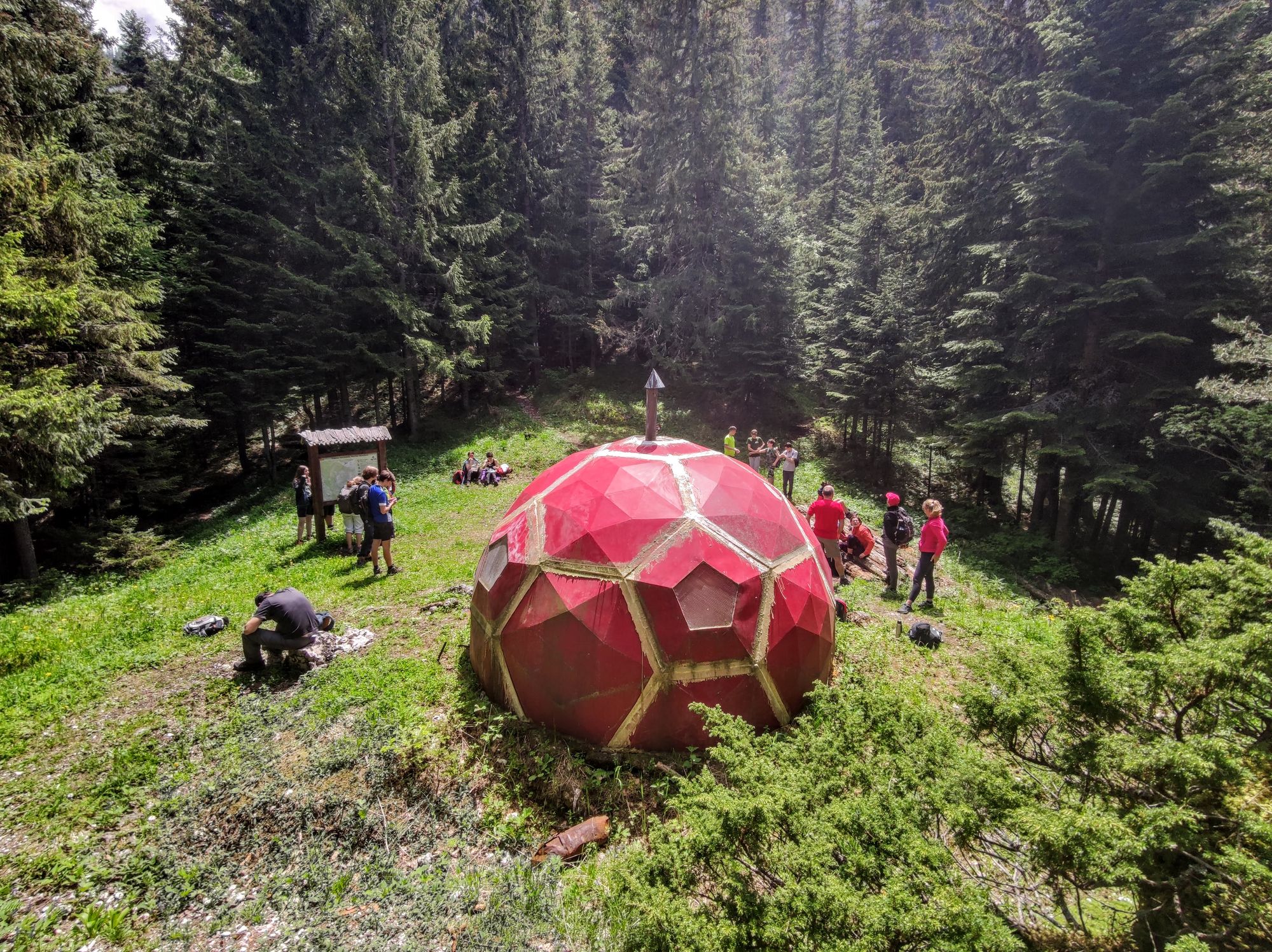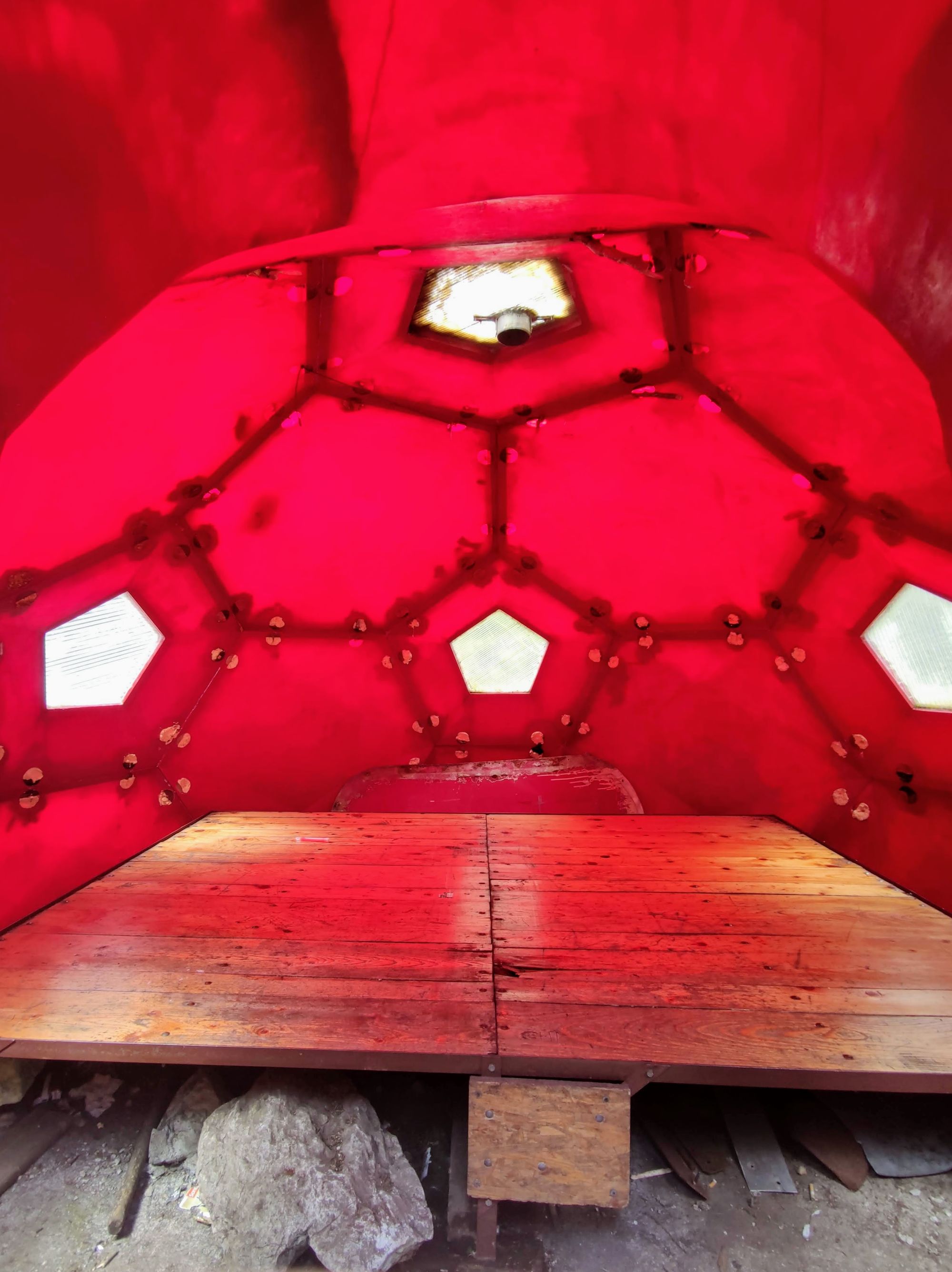 Diana Refuge - Brâna Caprelor - Padina Închisă saddle
marking: blue stripe
duration: 3.5-4 hours
difficulty: high, steep couloir with scree; helmet recommended
From Diana Refuge, we began our ascent on the Brâna Caprelor (Brâul Caprelor) trail. The route is marked with blue stripe.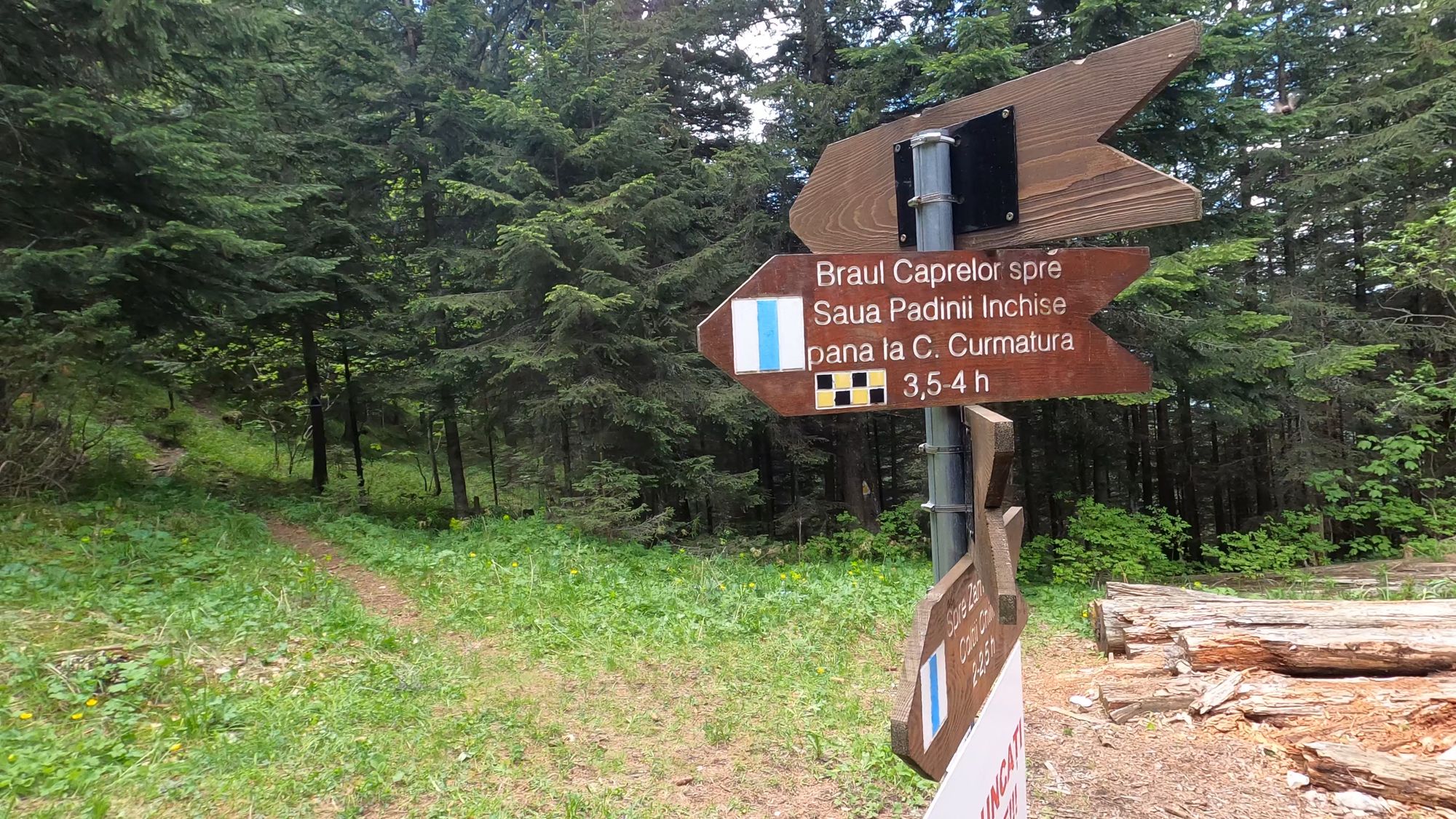 The path starts out quite steeply and soon reaches the high rock walls, where we put on the helmets to protect ourselves from potentially falling rocks.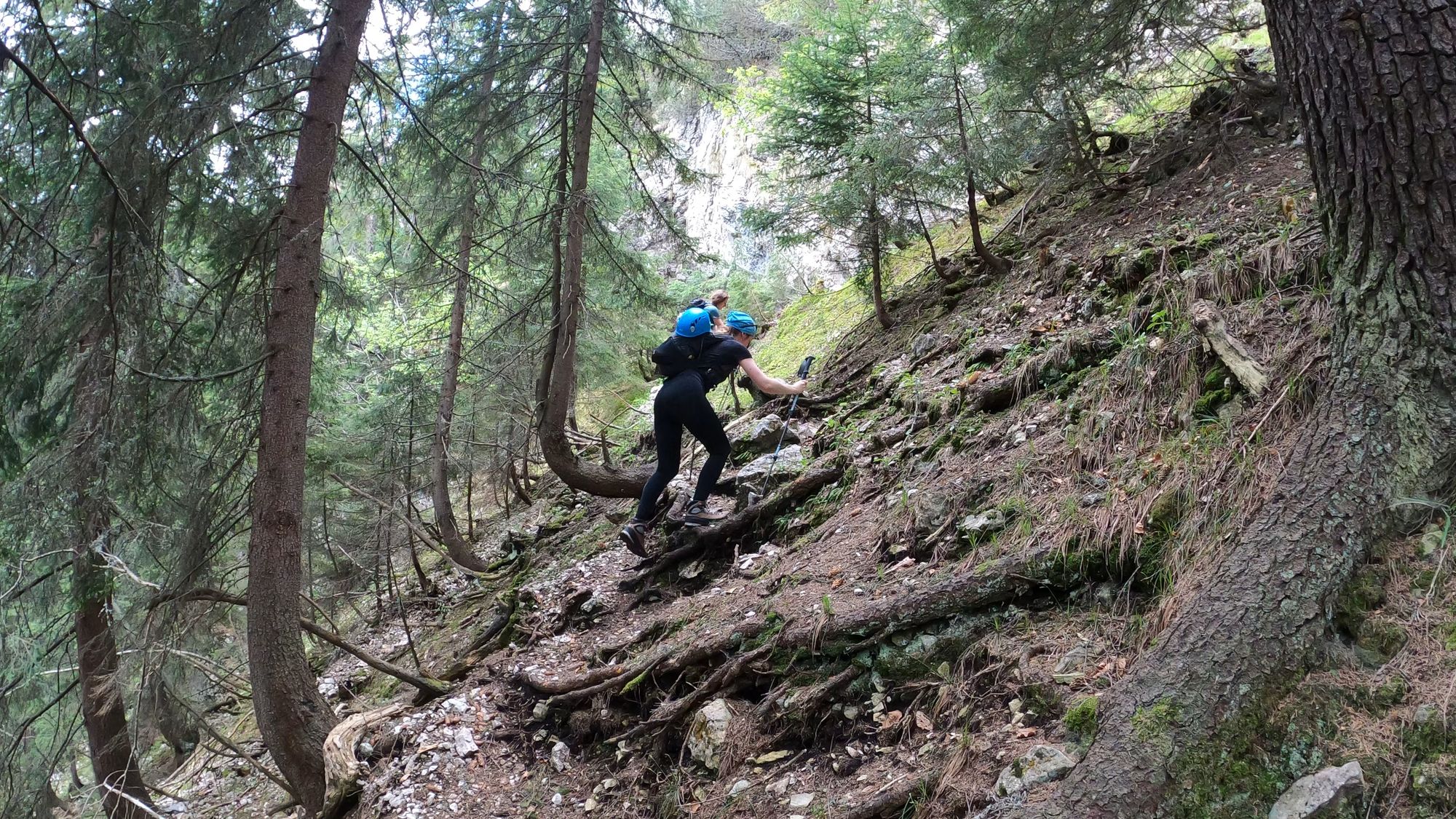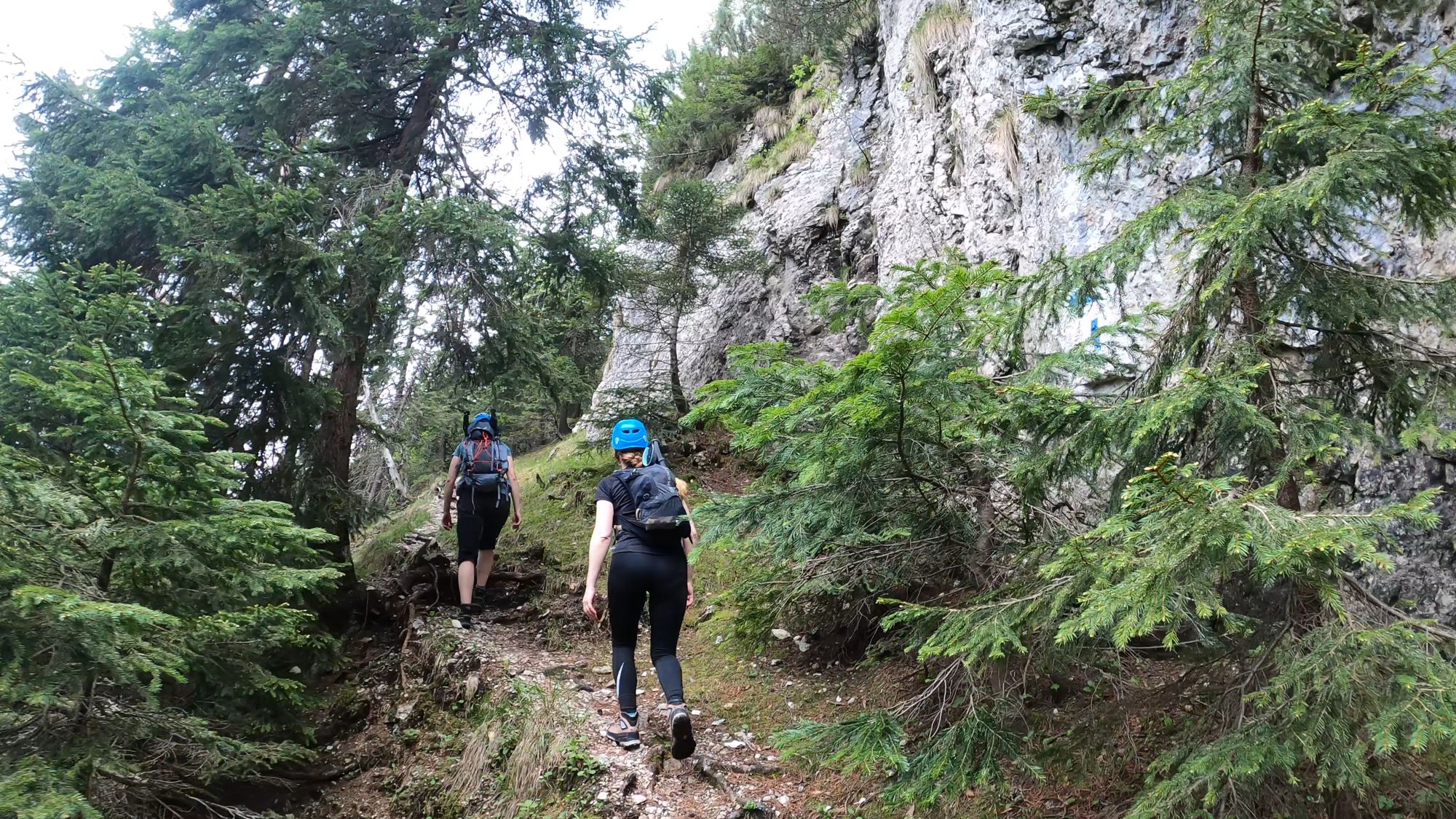 The views are breathtaking. The path runs alongside the high walls and, for a while, it becomes less steep, allowing us to take in the scenery.
We crossed a short section of scree, a little taste of what was to come.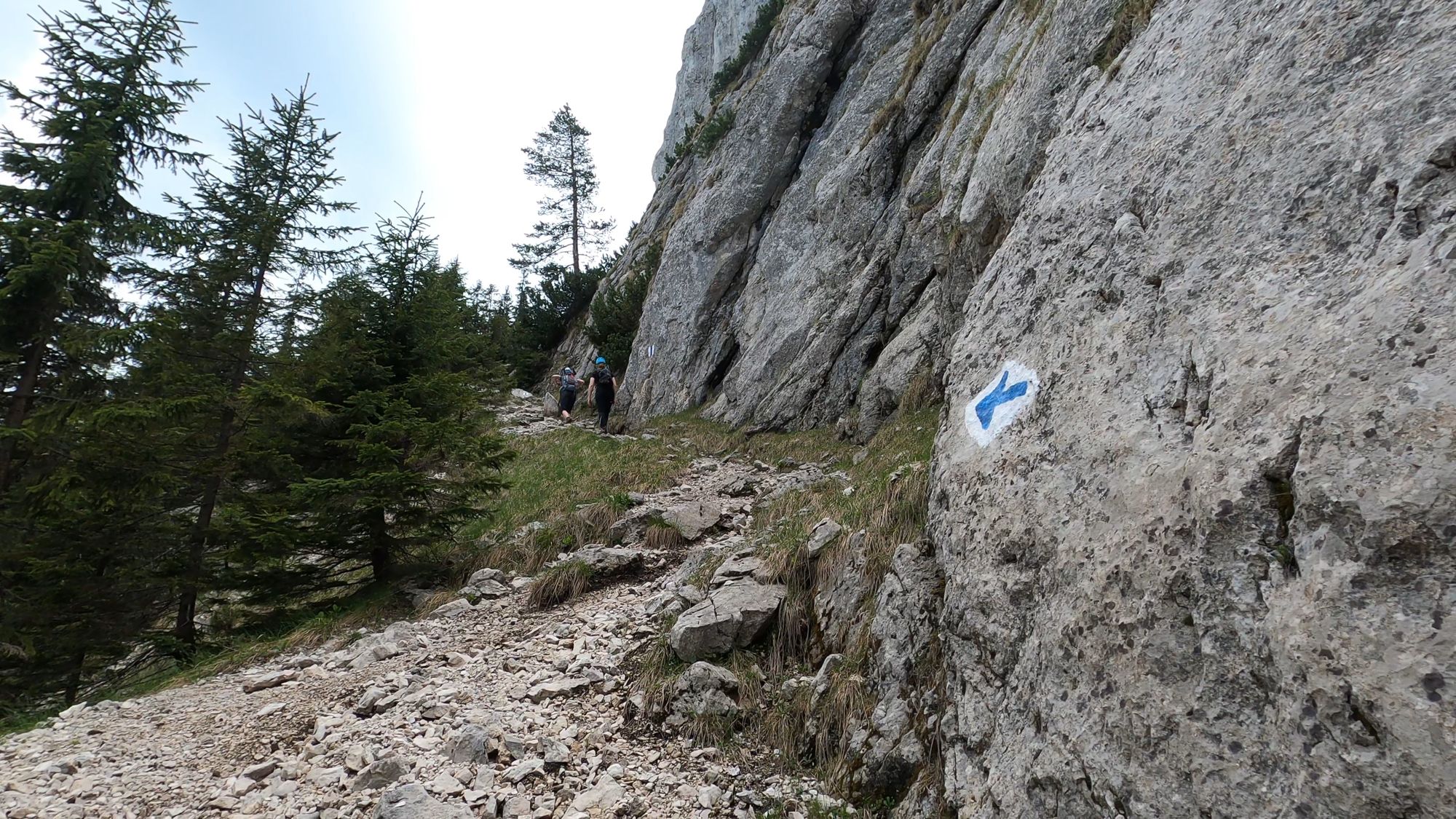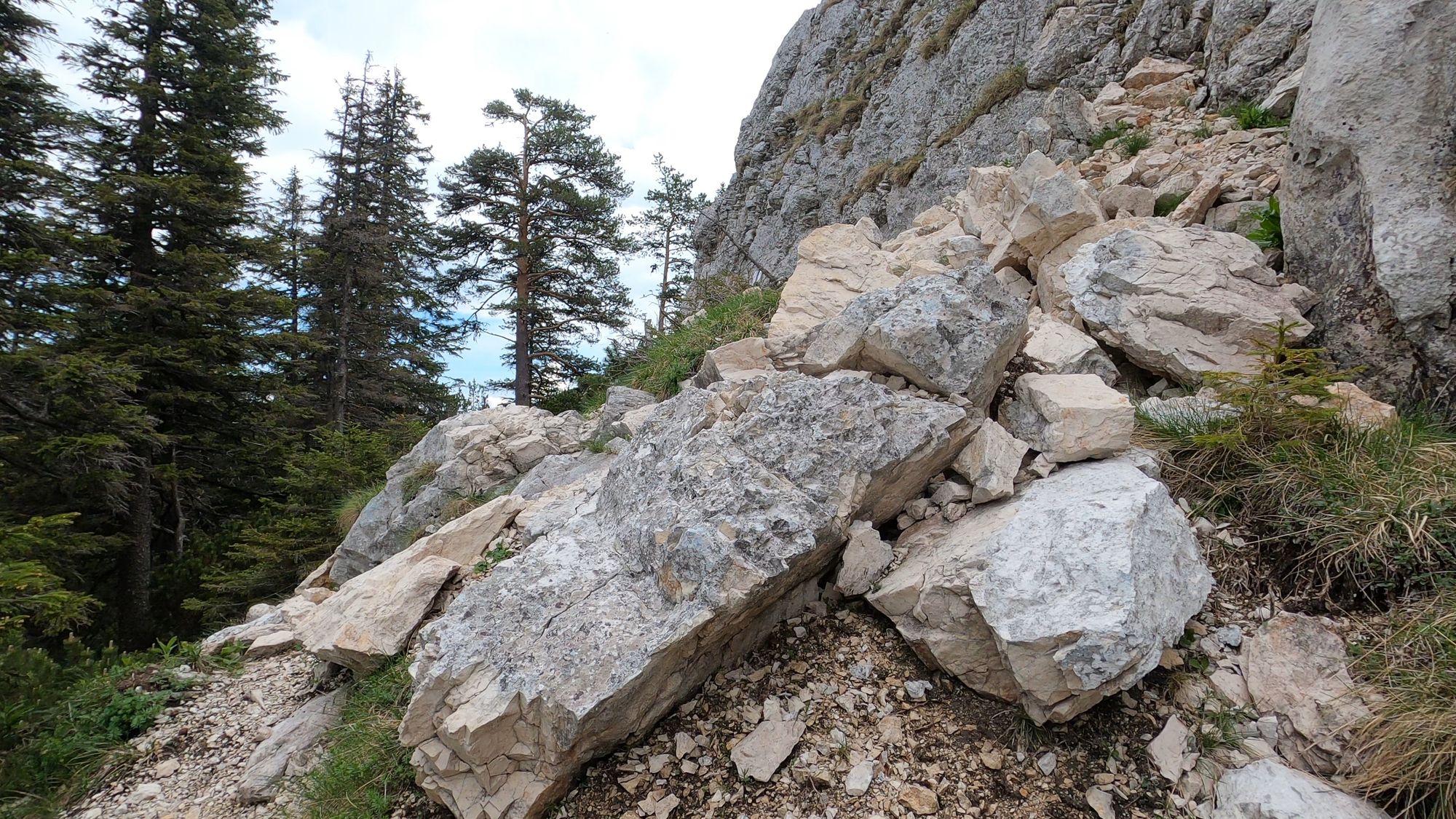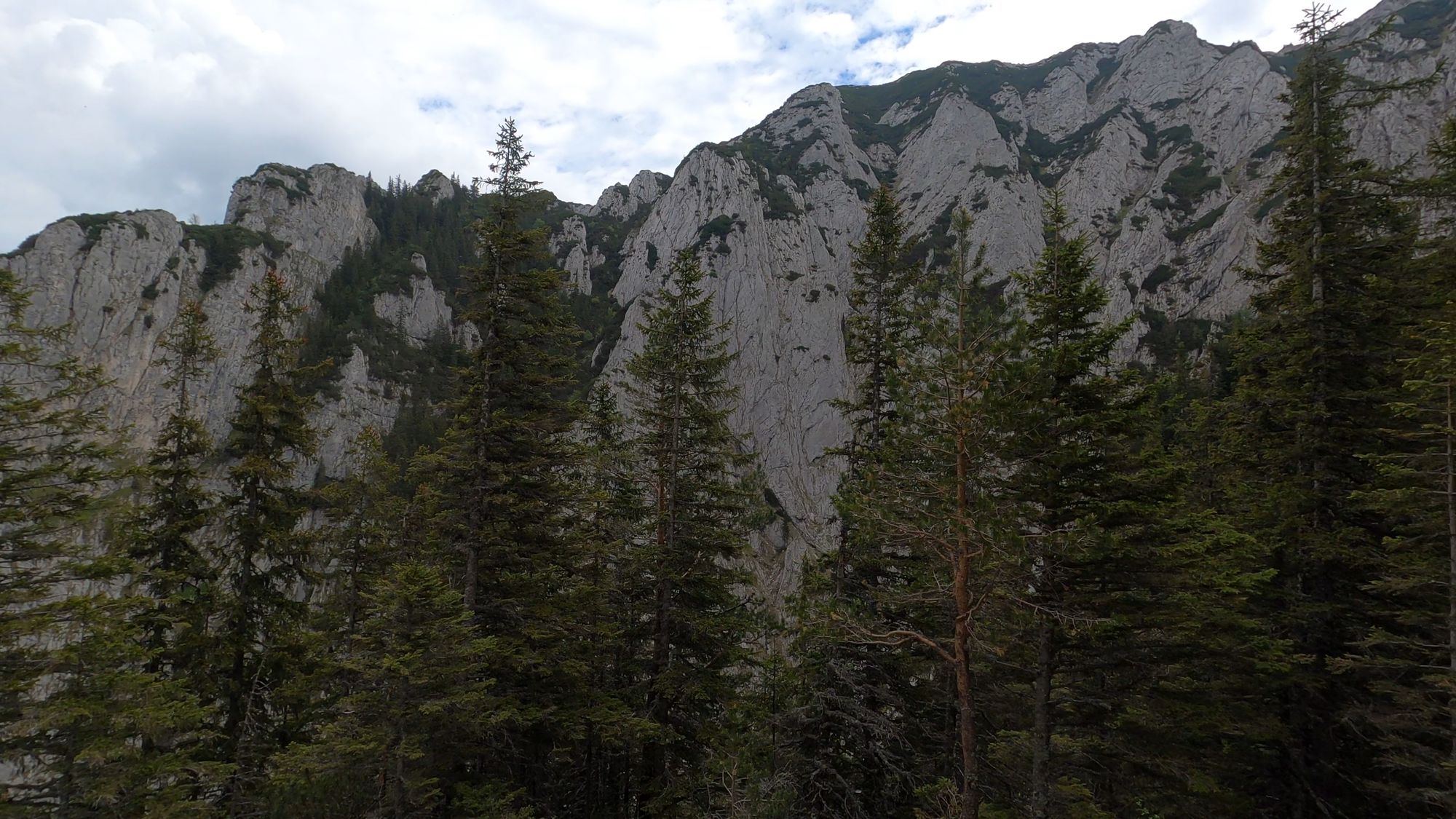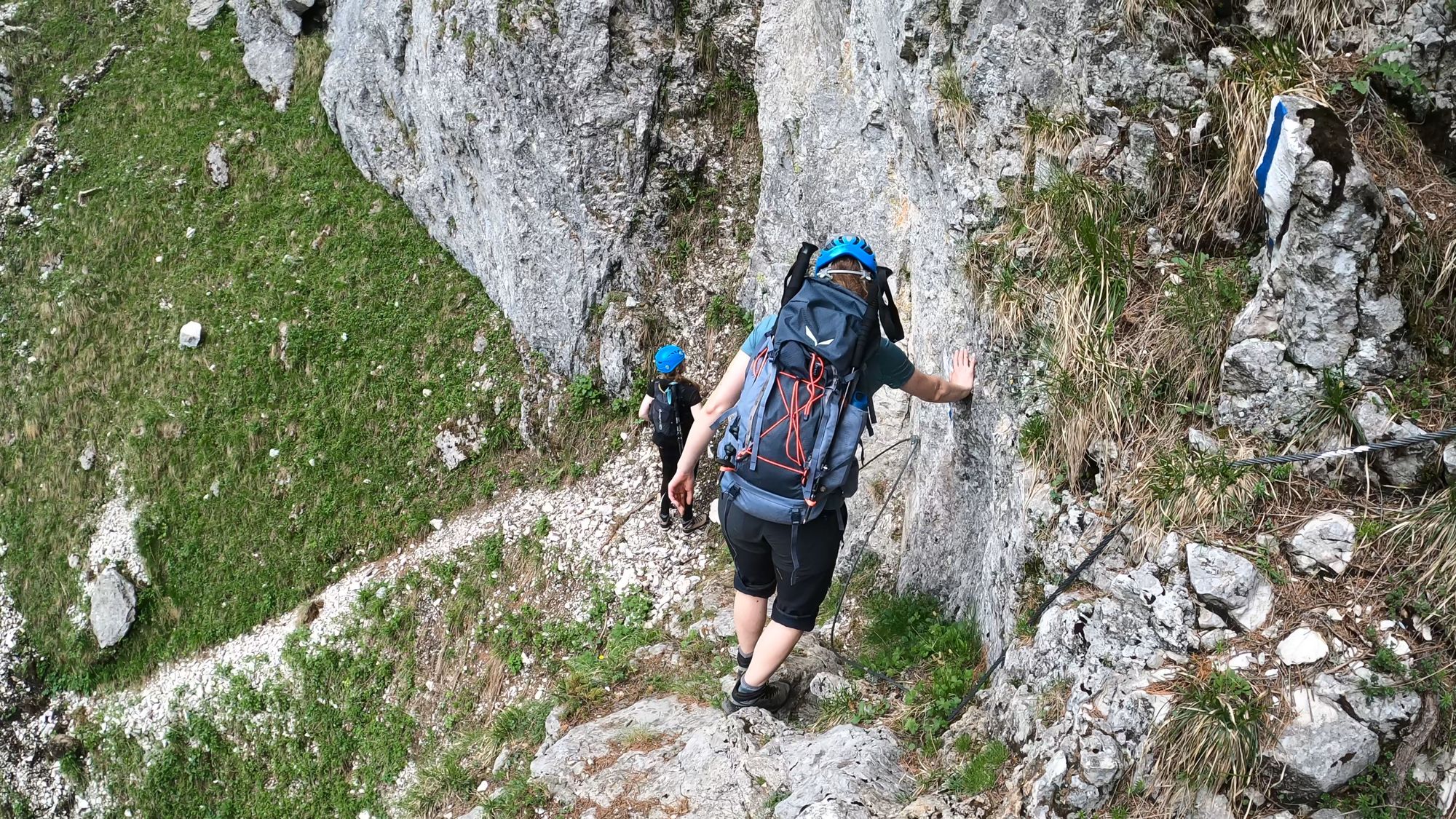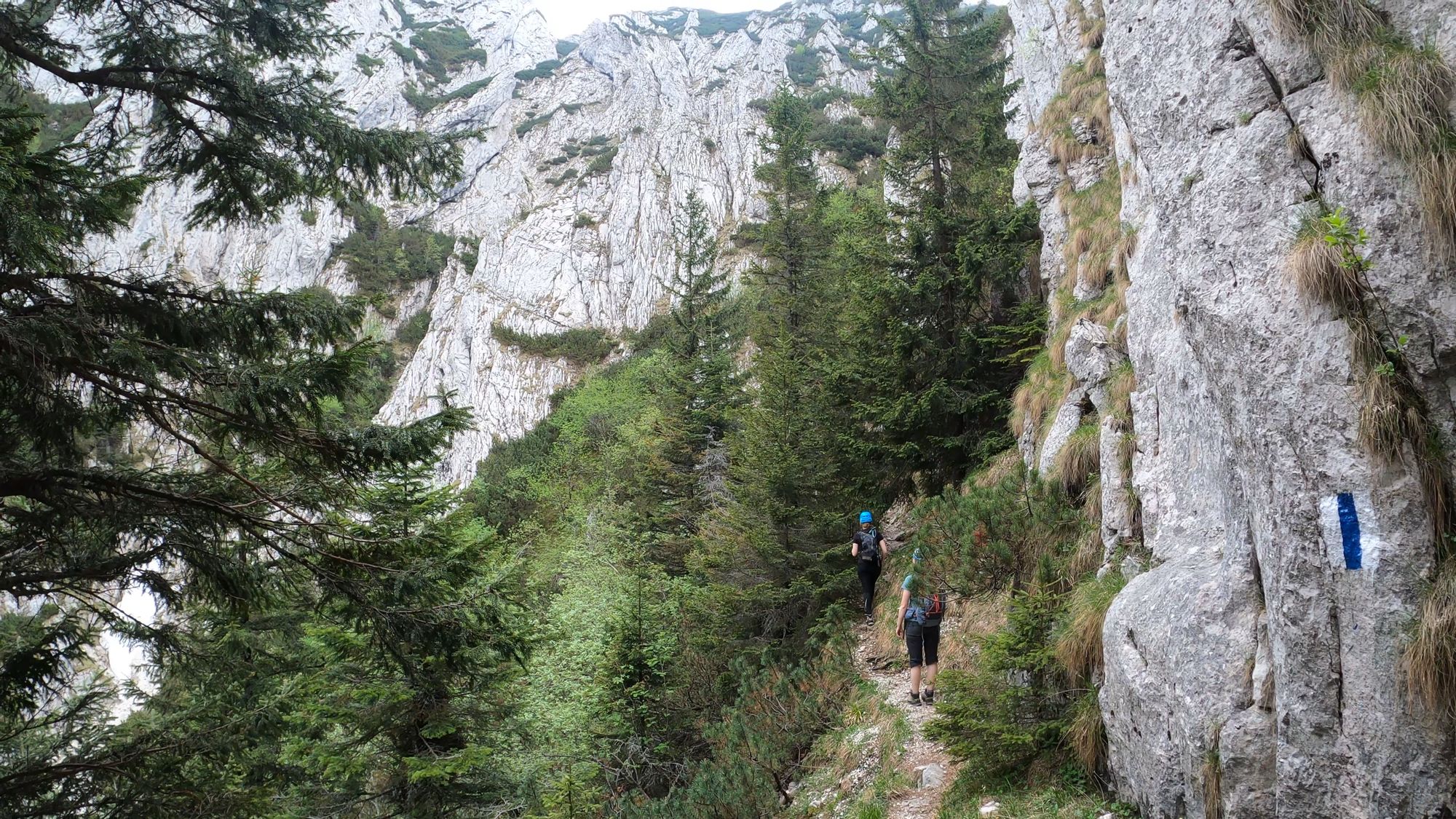 We soon arrived at the scree sections. The slope was steep, and as we ascended, the scree became increasingly unstable. We walked as carefully as we could to avoid dislodging stones.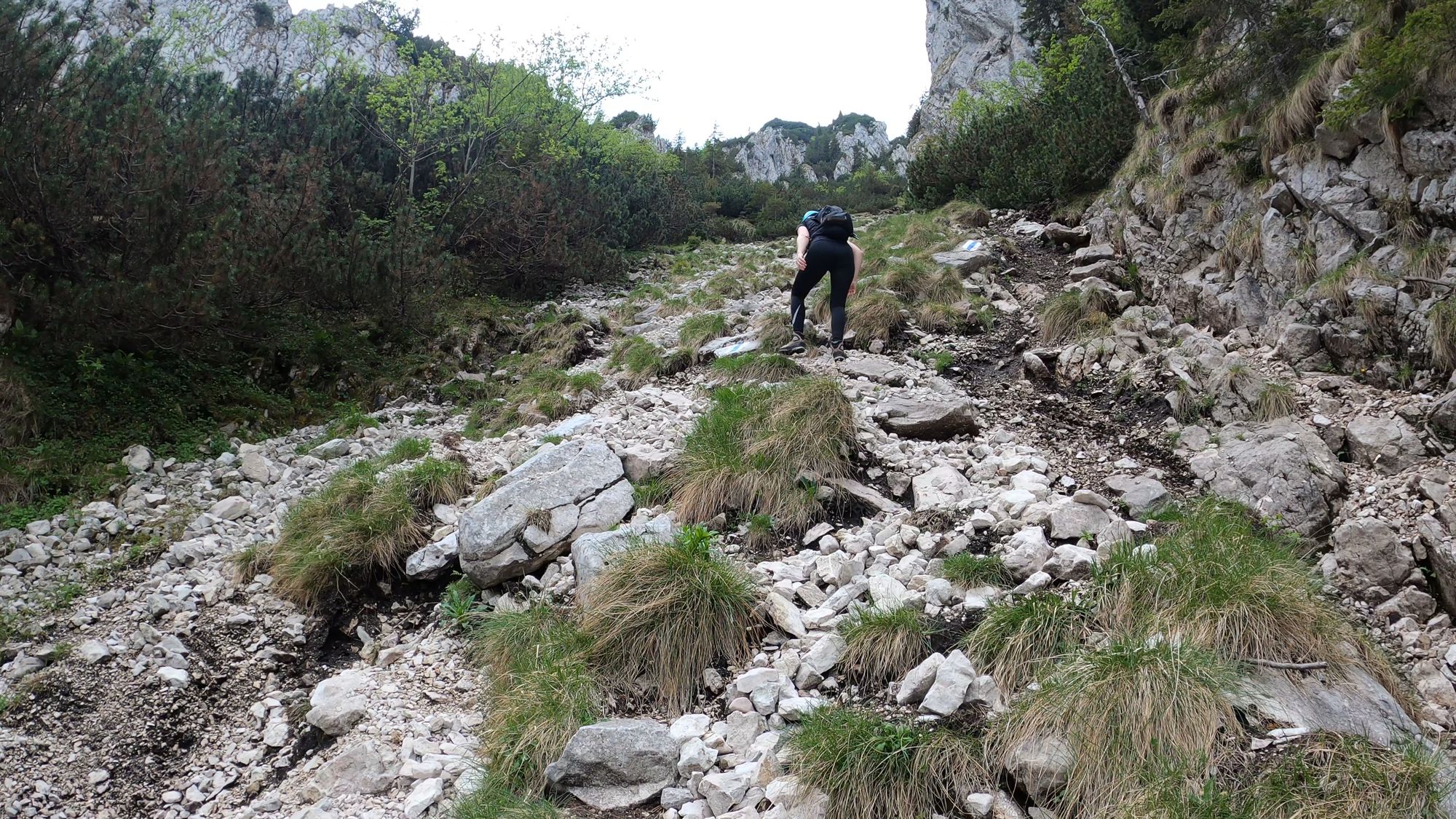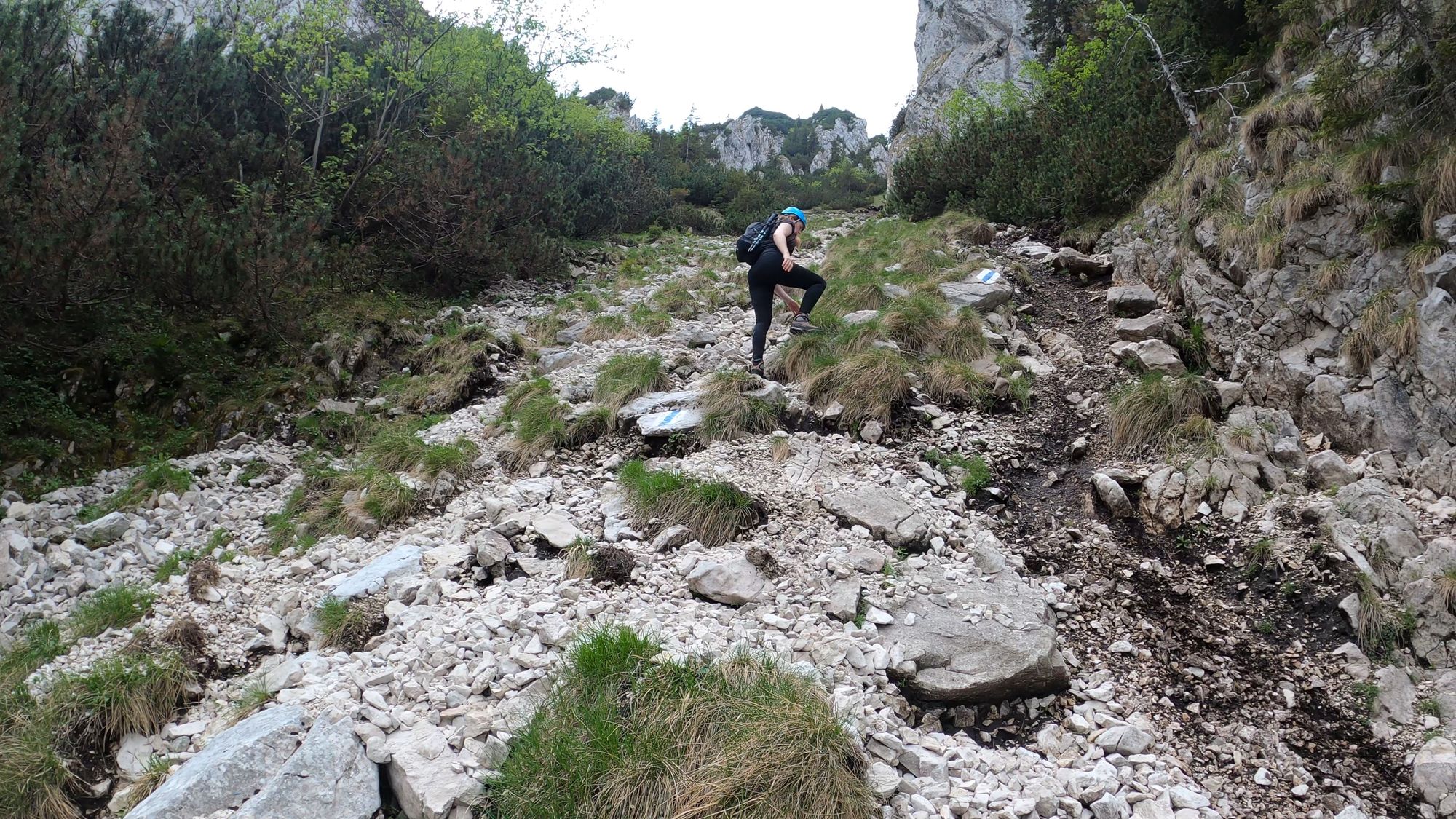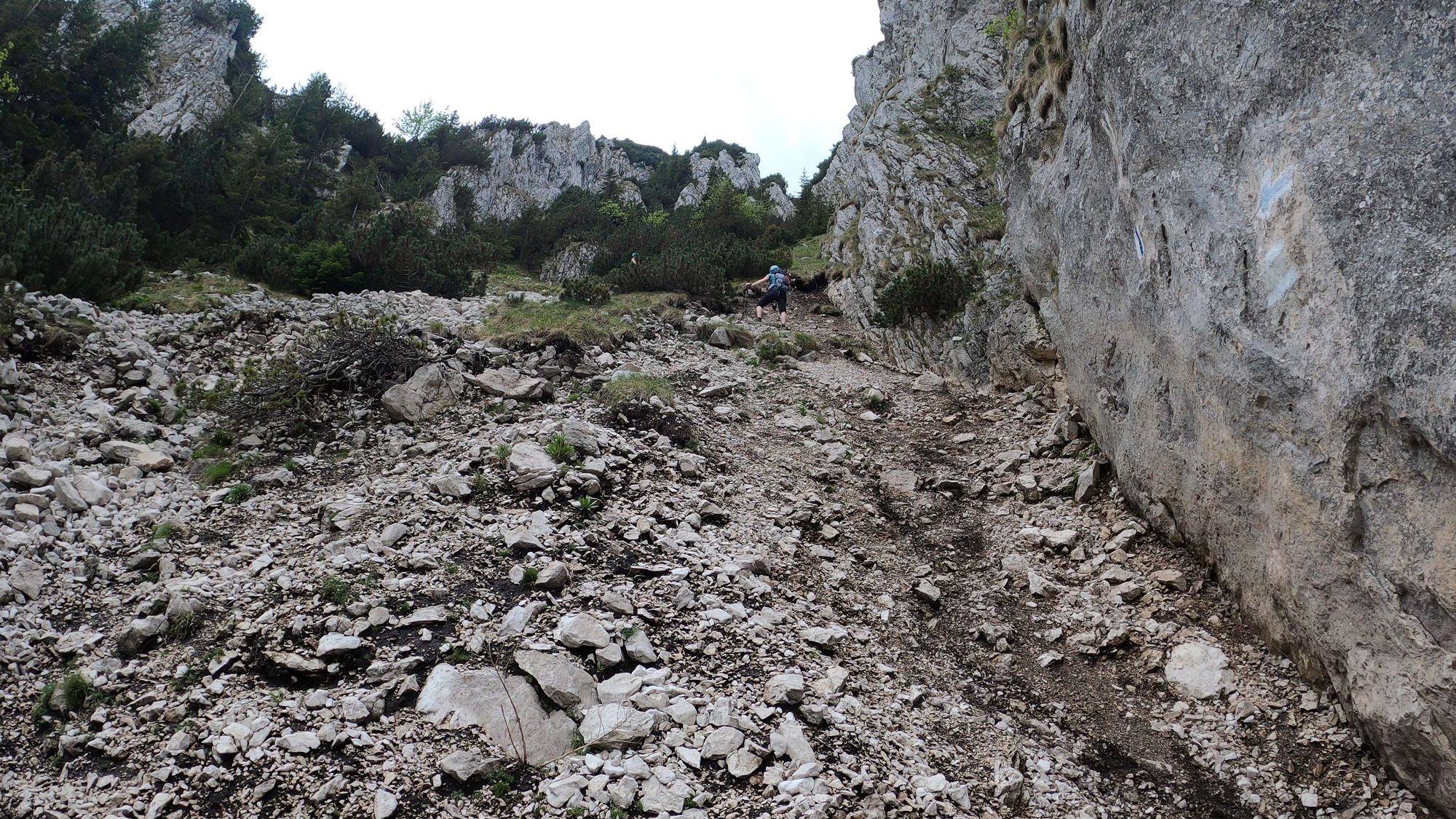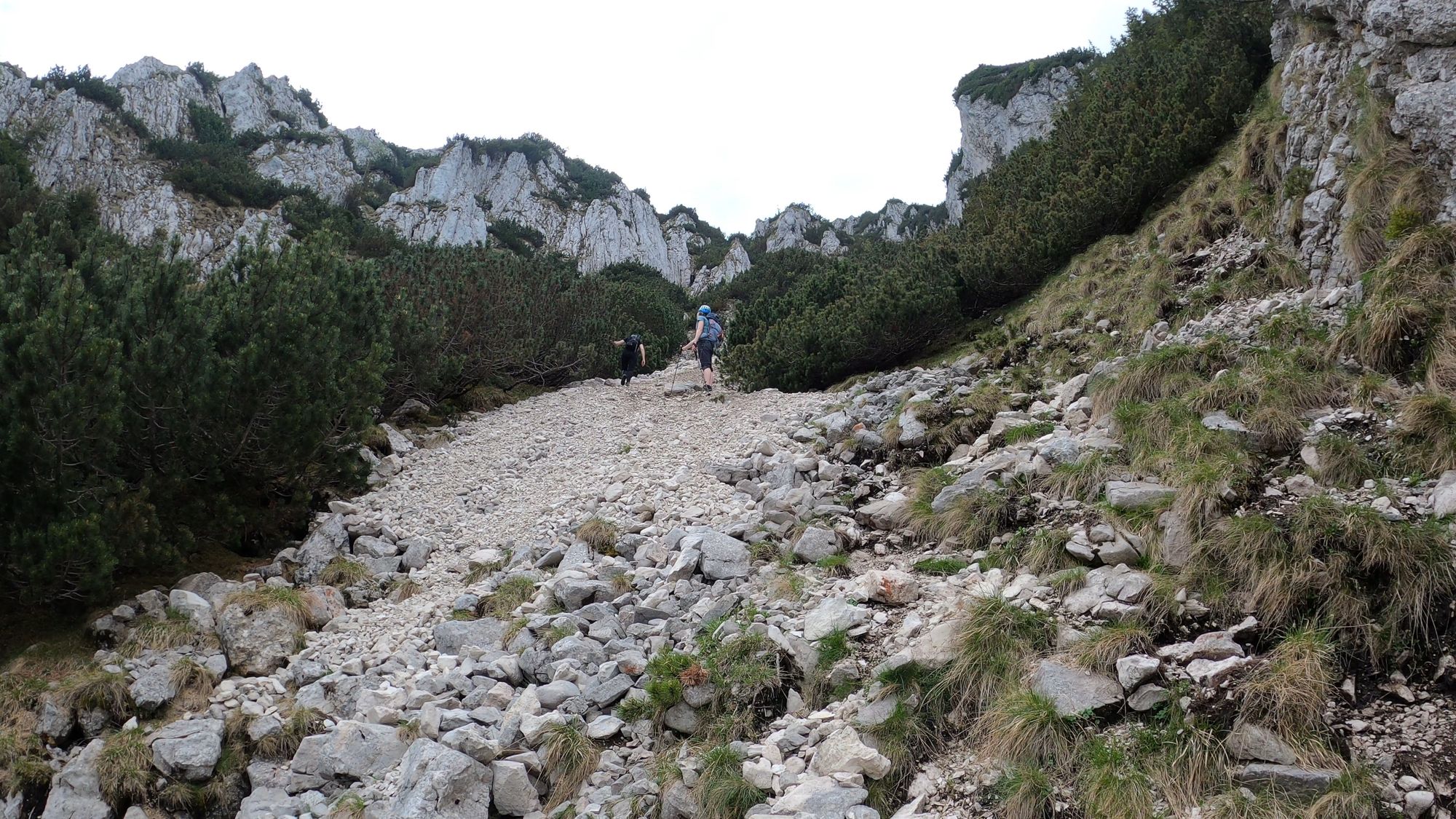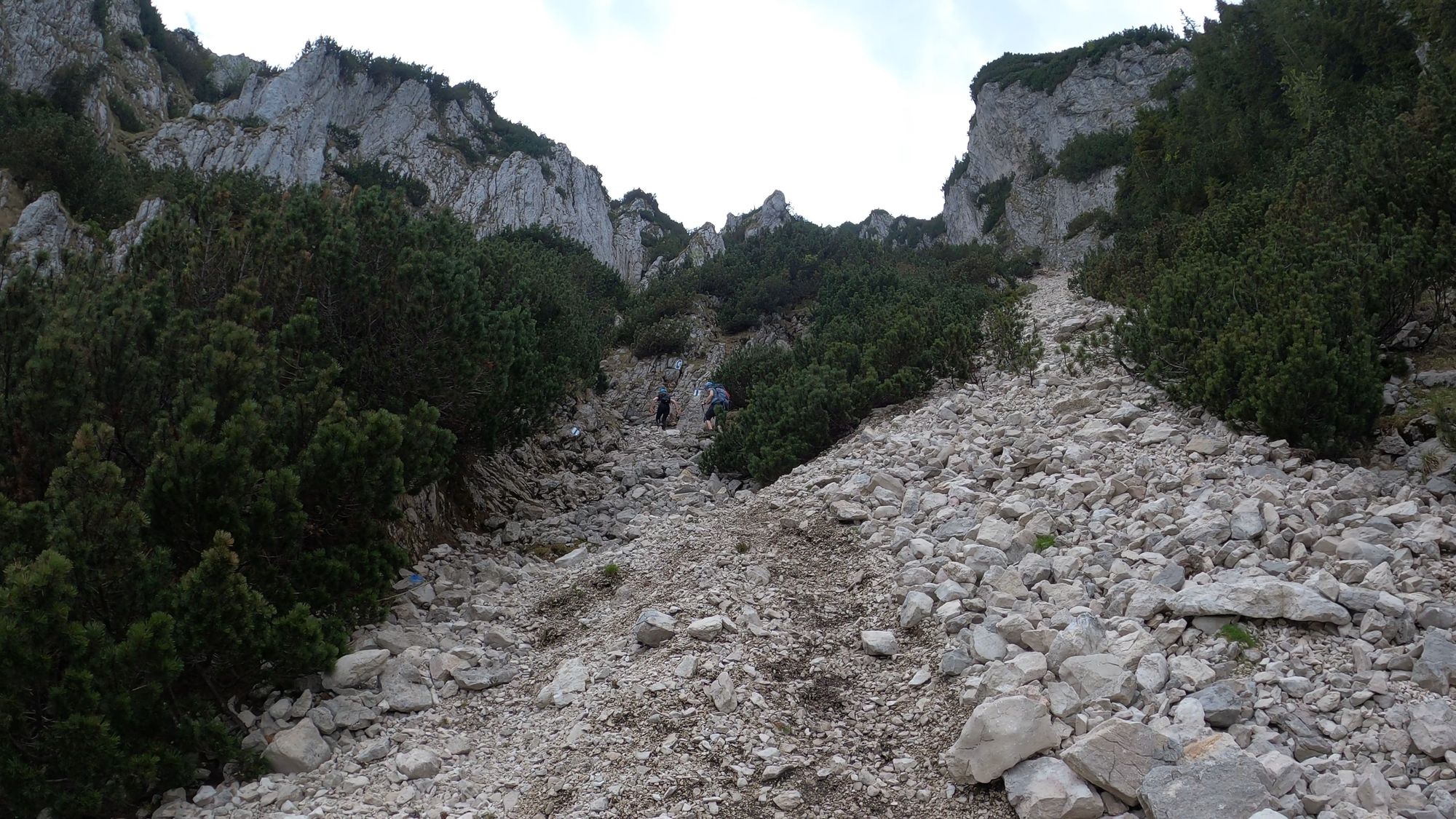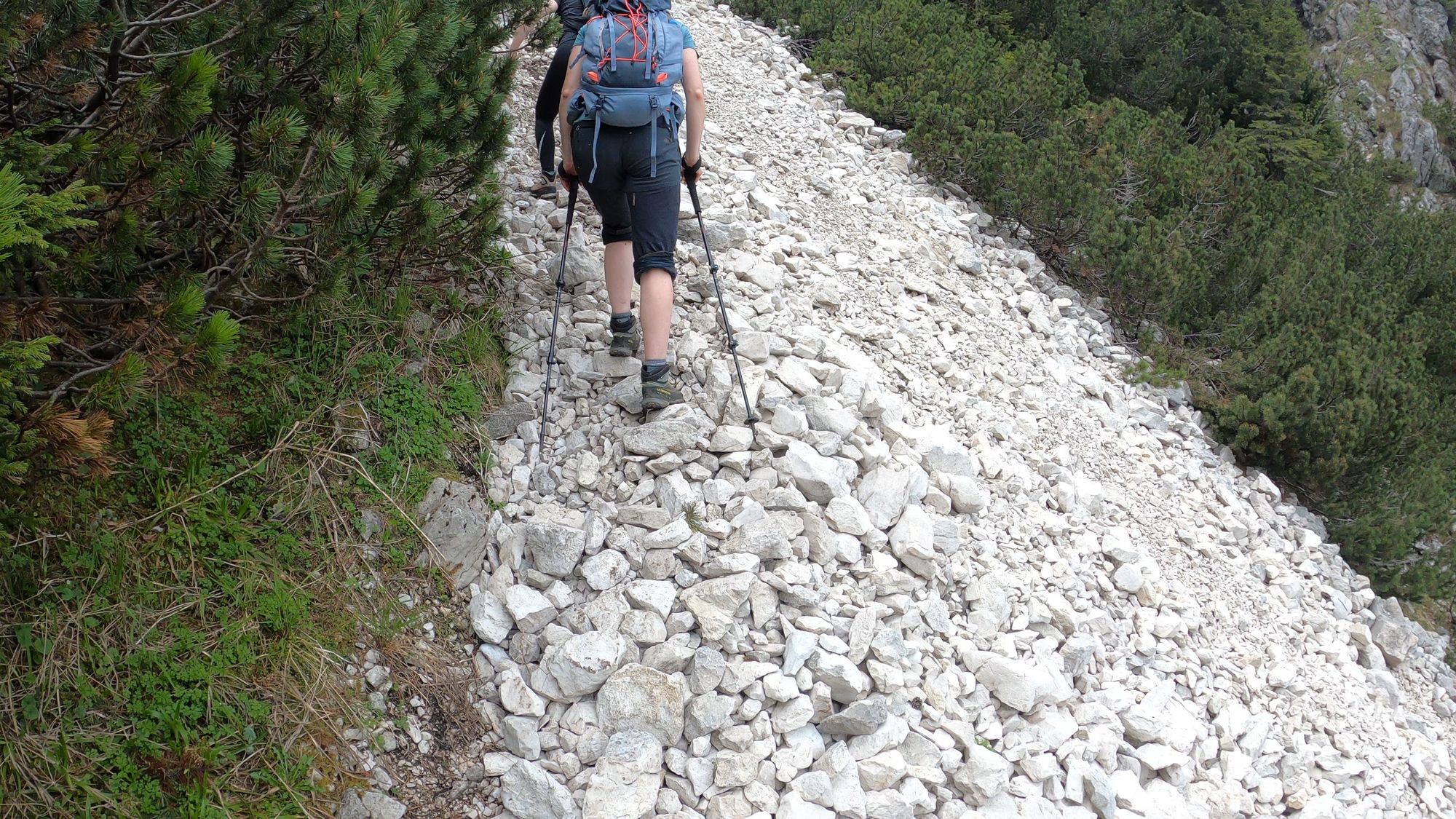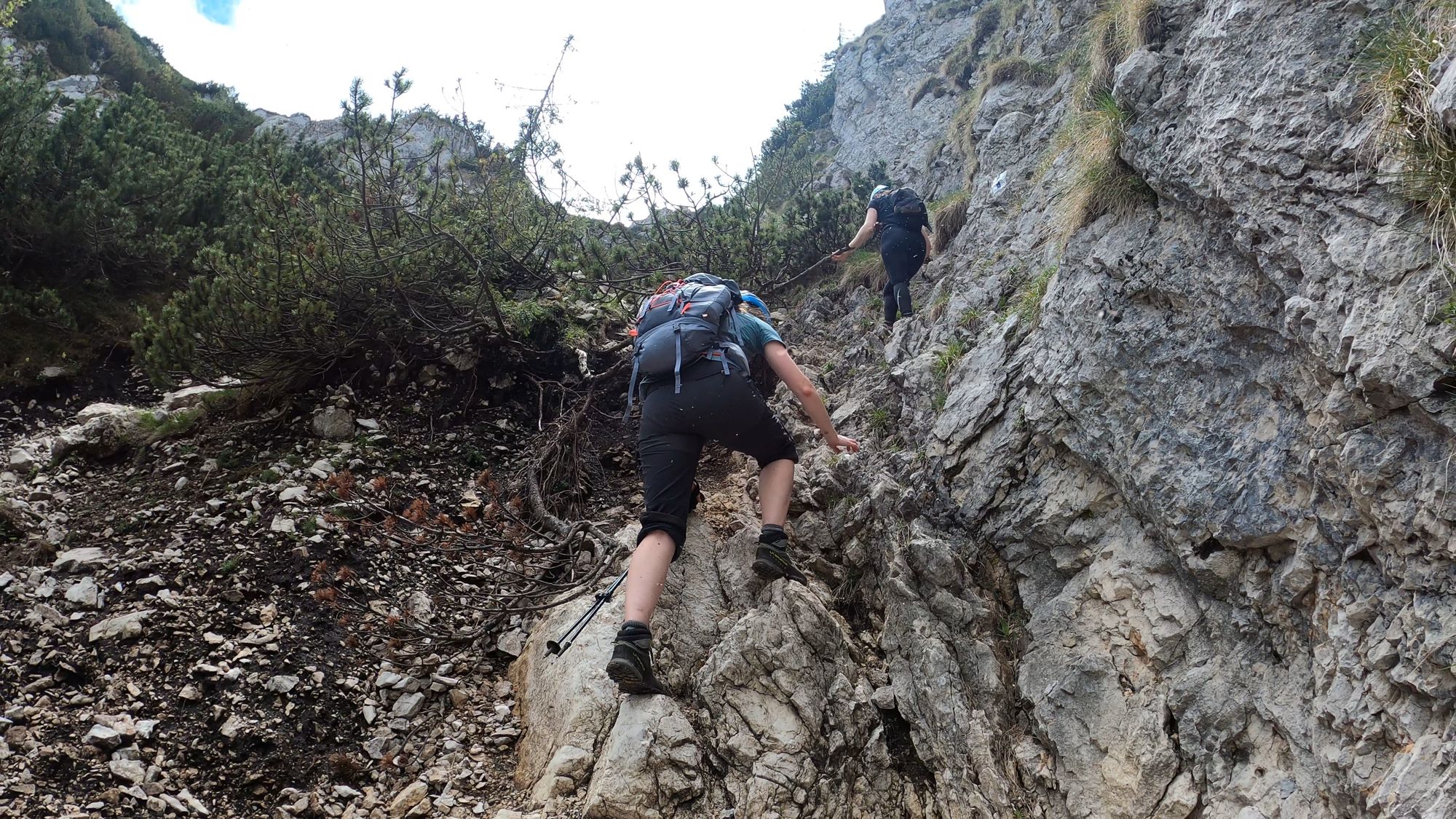 Once we finally made it past the scree section, we arrived at the spring known as La Găvan. It's nothing more than a small pond with potable water. Keep in mind that this is a seasonal spring, and there is a chance that it will dry out during the summer.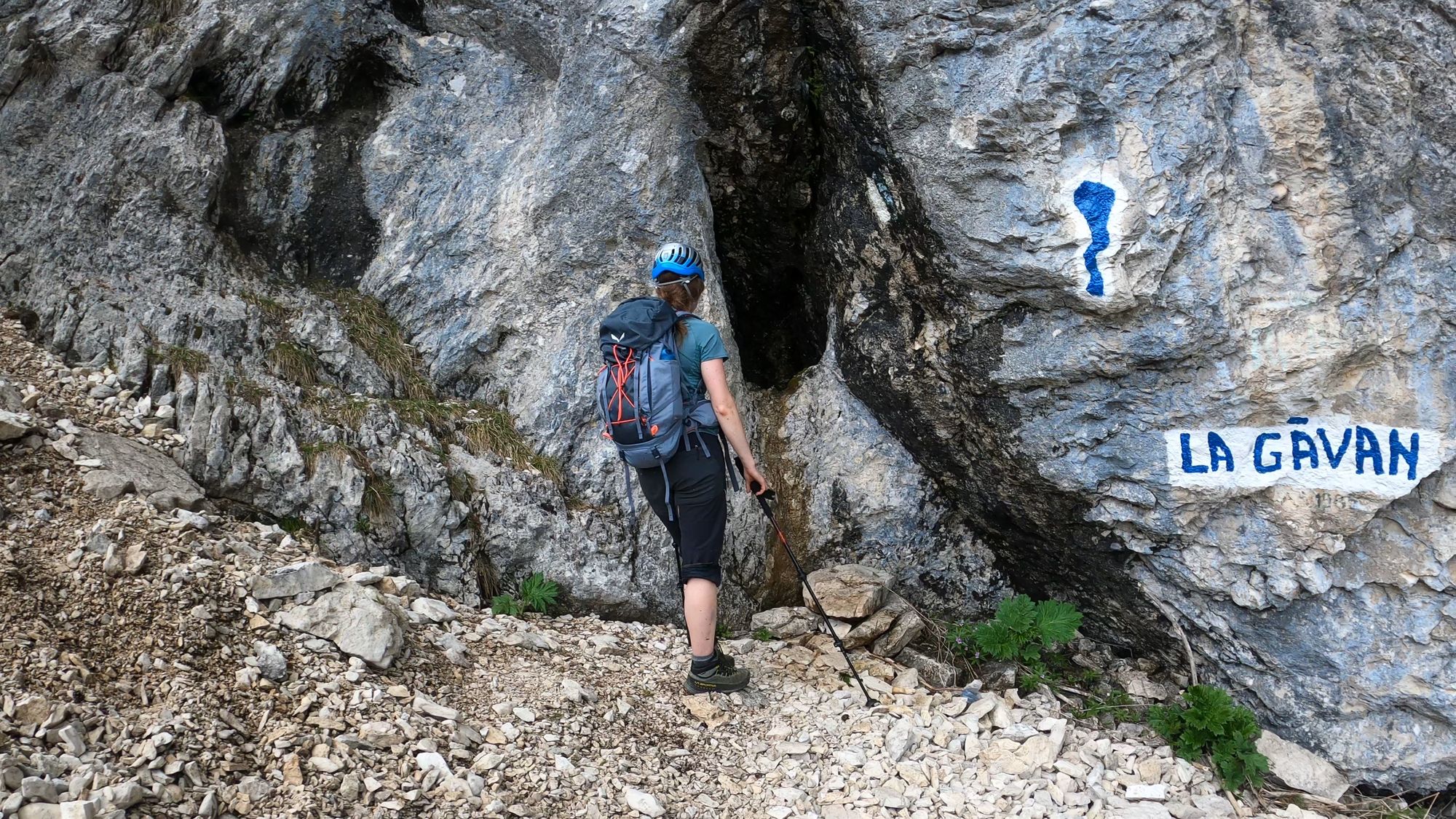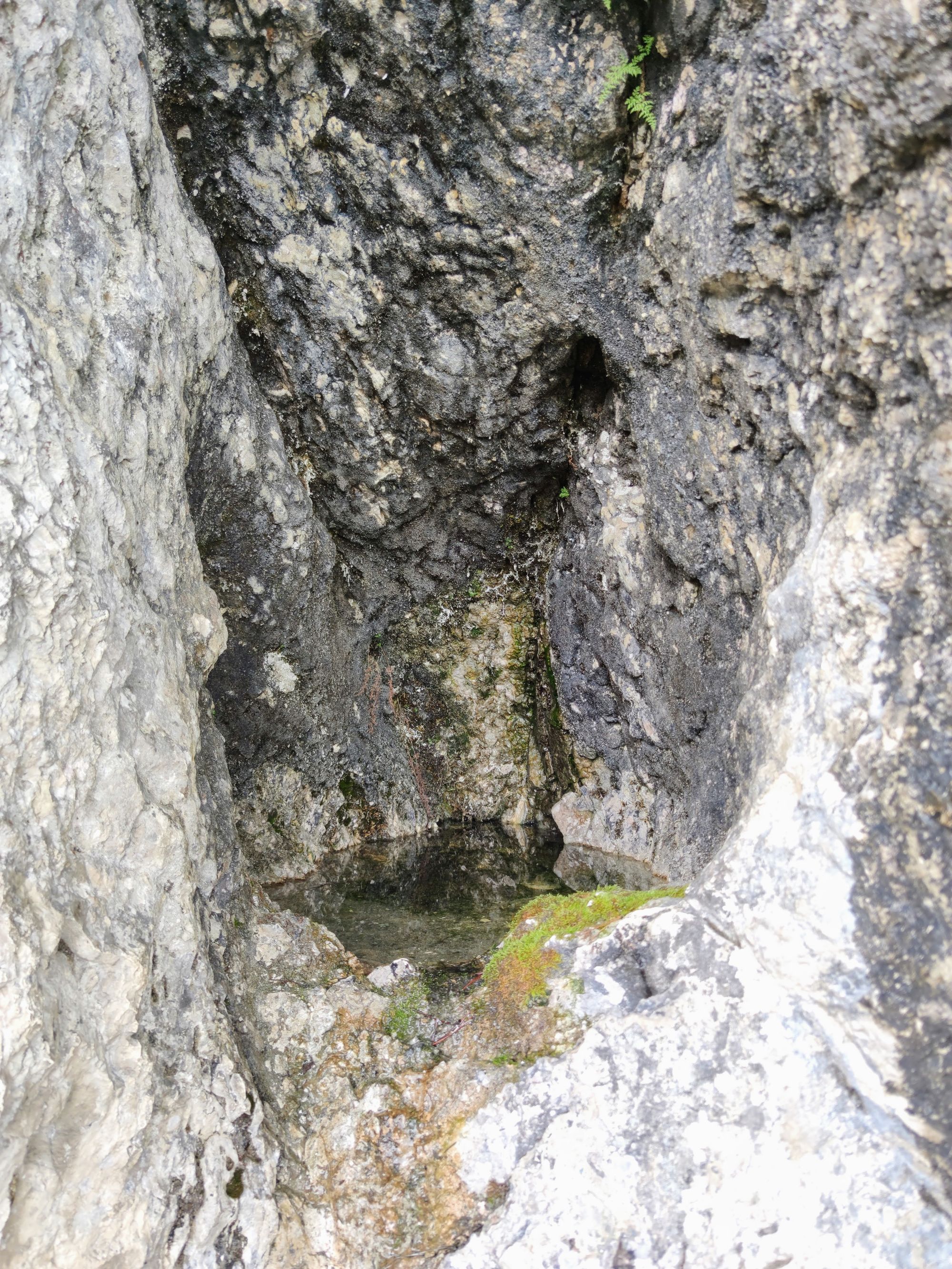 From the La Găvan Spring, we continued our ascent to the Piatra Craiului ridge fighting our way through a dense dwarf mountain pine (pinus mugo) forest.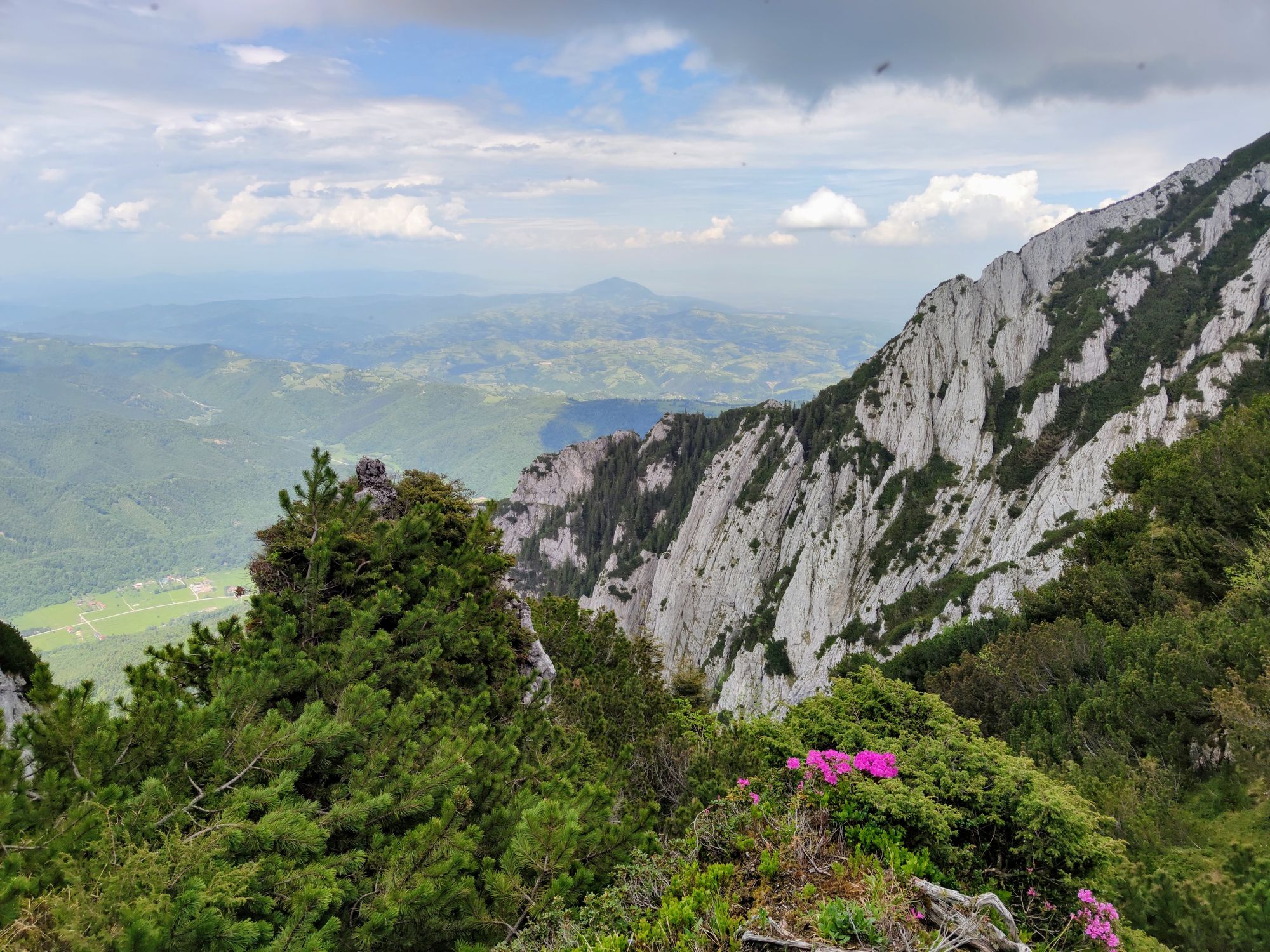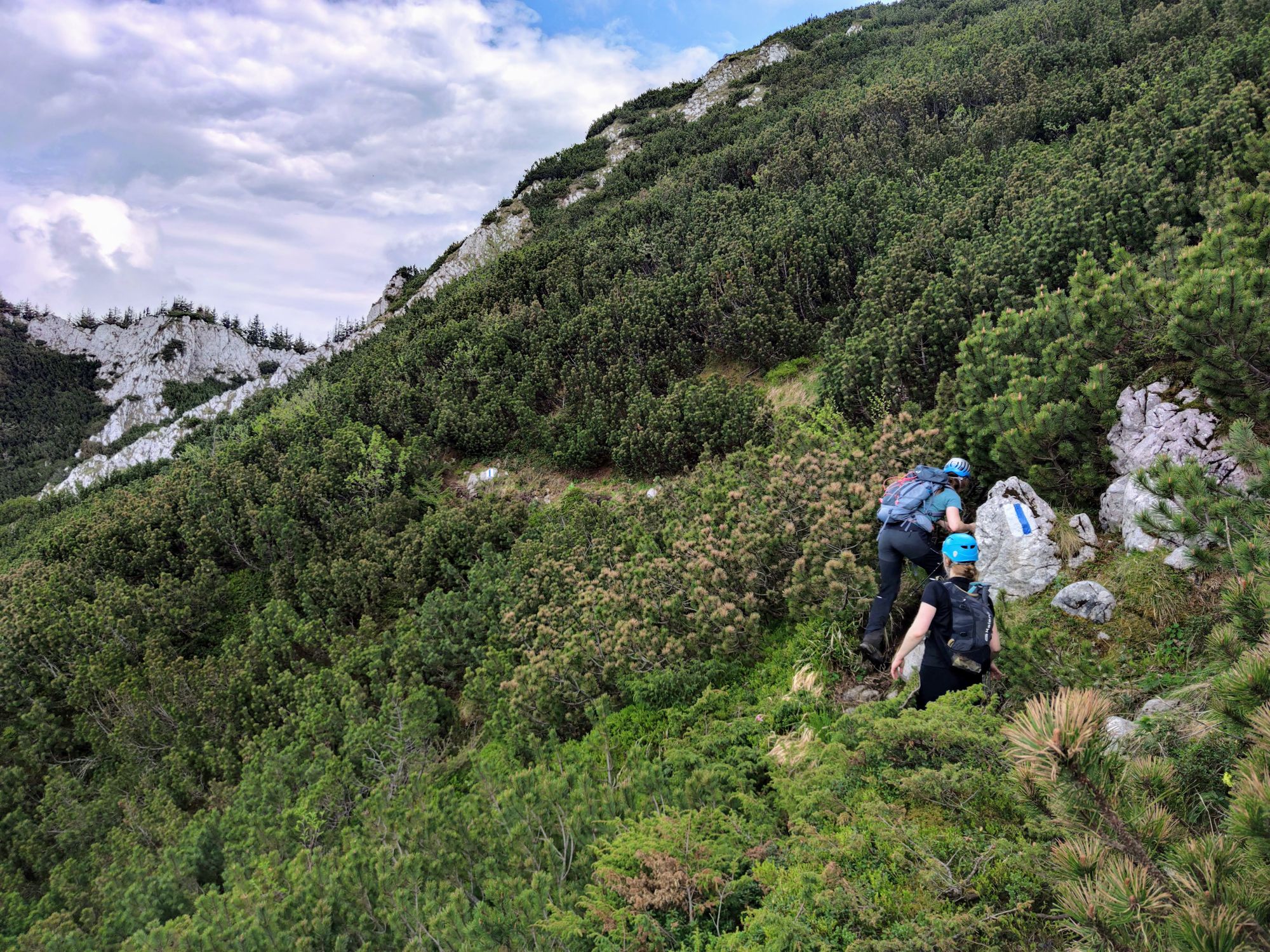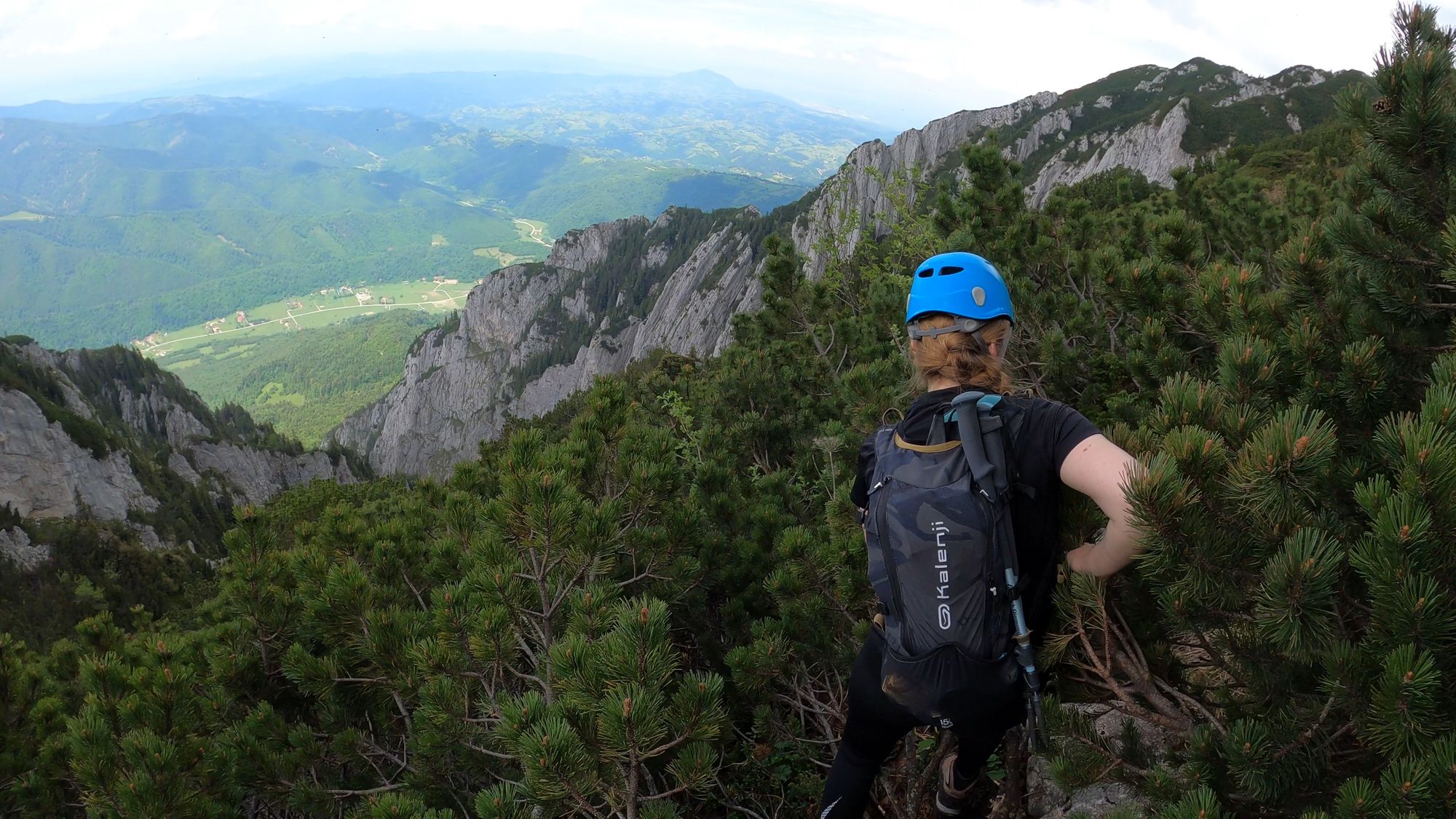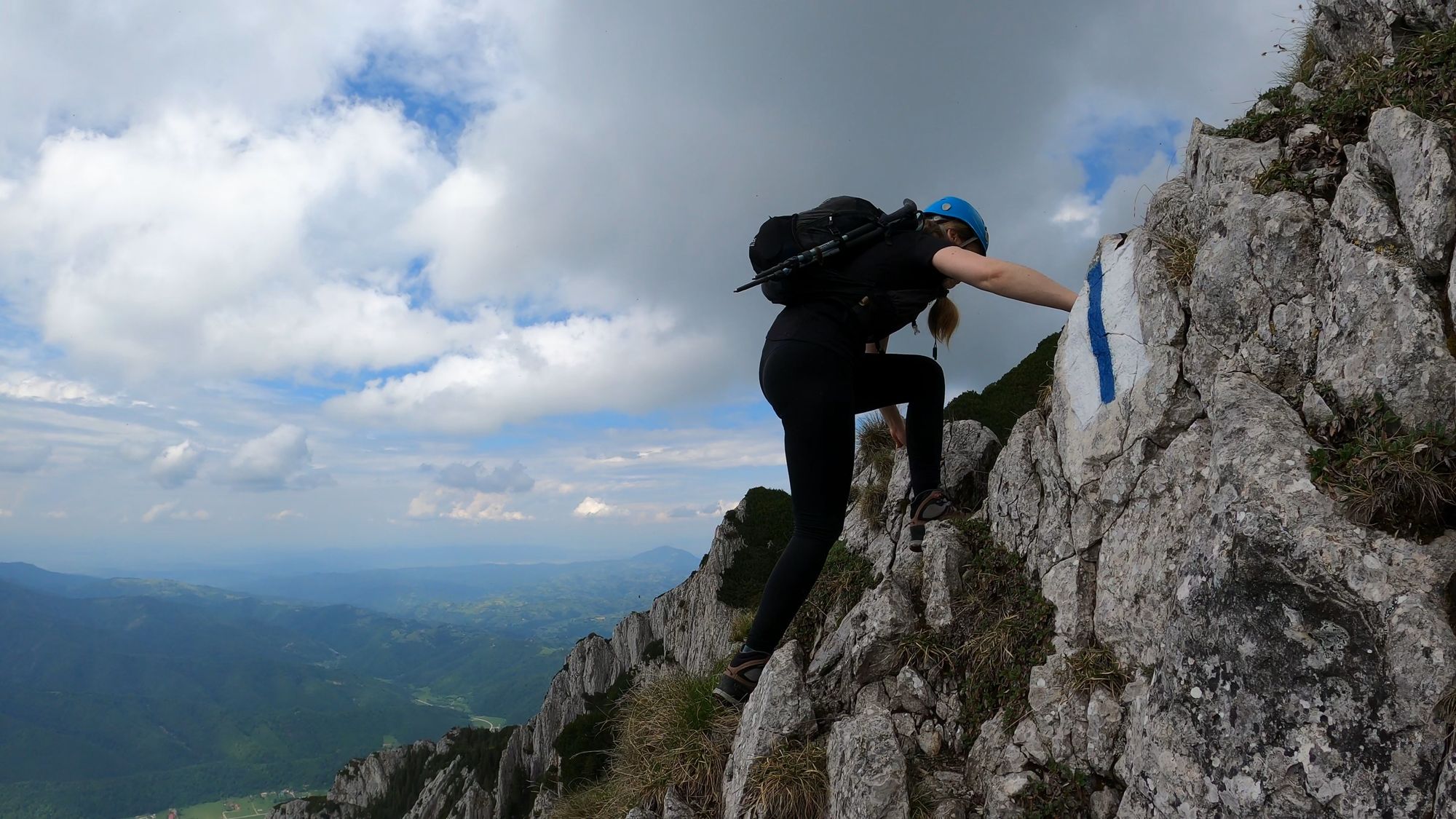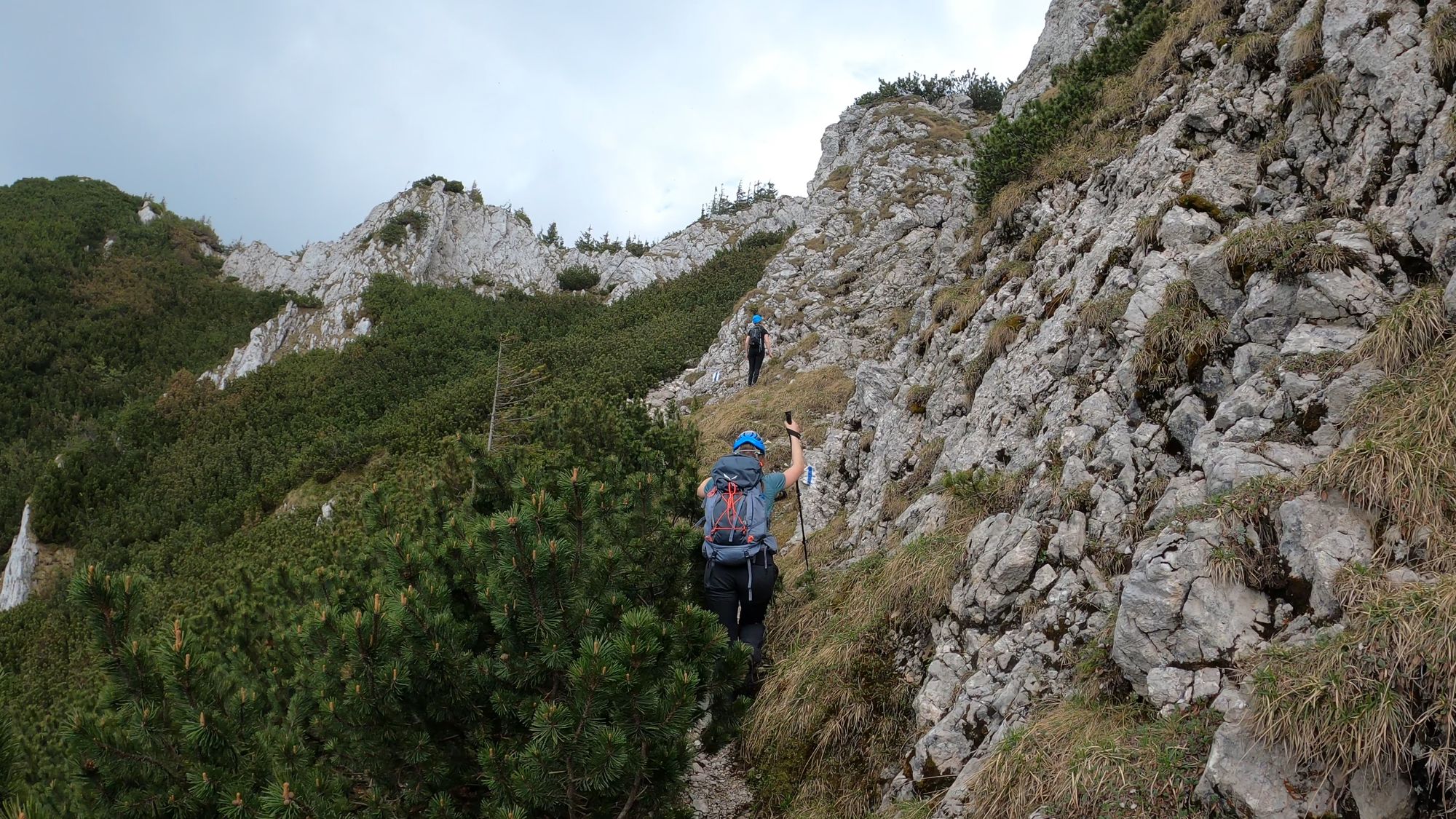 After 30 minutes of intense struggle with the pines, we finally made it to Șaua Padinei Închise on the Piatra Craiului ridge, at the elevation of 1936 m.
Șaua Padinei Închise - Ascuțit Peak
markings: red dot
duration: 1.5 hours
difficulty: moderate, some exposed sections
From Șaua Padinei Închise there are 3 options to continue: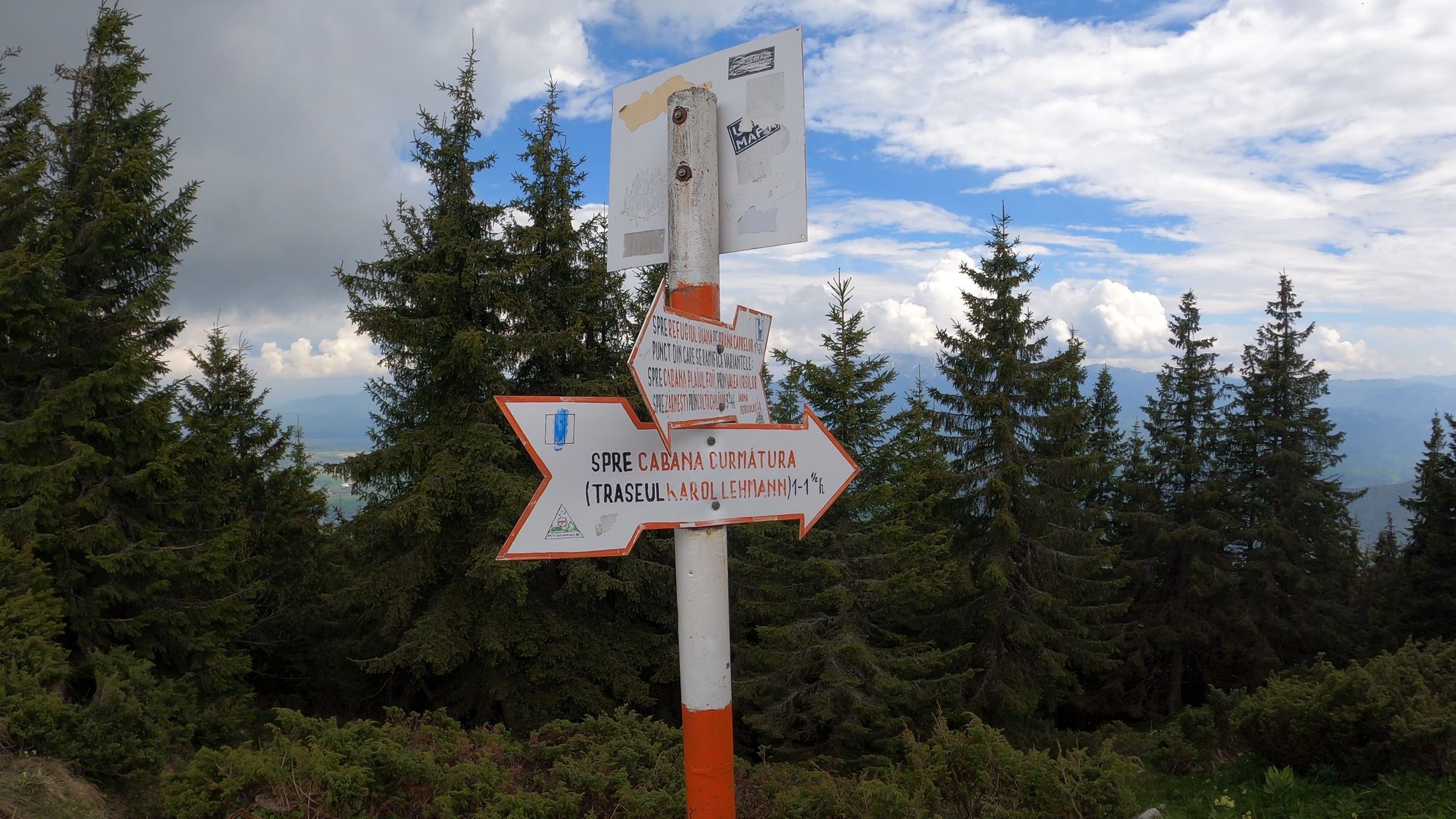 Descend to the eastern side of the mountain to Cabana Curmătura via the Carol Lehmann route (blue stripe). The path is steep, but it will take you to the hut in less than 2 hours.
Continue north along the ridge until you reach Turnu Peak. The walk to Turnu is not particularly challenging, but the descent options are all difficult. Best option to descend from Turnu Peak would be towards Șaua Crăpăturii (red dot markings).
Scramble your way south along the Piatra Craiului ridge, but be aware that you will have to cross some exposed sections.
We continued south on the Piatra Craiului ridge from Șaua Padinei Închise towards Ascuțit Peak.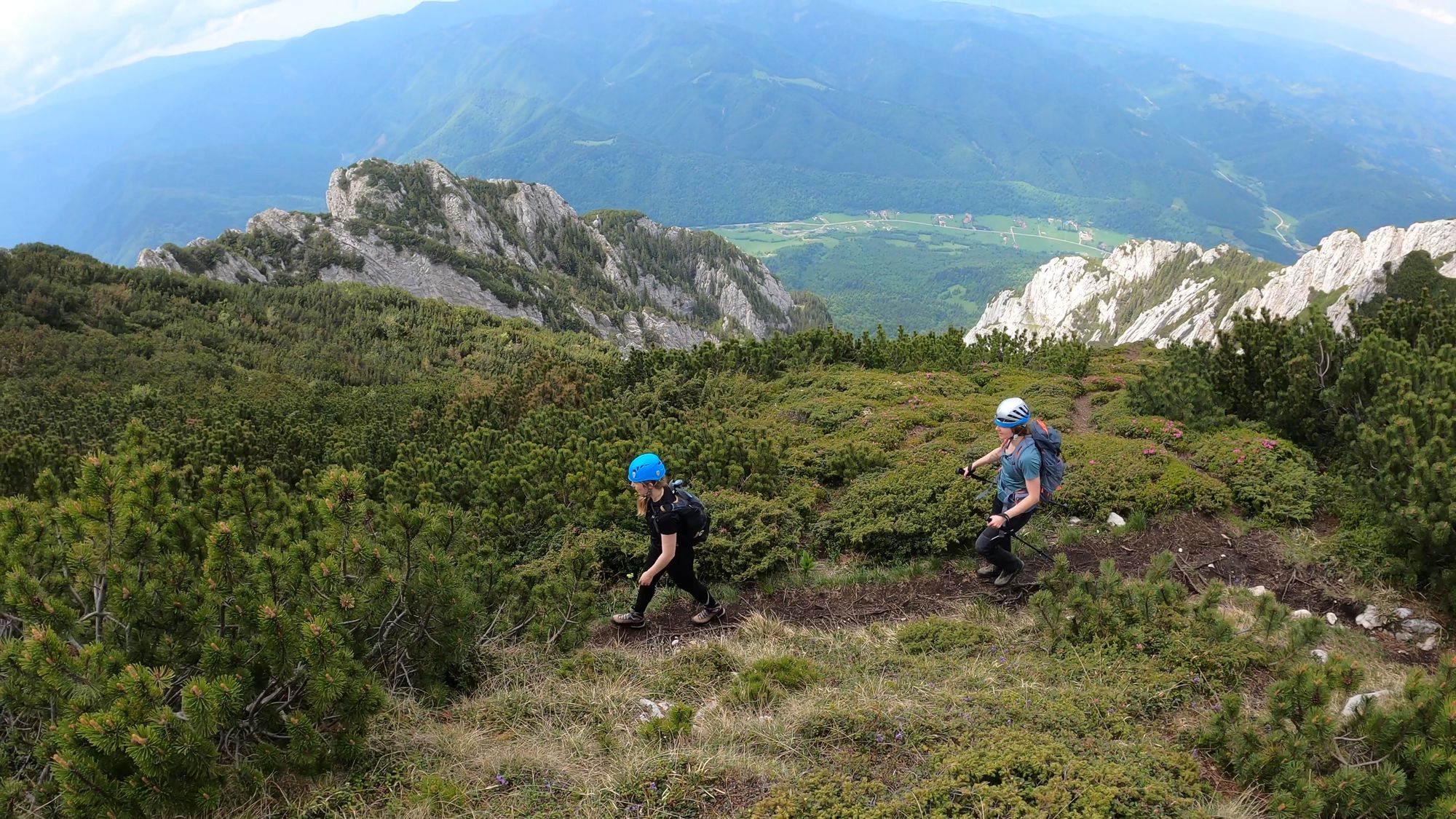 Before reaching Ascuțit Peak (2150 m), we had to first climb the Padina Popii Peak (1970 m)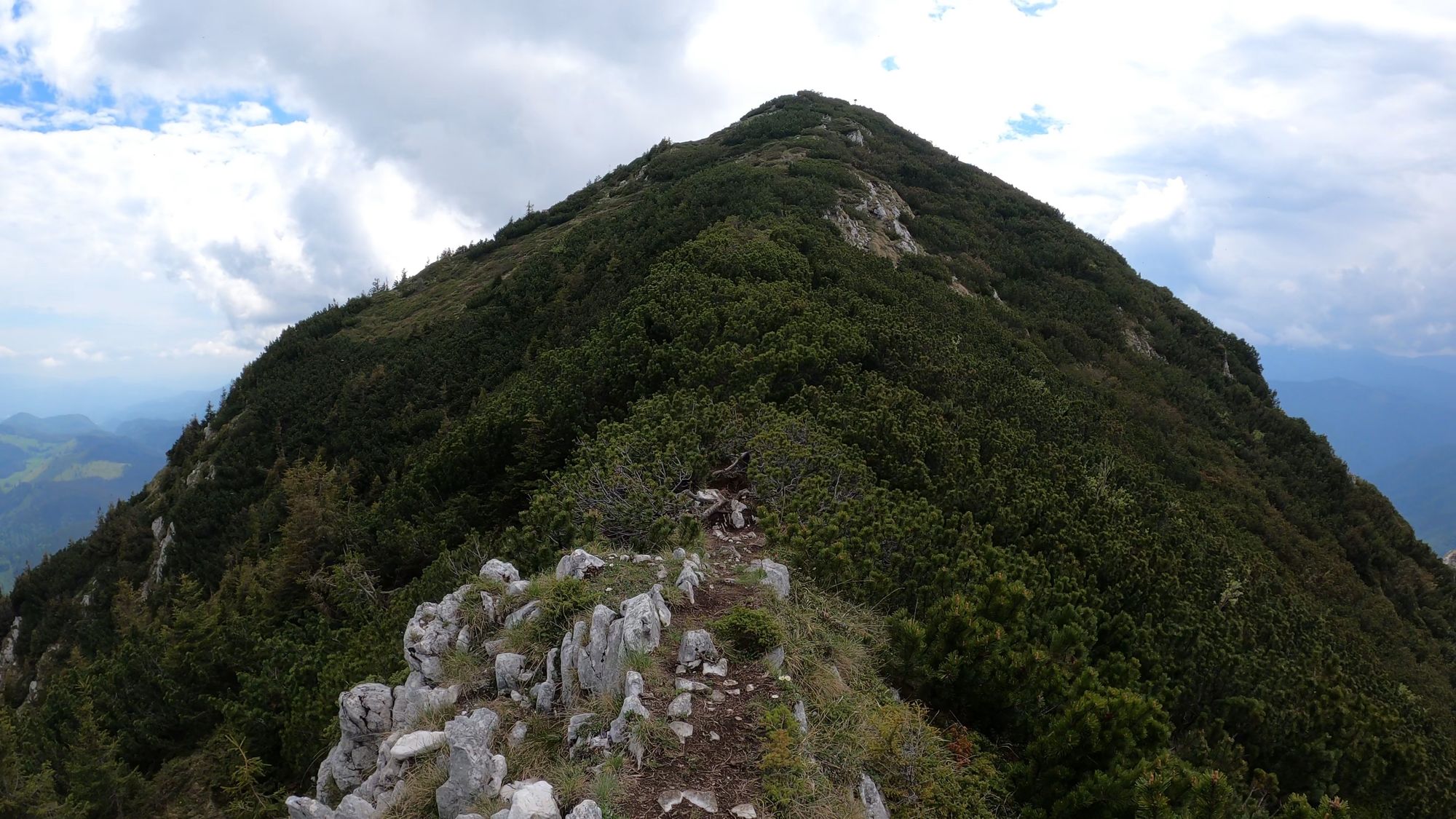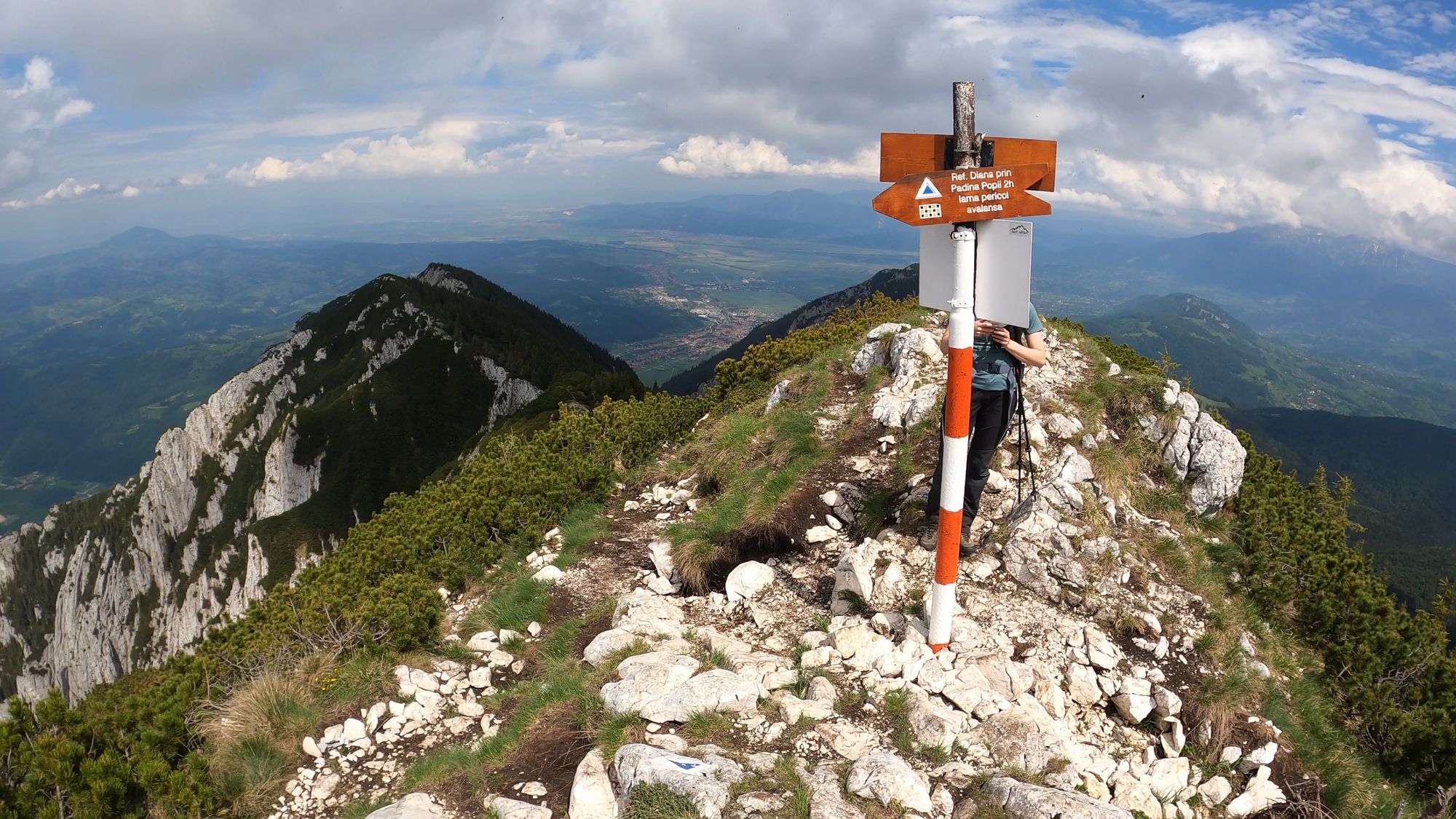 From Padina Popii Peak you can descend back to the Refugiul Diana via the Padina Popii route (around 2 hours). This is a difficult and steep trail with a lot of scree. It is marked with blue triangle.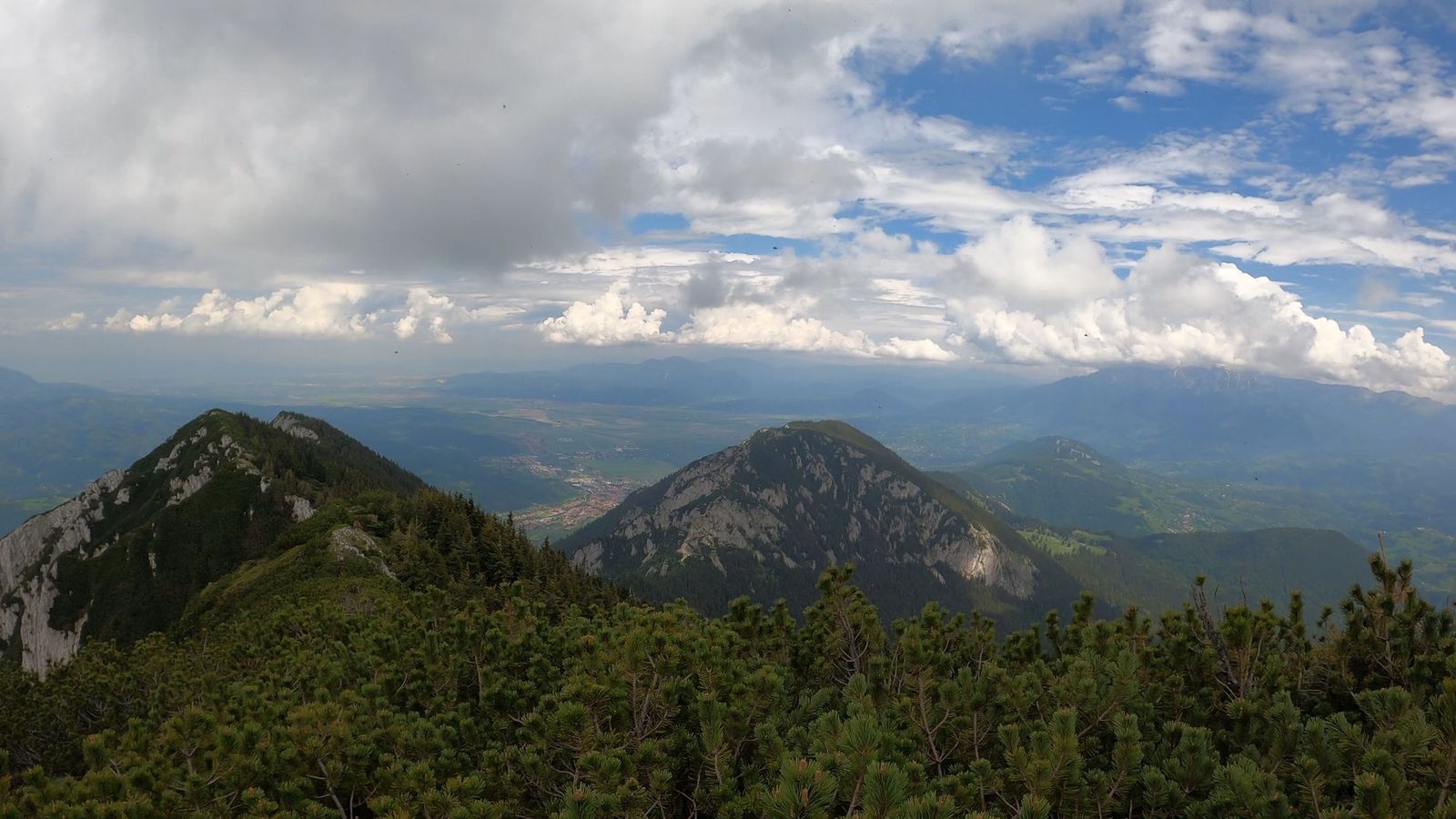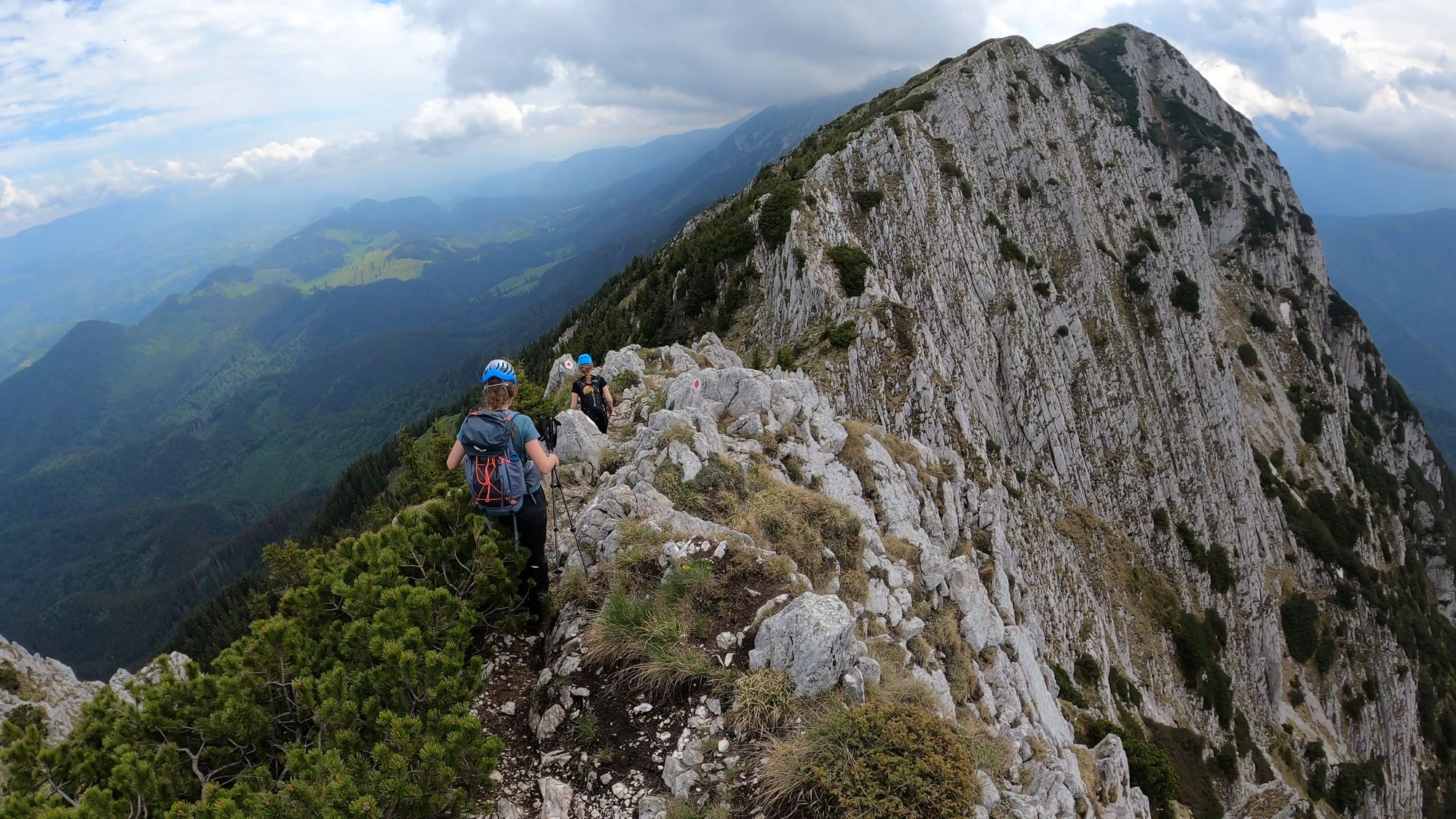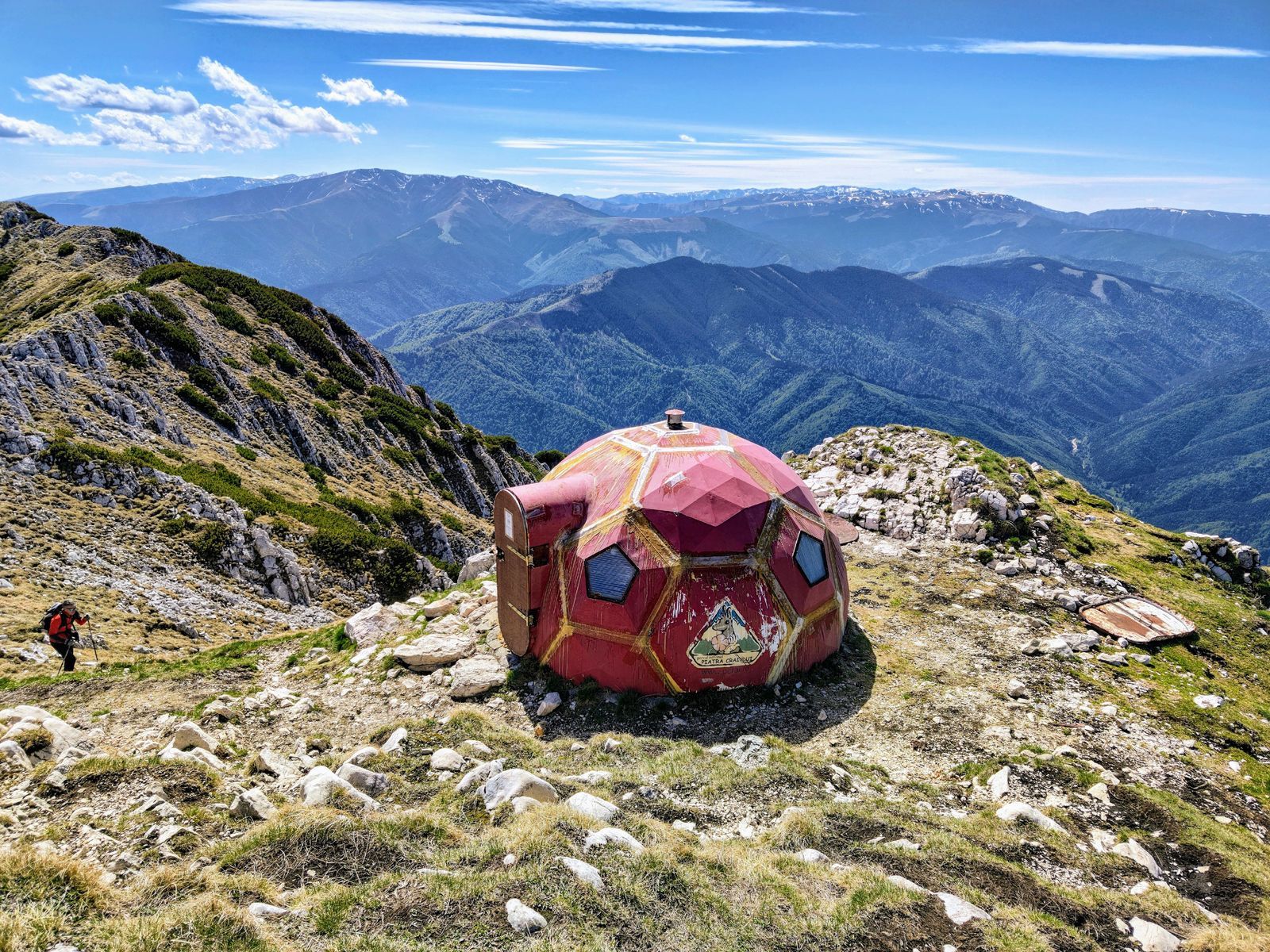 Ascuțit Peak - Brâul Ciorânga Mare route - Plaiul Foii
markings: red triangle
duration: 5-6 hours
difficulty: high, steep exposed descent; rockfalls - helmets recommended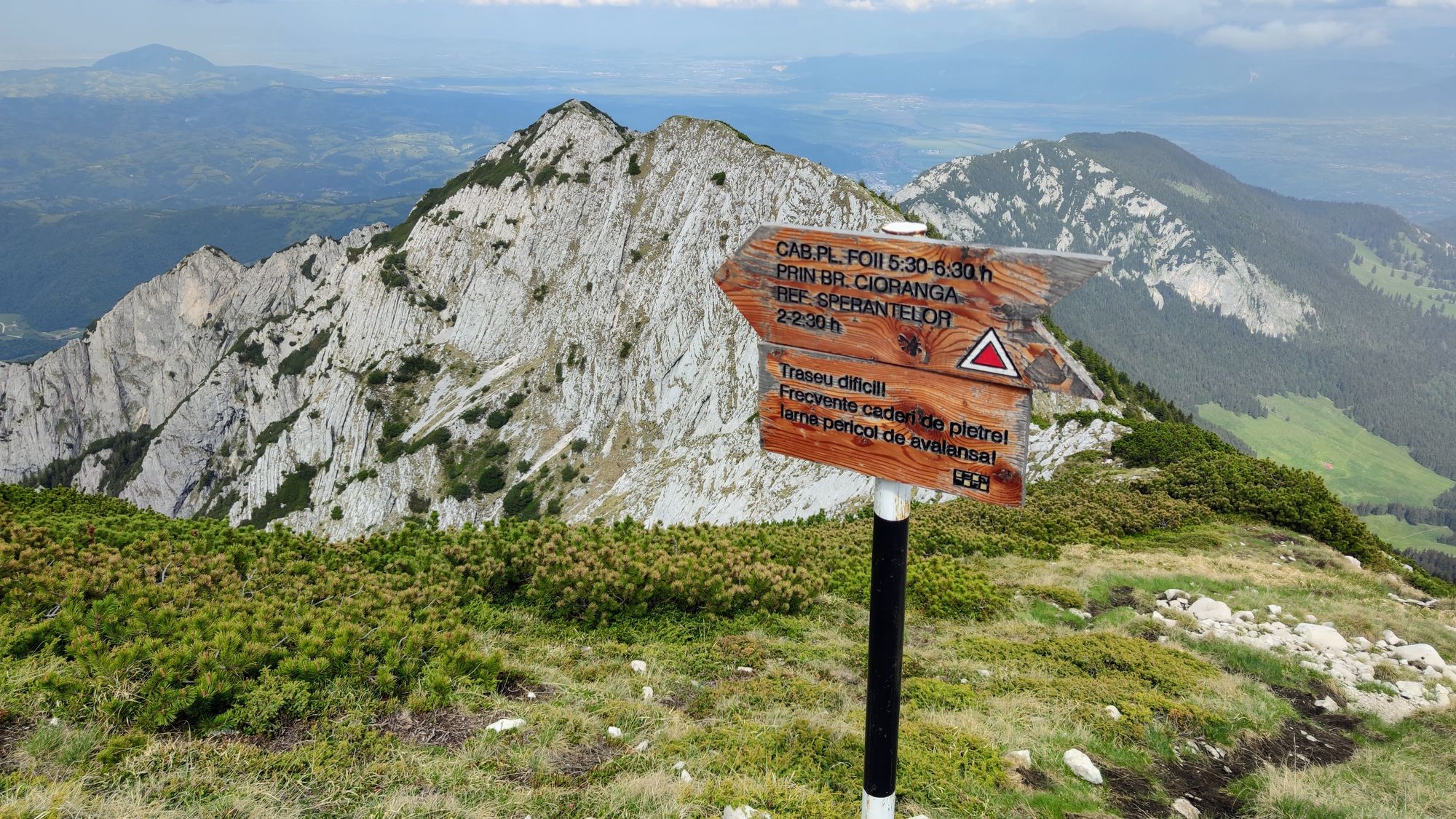 From Ascuțit Peak we returned to Plaiul Foii via the Brâul Ciorânga Mare - a very difficult and strenuous route. We managed to descend in 4 hours, but it could take longer, depending on experience.
An easier way to get off the ridge from Ascuțit Peak is to descend to Cabana Curmătura on the blue triangle trail and then to Fântâna lui Botorog, but keep in mind it will take you to the opposite side of the mountain as Plaiul Foii.
The Brâul Ciorânga Mare path is riddled with obstacles that must be overcome by climbing or dismounting, and the more difficult sections are arranged with metal chains and cables. All of this is compounded by the steep and exposed path, as well as the risk of slipping on the scree.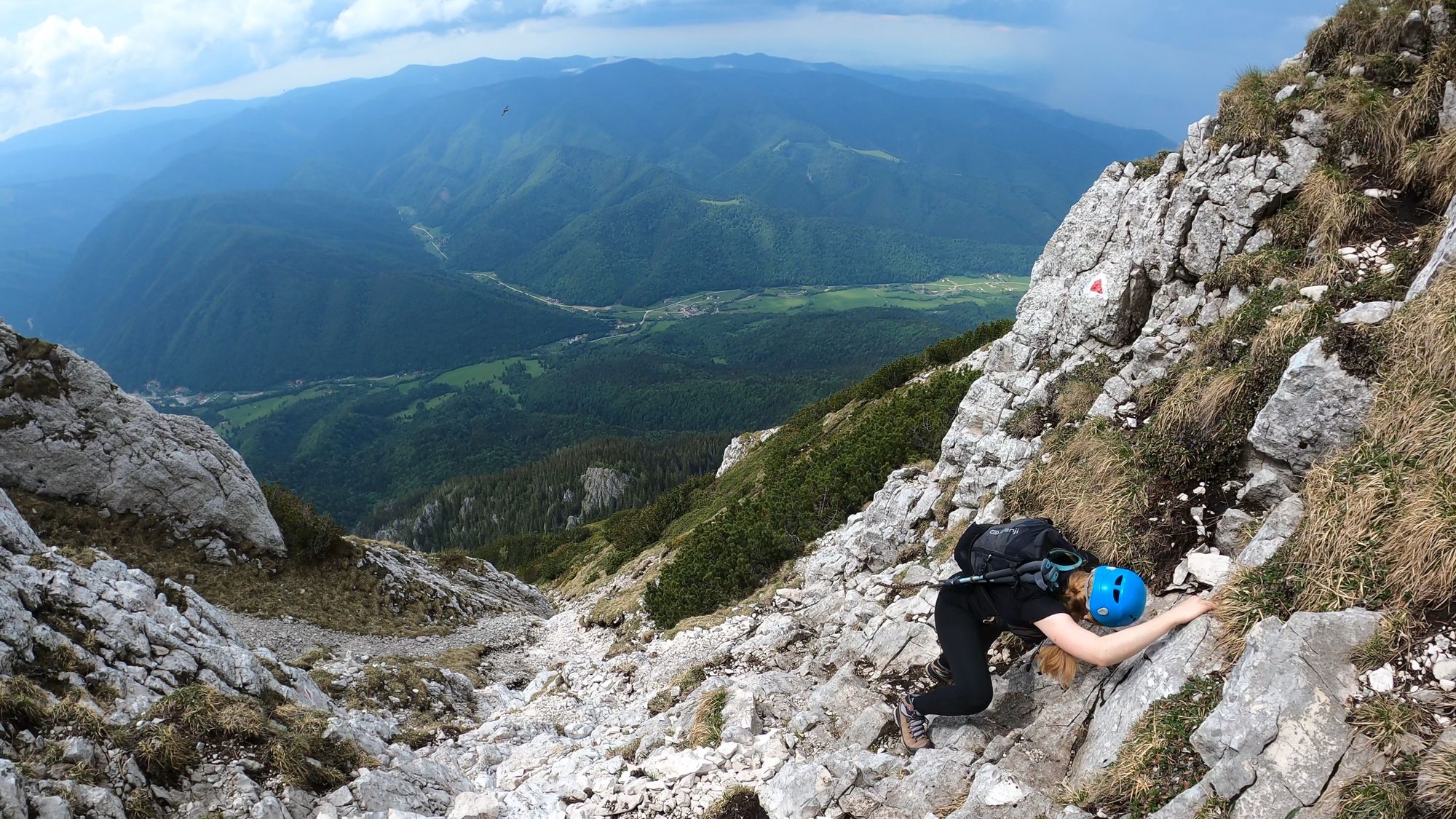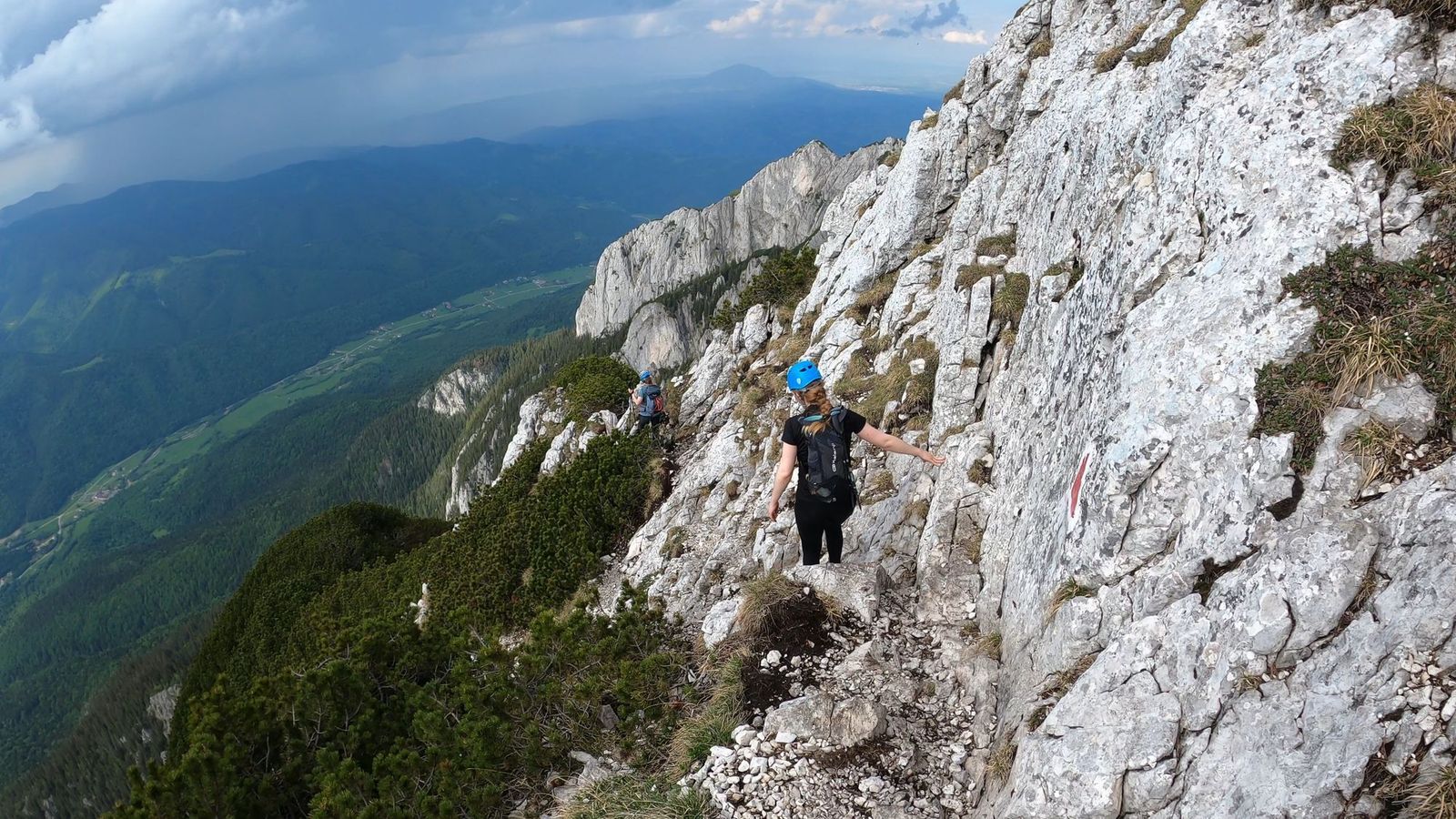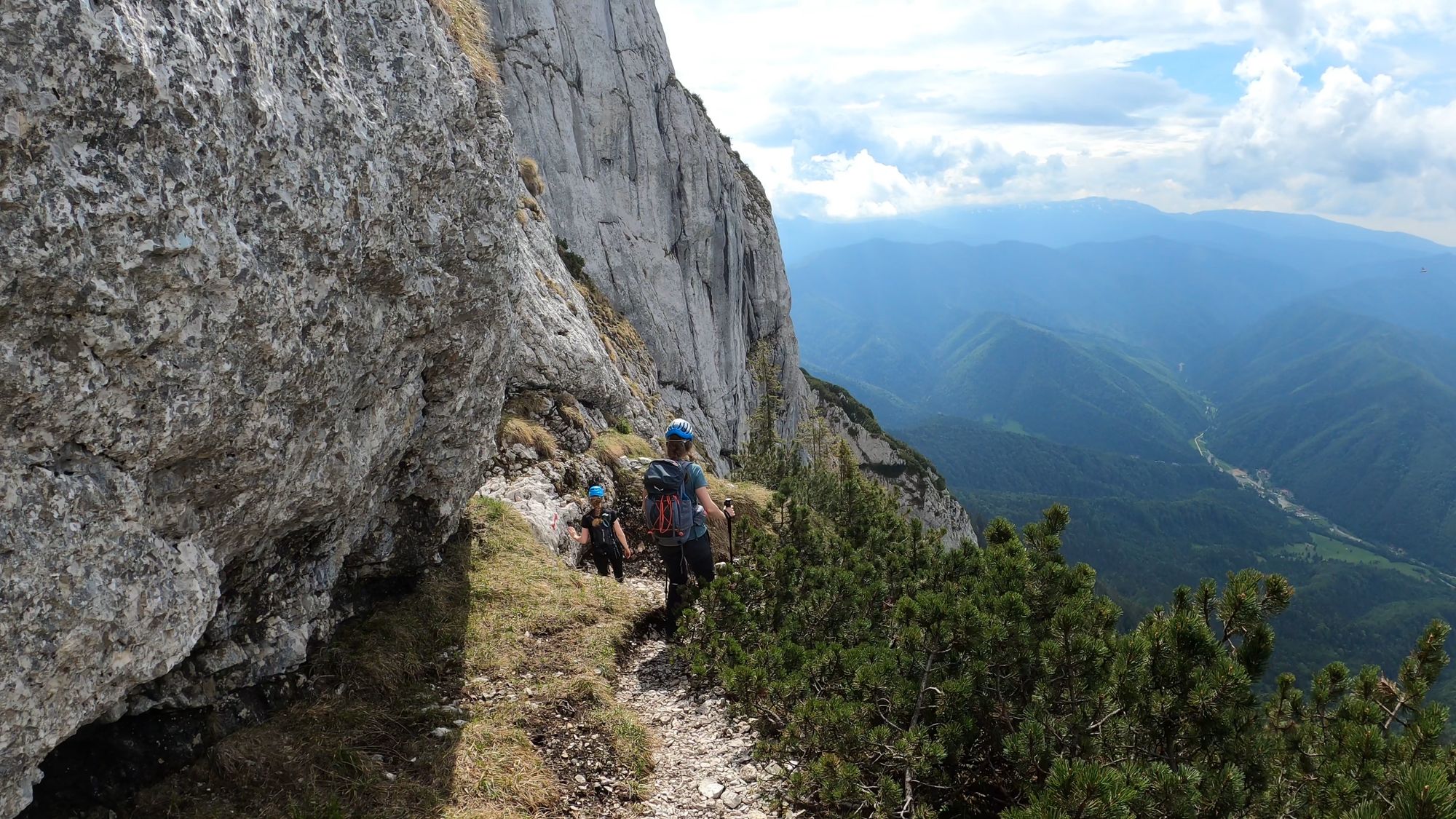 Frozen "snow tongues" can last in shady areas until the end of June, and crossing them safely may require at least microspikes and trekking poles.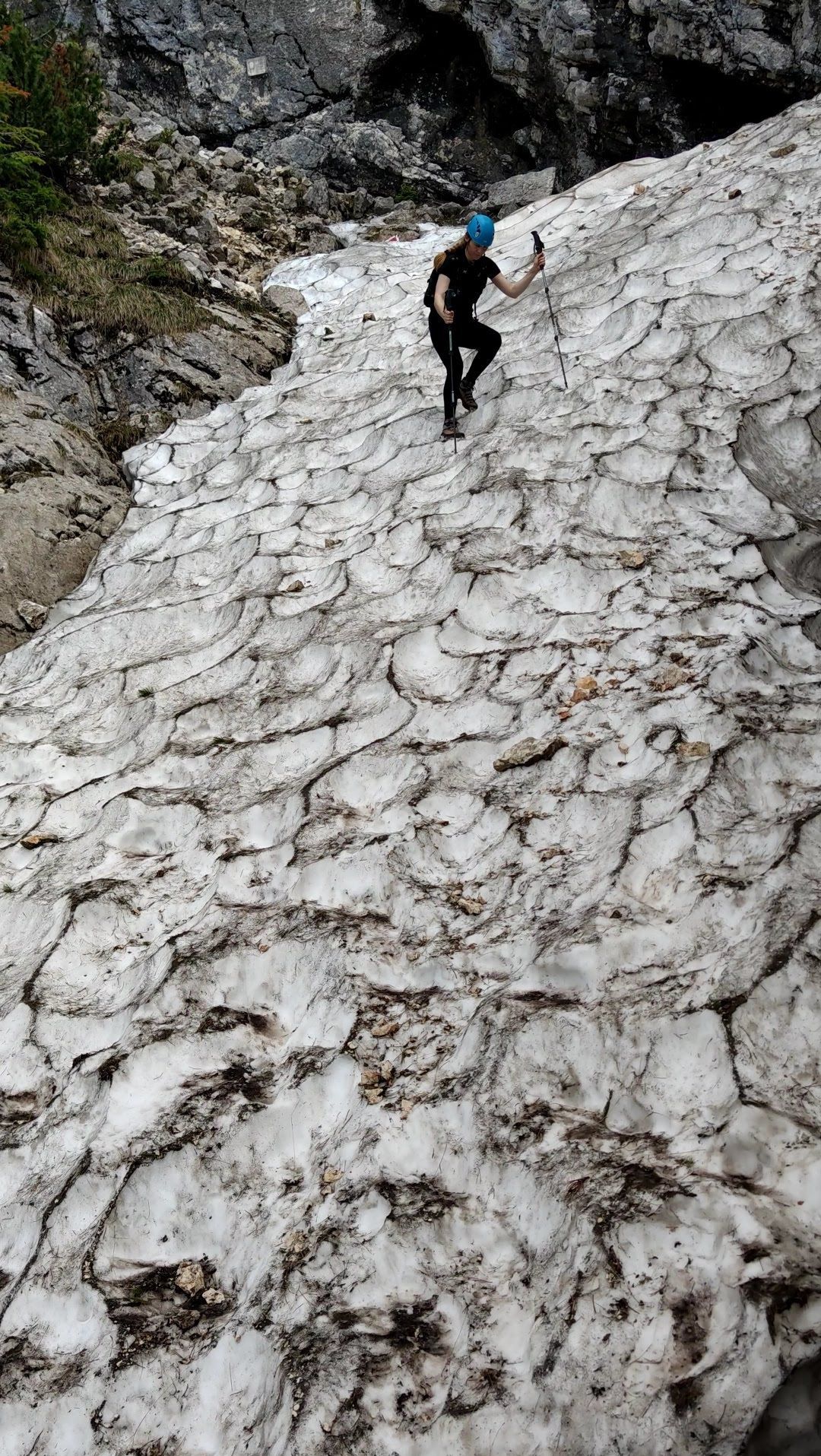 There is a Brâna Caprelor trail in Bucegi mountains as well: