Morarului Valley – a spectacular and wild trail towards the summit of Bucegi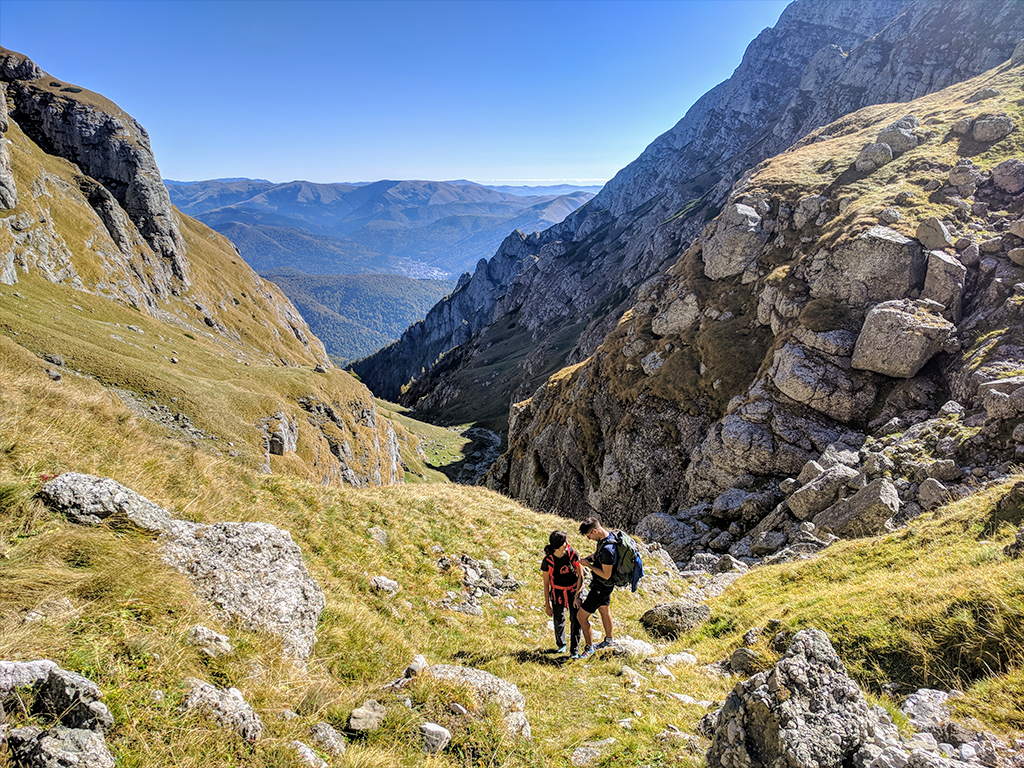 The trail through Morarului Valley is an unmarked, spectacular and wild path towards Omu Peak (Varful Omu – 2507m) – the highest peak in Bucegi Mountains, Romania
The trail starts from Gura Diham Chalet (987 m) and will take you to the Omu Peak in about 4.5 hours.
This is not an officially open trail and is not marked. Do not take it if you are not an experienced hiker or if there are any chances of heavy rain, fog or snow. Flash floods may form during summer and avalanches during winter. Best time to hike this trail is during autumn season (late August to late October) when the weather is more stable and the path is not covered in snow.
If you want to hike this trail you need to be in good physical shape. Pay attention not to loose the path which may get less obvious in some portions of the trail. Study the map, the GPS track and the pictures.
Wild animals
In order to avoid any unwanted encounters, talk loudly so wild animals, like bears, can hear you. They do not want to meet humans either, so if they hear you in time, they will retreat out of the way.
Equipment
Even if the trail gets somehow more technical at the end, it doesn't require any special climbing equipment if there is no snow. Make sure you have good hiking boots and take enough water with you because you may not find any water source on your way.
Quick info about Morarului Valley trail
Starting point: Cabana Gura Diham (982 m)
Destination: Omu Peak (2507 m)
Seasonality: only in good weather, avoid during winter
Duration: 4.5h
Length: ~7km
Markings: not marked
Difficulty: moderate (some scrambling involved)
Closest accommodation unit to the start of the trail: Cabana Gura Diham (right next to the trail)
Closest town to the start of the trail: Busteni (5km)
Distance from Bucharest: 153 km (2-3h) by car, 2h by train to Busteni train station
Parking: free public parking near Cabana Gura Diham
Morarului Valley trail description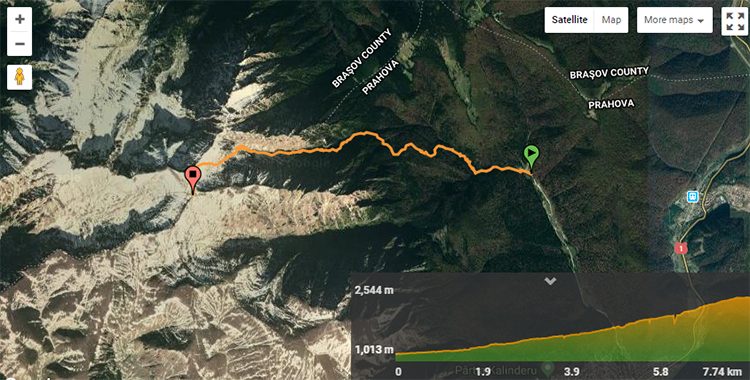 Start of the trail
In order to get at the start of the trail, go through the (not so obvious) gate in the green fence on the left of Gura Diham Chalet. If you can't find the gate, stop here because this trail is not marked and will put your orientation skills at test. You can take this very well marked trail towards Omu Peak instead.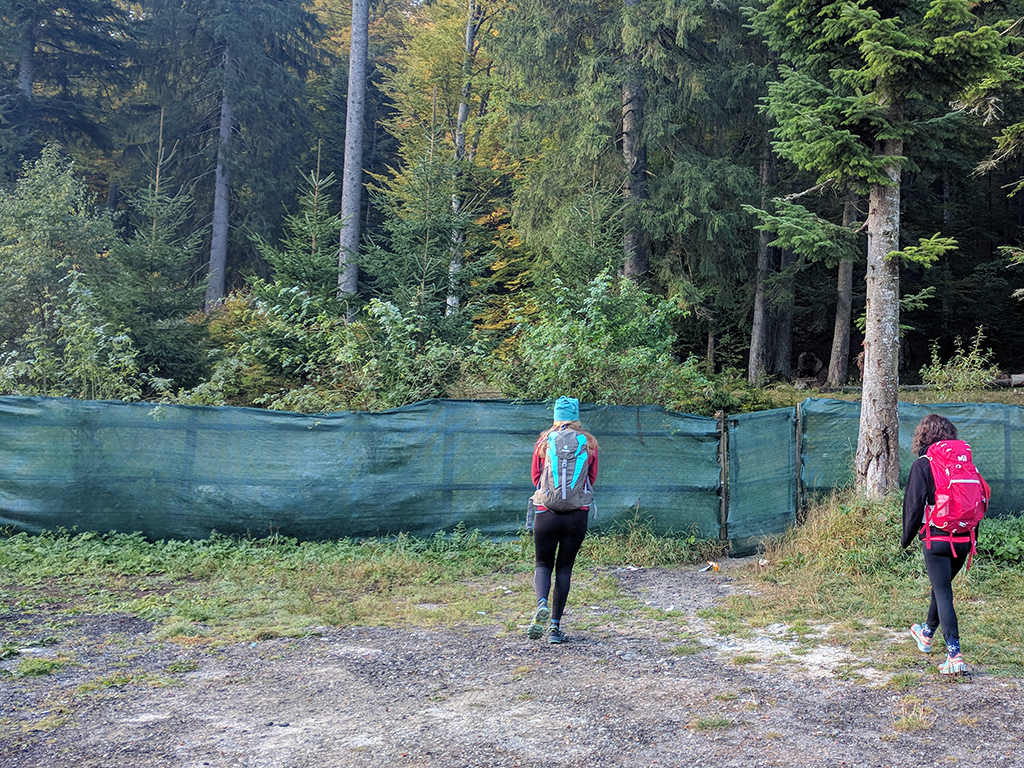 Deserted building and right turn
Cross the Valea Cerbului river, turn right and continue on the forest road. You will pass by a deserted building and soon after you will see an arrow on a tree pointing right. Here is where Moraru river flows into Valea Cerbului river. Cross the river again and follow the path along Moraru river.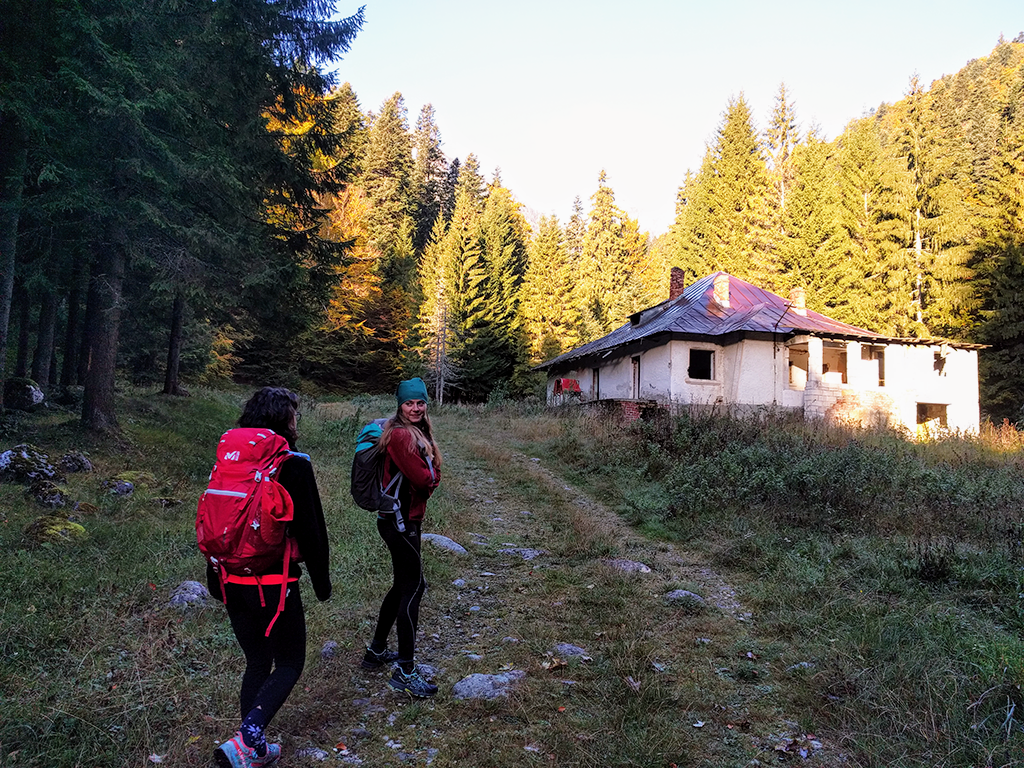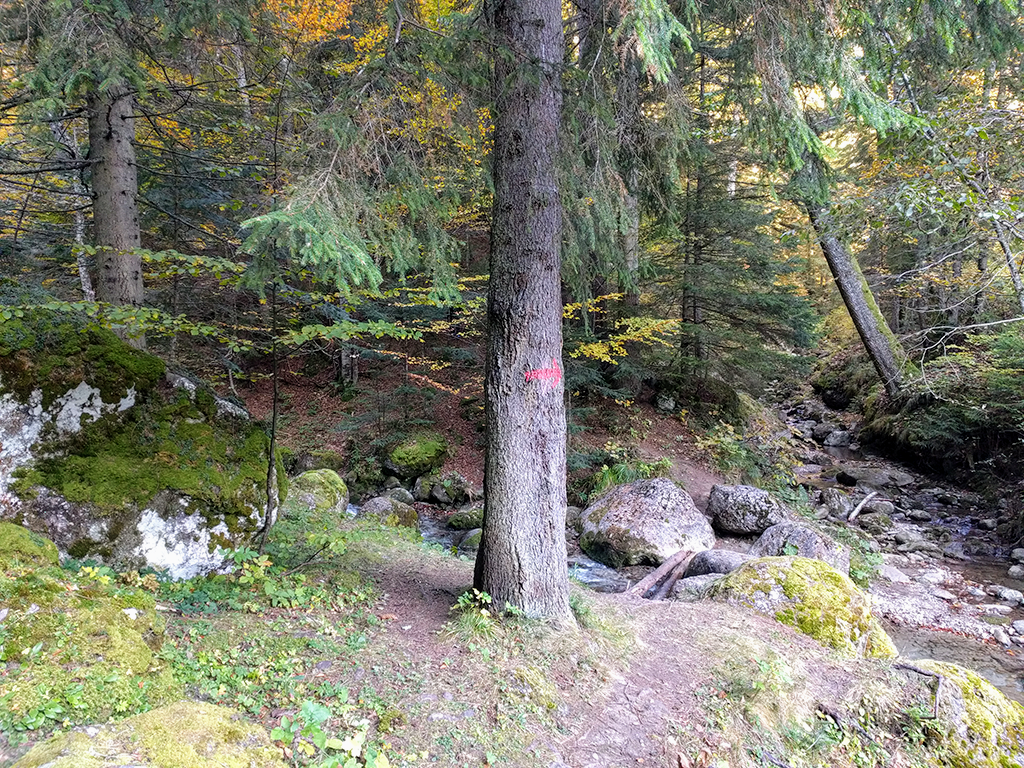 Coltii Morarului hunting hut and red triangle markings
After a few minutes the trail turns left and you start the steep climb towards Coltii Morarului hunting hut. Five minutes up from the hut, you will intersect the trail marked with red triangle.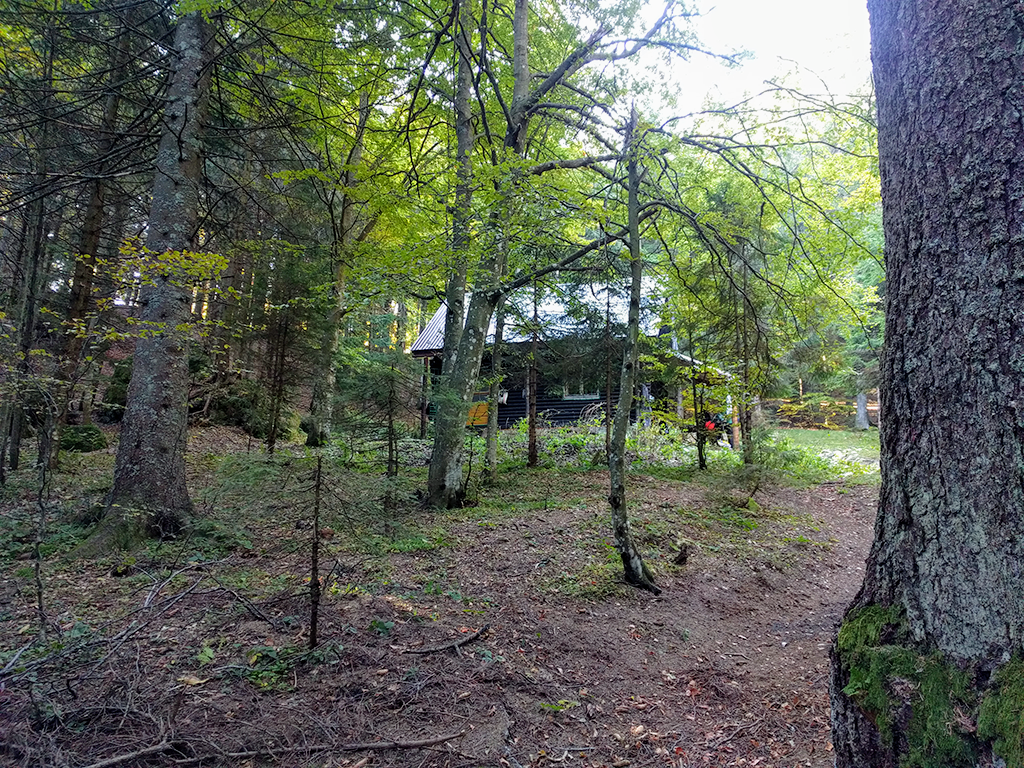 Big rock with arrow and "Morar" painted on it
Follow the marked trail until you get to a big rock that has "Morar" written on it and an arrow pointing left. Here is where you should leave the marked trail and follow the path to the left.
The marked trail – red triangle – will take you to Picketul Rosu glade. From there you can go up towards Malaiesti Chalet on Take Ionescu trail or down towards Gura Diham chalet passing by Poiana Izvoarelor chalet or Diham Chalet.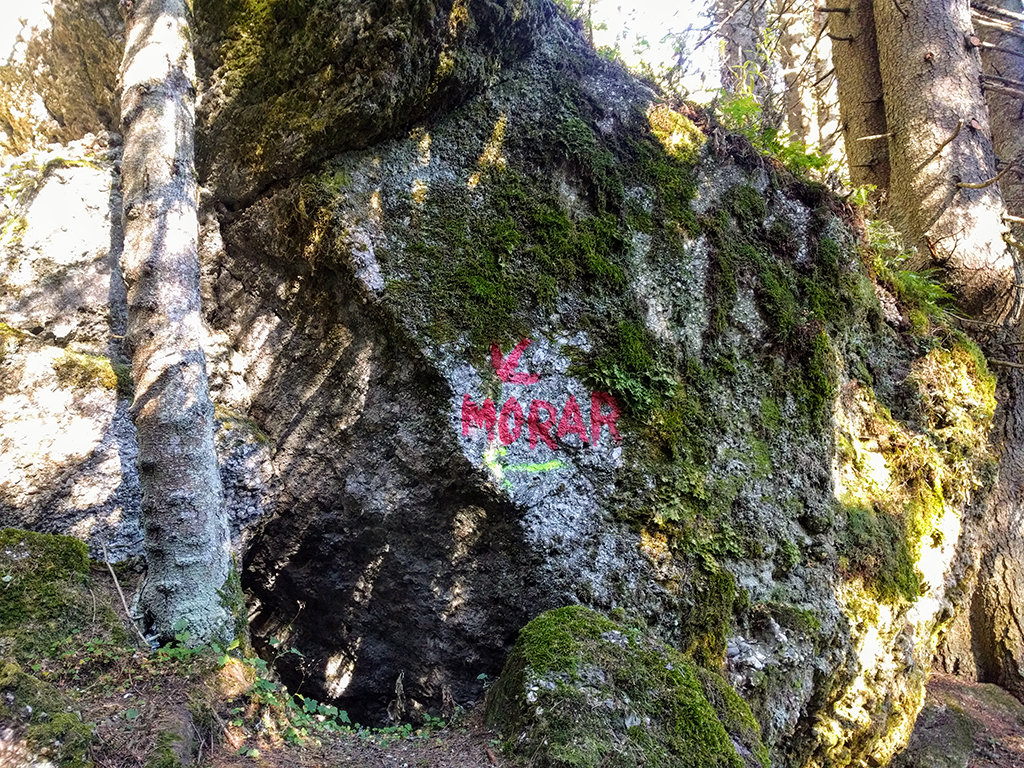 View of Coltii Morarului (Morarului Fangs)
Soon you will be rewarded with some nice views of Coltii Morarului ridge at the left and Creasta Balaurului (Bucsoiu Mic ridge aka The Dragon's Ridge) at the right. The trail starts to get more spectacular while it gets more and more exposed. It involves some scrambling, but it's nothing dangerous. You may spot some coloured markings on the rocks on the way to the cirque below Omu Peak.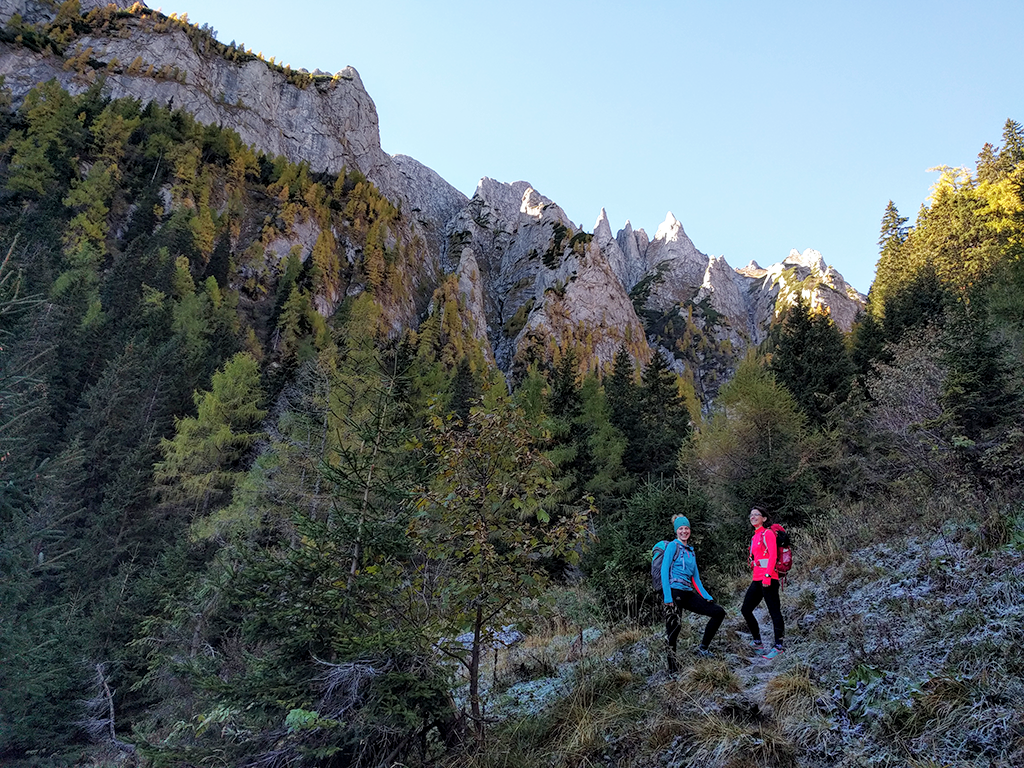 The cirque below Omu Peak
From here you will be able to see the weather station building at Omu Peak. You can climb towards it whichever way you think suits you best. We chose to climb on the left hand side (South), towards Morarului ridge.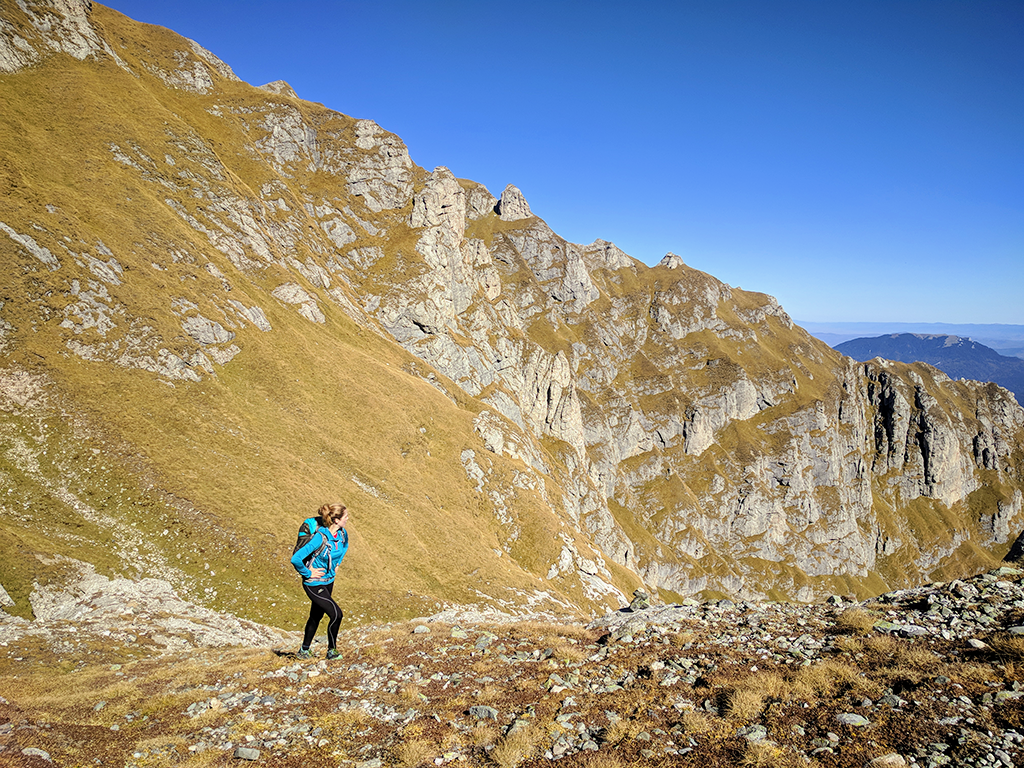 Morarului ridge
From here you will have some great views over Costila Peak (2490 m) at South, Creasta Balaurului at North, and at the east Postavaru and Piatra Mare massifs followed by Baiului Mountains and Ciucas Mountains in the distance.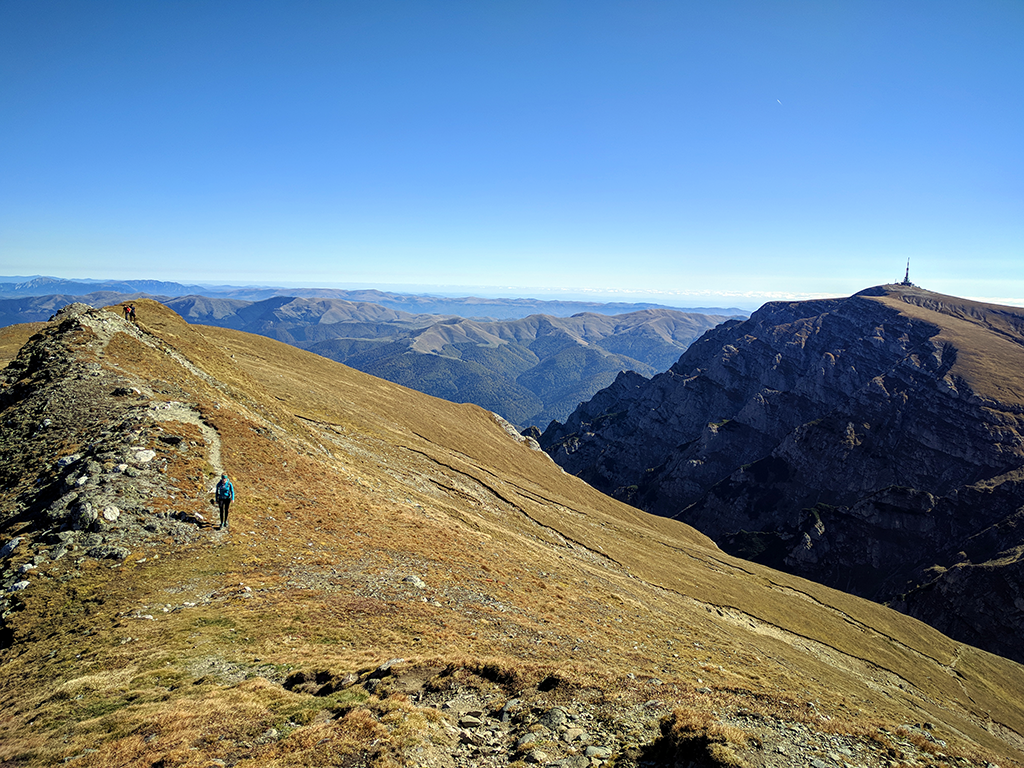 Morarului Valley trail photo gallery